Next, On Grandpa Gotta Eat...
Some of the best burgers I've eaten (not made by me, of course), have come from a smaller fast food chain called Burgerville. Currently, there are just 42 locations, mostly clustered in the greater Portland, Oregon metropolitan area, but branching as far east as the The Dalles, Oregon, north to Centralia, Washington, and Corvallis, Oregon in it's southernmost end.
On this week's Grandpa Gotta Eat, I will take you and the @foodfightfriday crew on a tour of the outside of the building as I get take home from the drive thru.
[Cue theme music. You know, make up something.]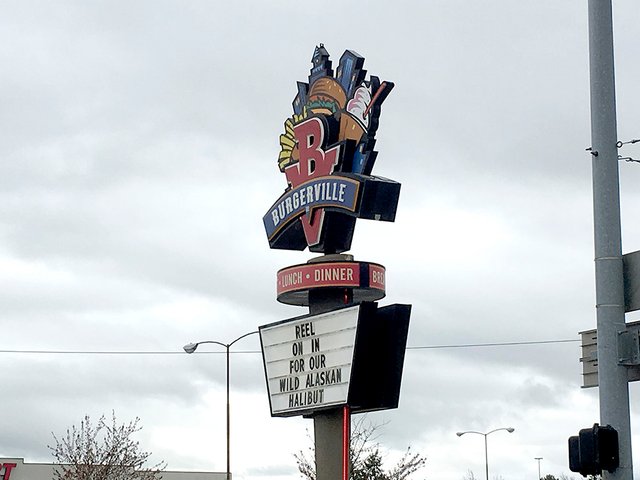 Presenting... Burgerville
Burgerville's first restaurant was opened in 1961 in Vancouver, Washington by a fellow named George Propstra. Over the last 58 years or so, the chain has focused on providing the best hamburgers, along with other fare, including sandwiches made with chicken, turkey, fish and veggies. The ingredients are all sourced locally throughout the Northwest, and the menu takes on different items as they come into season.
One of my favorite foods Burgerville produces are the onion rings made with sweet Walla Walla onions. Because of the seasonal nature, the onion rings are only available when the onions are. The same holds true for other items, particularly shakes and desserts, that can be made with raspberries, hazelnuts and other such things.
Right now, there's a couple of promotional items in particular—an almond butter milkshake, made with an almond-cashew butter mix, vanilla ice cream, whipped cream and for some reason, strawberry jam. I got one of those in recent weeks, and man, was it good. It's not anything I've ever tasted, though, and maybe on another trip I'll try it again.
The other seasonal item available—truffle shoestring fries. I'm afraid I've never thought of combining truffles with fries, but Burgerville did. Not only did they take white truffle oil to cook the fries in, they added fresh parsley and a smidgeon of white truffle salt.
Burgerville's regular fries are the best, bar none, I've ever tasted. Red Robin's steak fries are a close second. I like Burgerville's because they don't usually come out soaked in oil or doused in salt. I like both of those ingredients in healthy moderation, so for me the regular fries are awesome.
Which meant, it was kind of a sacrifice for me to try the shoestring fries, which I did, and will describe the experience a little later.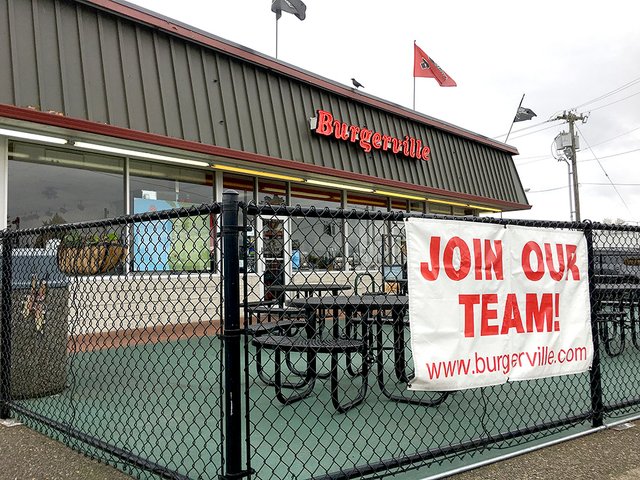 Location, Location... Okay, You Get It
I can't say I've been to every Burgerville, but typically, they can be found on one of if not the busiest streets in town. The one I frequent is on a corner, which makes them highly visible, but sometimes tough to get into. There is plenty of parking, though, and while there isn't a whole lot of seating inside, for those who still want to eat there, during the nicer months, people can be found taking advantage of the outdoor seating, too.
Nice Menu Board, Dude
I can have a hard time, thanks to being farsighted, of seeing the menu board when I'm in the drive thru because the fast food places like to cram as many items as they can into small spaces. Burgerville's board is nice and big, with fewer items, and it sits straight on as you drive up to it, rather than being angled away on a separate board from the microphone. Sometimes I need to lean back a bit to see things, rather than leaning and squinting forward. (Okay, I do use my glasses on those occasions if I don't specifically know what I want.)
Enter, The Tillamook Cheeseburger
I've tried every hamburger on the menu at least once, but the one I buy the most (and did this time around, too) is called the Tillamook Cheeseburger. Instead of American cheese, it comes with cheddar, which is made in Tillamook at the Tillamook Cheese Factory (or Tillamook Creamery). It comes with a nice leaf of lettuce, a slice of tomato, and mayonnaise. There's a pickle that is supposed to go with it, but not being fond of most pickles that go on burgers, I ask them to remove it. So far, it's not upset them in the least.
I'm not sure what it is about the hamburgers, whether it's the local sourcing, the extra freshness, what they cook it in, or something else, but the meat just has a great flavor to it. It doesn't seem heavy, or like it's clogging your arteries immediately as you're consuming it, and it has something I can only describe as a clean taste to it. I know that sounds weird, but it's actually a really good thing.
Since I enjoy the Tillamook Cheeseburger regularly, there's not much else to report. It tasted as good as ever.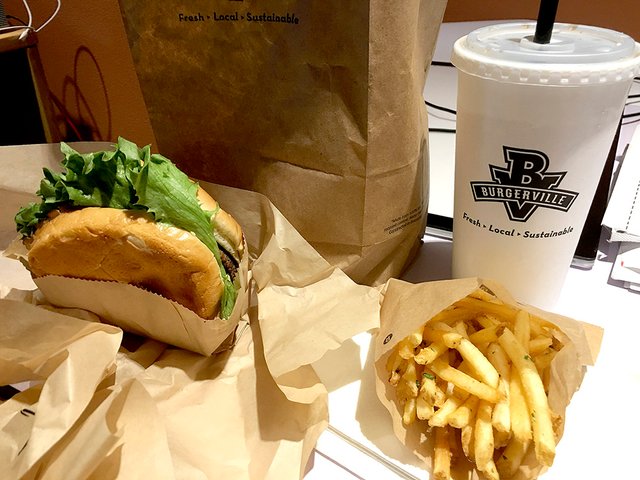 Need. More. Truffle. Shoestring. Fries.
The truffle shoestring fries, though. That was new. And boy, I'm going to need to go back and get me some more, because, well, here's the thing. I couldn't stop eating them. I literally had to force myself not to finish the regular sized bag off in the car before I could get home so I could take a picture.
I'm assuming it's the parsley, because the truffle taste, whatever it is, wasn't nearly as noticeable as the parsley. Or maybe it was the fusion of subtle and not so subtle flavors. Regardless, to say I vacuumed them down would be an understatement.
Drive Thru Experience
Typically, the person at the drive thru window is professional and friendly. It's not quite the Chick-fil-A experience, but it almost always exceeds what happens elsewhere. And they almost always get my order right, which is funny because on this particular outing, they did not, so I had to go back through to claim the rest. After I told them over the microphone what happened, one of their employees actually came out and handed me a bag with the food, so I wouldn't have to go up to the window again. So, even that ended with a more than satisfactory experience.
Eat There!
If you're ever in the Portland metro area, have a hankering for hamburgers, and want to try the local fare, I can't recommend Burgerville highly enough. The prices are more than you might find at bigger chains, but all of those have hiked their prices in recent times, so the gap isn't so wide. I believe, though, the price is worth it, and since I live locally, I like to support local business as much as is feasible.
Environmentally Friendly
For those who are interested in the environment, Burgerville has the added bonus of only using wind generated electricity throughout all its restaurants and headquarters. It returns canola oil used for cooking so it can be repurposed into biodiesel. The ingredients used are antibiotic free, free range, and fresh, never frozen. They recycle as much as they can, and they work with ranch and farm partners who have land conservation at the forefront of their activities.
---
All images courtesy of Glen Anthony Albrethsen
Grandpa Gotta Eat is published in conjunction with Food Fight Friday, a weekly contest featuring posts about food. To enter, simply write about food, post it on Friday, use the #fff tag, and then be sure to check out the posts of other entrants. Winners are voted on by participants, so you'll want to know what the competition did. You can't vote for yourself, however. That's the only real rule, and violation of it will result in a brusque fish slap.