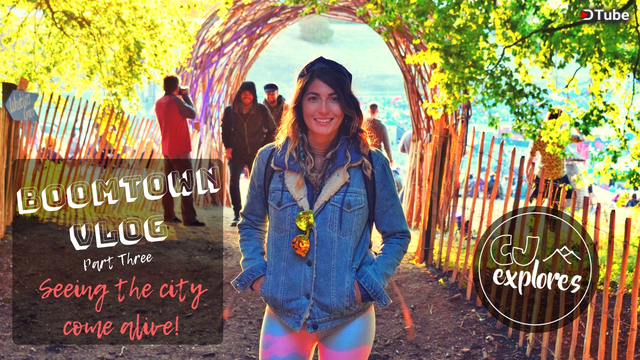 ---

Another wild day at Boomtown. The weather was a bit all over the place as was the festival! But we made the most of it and we hope to portray that in this video. I've tried my best to use all the original audio where I can to really give a sense of the atmosphere.


Wow, I am so glad I got to see MEUTE on the Town Centre stage. They were hilarious. Imagine, a techno-marching-band, live, with the volume at 11. It was bloody brilliant. We danced and jived, made friends and grooved some more! Then we had to take shelter from the rain, so we went for the nearest Hotel, Paradiso in Paradise Heights.It was quite ridiculous in there. We saw a man and woman get engaged. We saw people stealing money from the staff and a game of round-the-table-ping-pong! After that we got some Himalayan Spoon Therapy from severely under-qualified hippies and saw some people who had completely lost the plot!


Into Old Town we go! This is where a lot of the story line plays out and we saw some crazy pirates doing their thing here. Loads of random side shows and pubs and things. Again, too much to see in one day! We will be back.


Down the hill and into the thick of it, Downtown. This is where Bang Hai Industries HQ is and their new AMI system is located. We ventured around and found a few different groovy places. Loads of electro happening here.


The day ended at the lovely Sunset Point which overlooks one half of the festival. Behind Sunset Point lies Whistlers Green, where the real hippy dippies hang out. We found an eternal fireplace, some good foods and then had a pretty freezing walk back to camp, seeing a few weird scenes on the way home.


Thanks for watching another episode guys! Looking forward to seeing you in the comments below and remember to subscribe/follow and tap the little like button!

---
PEACE, LIGHT AND LOVE
---
gear used;
Nikon D5300
Rode VideoMicro
Sony Vegas
Toshiba Satellite P70
Logitech Performance MX
GoPro Hero 3+


other socials;
YOUTUBE
INSTAGRAM
STEEMIT
BUSY
FACEBOOK
---
▶️ DTube
▶️ IPFS