People must have say, I can't get enough of KDCA right? lol Haha. For me anything combines with Good Food and Drink is a must go, after all I stay quite near to KDCA, taking Grab is just RM4 and using their promo code, it's a Free Ride basically.
I have written Part 1, Part 2, and Part 3, this post will be my last post in regards to Kaamatan Harvest Festival, till the next year 2019 Kaamatan again. Haha.
As per my Part 3 mention, my relative from Singapore is in Town and also to celebrate the Harvest Festival. They haven't touched their feet in KDCA yet, so I decided to bring them to KDCA. A lot been wondering, how does KDCA look like from the main gate. I decided to take a pic at the main gate with the help of @gelfire.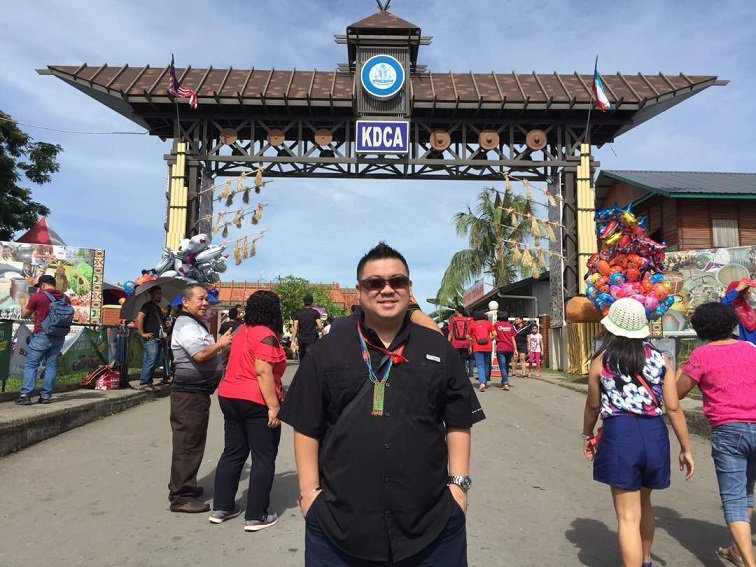 This day happens to be the last day of the Festival which is on the 31st May, it was a Public Holiday in Sabah. It was packed with people and it was a Hot Sunny Humid Day. When my relative arrived, we immediately start off visiting the different types of houses by different tribes of groups. One, in particular, we decided to stop and went up to see was Ranau House, this is because they themselves went to Ranau a day earlier and spend a night at Kundasang which is the district of Ranau.
To our surprise, we were welcomed by the head of the House and introduce himself as Jonathan, He welcomes us in, gave a place to sit, serve us Tenom Coffee and Tapai and Food to bite on the Table. After a few minutes in conversation, as I was the Tour Guide for my relative group, a lady come up to me and told me that Jonathon is Member of Parliament (MP) for the District of Ranau. I almost spurred out my tasty coffee, I did not know that he is a YB Member of Parliament (MP). I immediately walk to my relatives and told them that Jonathan is a MP that just won in the recent General Election under the Parti Keadilan Rakyat (PKR). My Singapore relative could not believe their ears and situation was getting awkward, but this awesome MP was too cool, too humble, too generous, he made us feel at home. He even says to us, "don't call me YB or MP, just by his Name Jonathan will do". For me, to be honest, I was still stunned, still in awe and speechless but I had to control the group and keep the conversation flowing. After about 20min of sharing and fellowship, we decided to move on to next house. By the way, it was just us inside the house, no other guest. We say our goodbyes took a group picture before we continue our KDCA Adventure. I gave my Business Card to the YB Jonathan as to let him know my Nature of Business. When we left the house, My Singapore Relative commended, it was their first time meeting a Malaysian Member of Parliament and furthermore having Coffee and Local Food together. What a Treat!!!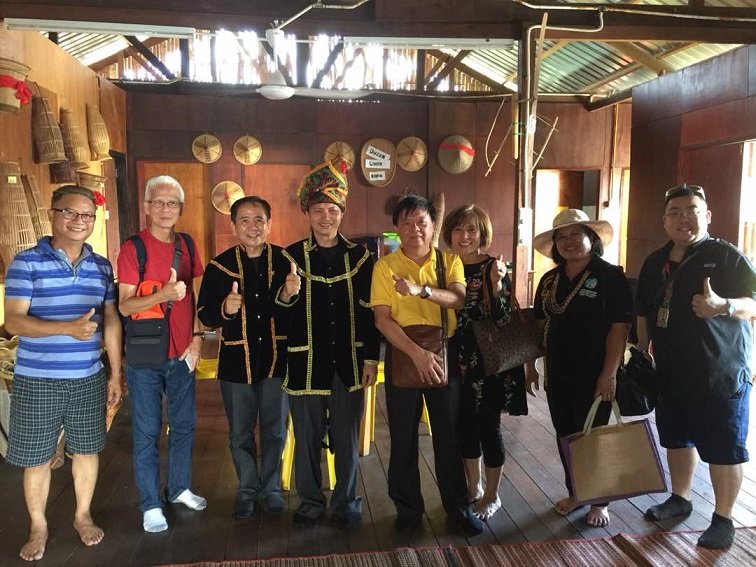 YB Jonathan Yasin in Sigar Hat
Next the Relative group decided to split up and wanna walk on their own to explore, so we set a time and place nearby the stage to meet after 2 hours. Off they go to search and explore KDCA by themselves. As for me and @gelfire, we up for a treat to ourself. We bump into @borneoairbrush nearby the stage and told us, he opened a booth/table counter for his Tattoo Air Brush Services, we immediately went over, since its a 2-hour wait for the relative to meet up. We also meet up with @inugarang at the counter doing her traditional beads design.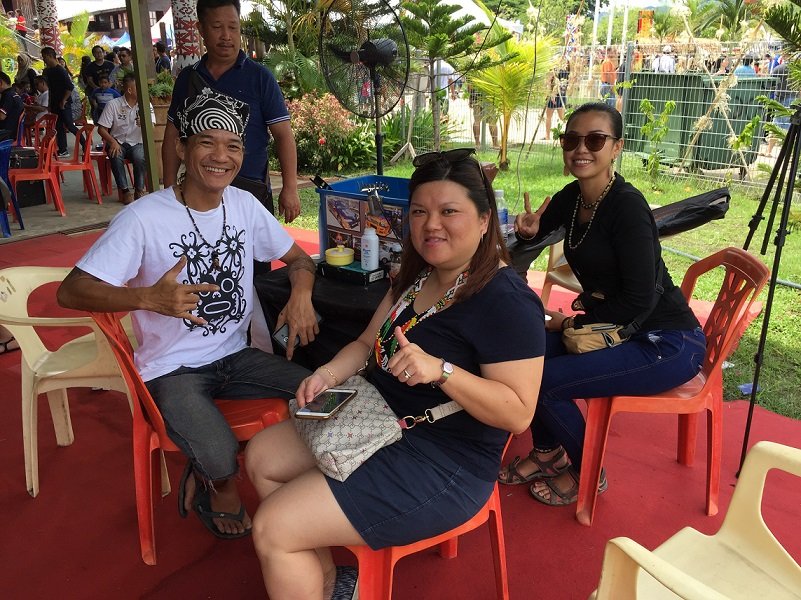 I have known @borneoairbrush not far too long around 4-5 months thru Steemit Sabah Community, and I always wanted to ask him and how does he do it? by freehand design or using stencils as a marker ? Since I have 2 damn hours to kill, let capture the whole process How does he Do it? This is something I always wanted to see LIVE, what more to capture it in video and sharing it with all of you reading. Within minutes of catching up with them, 2 (Sumandak) girls came to table asking for Air Brush Tattoo, after explaining the fee RM30.00 per design, off they go.
So, let's get this straight, @borneoairbrush is local champion Tattoo Artist, i saw videos how Tattoo been done, but not Air Brush Tattoo. Now, this is my first time seeing how it's done.
After capturing the first girl done, the second girl sat on the chair got her Tattoo done as well.
It was very pleasing to see how @borneoairbrush did it live, Freehand people. He is such a talented guy, that's because I suck in arts and drawing, Lol. haha. After capturing the girls got a tattoo, I and @gelfire decided to walk around the festival, loads of games, food, drinks sold, and it was a sunny hot day, I even manage to drink 1 Liter of Drinking Water by the 2 hours wait. After meeting up with the relative at the designated point, we hop on back to our van and decided to have lunch outside of KDCA. Apparently, the Humidity tore us down, plus the amount of people is too much to bear.
So my dear fellow steemians, this is how i spend my last day in KDCA. What a treat for us to spend time with the Member of Parliament (MP) and also witness @borneoairbrush live doing Air Brush Tattoo. To this, i salute to both of them, they are champion in their own local community and their work.
Till then, see you next post!!
---
Who Am I & Why I am Here ?
I am Alvin 'aka' @veenang who loves good food and enjoy engaging with people from all walks of life and meeting interesting, creative and intelligent people.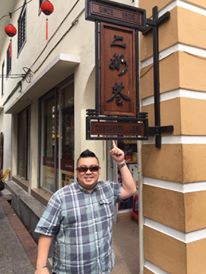 I am a SMALL Pioneer Tourism Buff in Sabah, Malaysia, Borneo. I ACCEPT STEEM for Hotel Booking in MALAYSIA and also Tours in Sabah, Malaysia, BORNEO. YES, YOU HEARD IT RIGHT!!! Do check out my post by clicking
Here for more details or chat me in Discord veenang#2913
Why Steemit ???
Unlike other social media platform, we can actually earn a reward by writing good quality contents (Blogging) and commenting on Steemit platform.
How to Join???
Steemit is Free to Sign Up, you may click HERE and it will lead you to the Sign-Up page. What are you waiting For? Sign Up Now!!!
"Steemit is NOT a Race, it's a DAMN LONG Marathon that NEVER ends" @veenang
Search me at Discord veenang#2913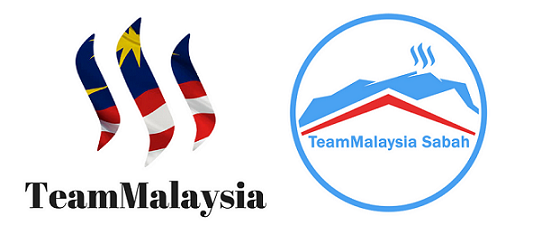 Credit to @cklai for #teammalaysia Sabah Logo


Credit to @cklai for doing this GIF Banner