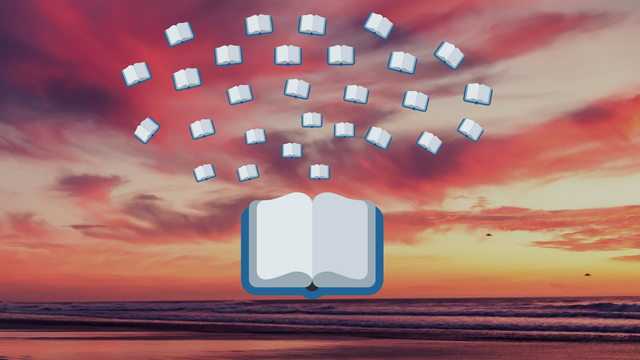 This is my first response to the Sndbox Weekly Question as a member of @sndbox's cohort 2. I am psyched to answer this question as I think I've come up with the ultimate 2 birds with one stone post. A quick breakdown of what sndbox's question is all about:


For this challenge, we're asking you to create a post that is all about engaging your readership and interacting with them in a new way.

@sndbox weekly question post

I've been racking my brains all day as to what I could possibly do that would appeal to regular readers of my blog. Earlier this afternoon after my second pint of coffee, it hit me like the proverbial bolt from the blue.

The Literary Mash-Up Challenge!?
Today is my steemit birthday! One year ago today, a metamorphosis was birthed from the depths of Facebook hell. Reborn in choirs of angels to the heavenly pastures of steemit's creative nourishment, I grazed and ended up growing into a full-fledged metaphor magician 😉 All joking aside though, over the past year I have read some amazingly talented, intelligent and well-read authors which is why I decided to invent this challenge.
The literary mash-up challenge was inspired by a few different thoughts and ideas. I recently realized that I hadn't read a good book in over six months, which is insane given that I often got through three or four in a month when I was at university. The lack of novels in my life is definitely offset by the amount of great fiction and poetry I read on steemit, but I wanted to make a challenge that would encourage myself (and hopefully the rest of the steemit community) to read more good books. The second inspiration was around my experience witnessing steemit creative writers thrive and excel in other experimental competitions. Particularly, the
finish the story contest
run by
@f3nix
from the
@bananafish
account has inspired me a huge amount over the last month and this awesome competition was the catalyst to the experimental nature of this literary mash-up challenge.
What is the challenge? The premise is based on a game that I used to play at school. We would play this game when the British weather forced us inside during break/recess. I have embellished the original childhood game somewhat to build a creative challenge around it.
The Format
Pick one of your favorite books and post a sentence of your choice in the comments section from a page that I specify.
Post a very brief synopsis of the book or explanation of why you love it with your chosen sentence so that we can all discover new books to read 📖
I shall post my selection and synopsis at the bottom of this post.
During the challenge I would encourage you to interact with others in the comments section. Discuss the books mentioned, ask questions etc.
After the posts 7 day payout period is over I will write a post with my poetic or short fiction creation from all of the sentences and a list of the sentences in order with the steemit user tagged and the title of the book it comes from.
Create your own poem, flash fiction, song, rap or even short screenplay from the selection of sentences. The only limit is your inventive spirit. Tag it with #literarymashup and I will upvote all tagged posts. I may call up a surprise whale vote on the best posts that use all of the sentences words. Also, I shall be looking for curie-able posts among the entrants.
Note: you don't have to use full sentences, they can be broken up if it proves particularly tricky. However, the more inventive and clever the use of full or part sentences the better.
Please consider resteeming this post to help get the word out and spread the challenge far and wide (not compulsory).

I am really excited to see how this turns out, as it is essentially an experimentation in inventiveness. If you would prefer to post your creation in the comments section of the follow-up post that is fine and I will try to vote them in comments. However, posting entries in comments will preclude any chance of being curated by curie.
Now... it's time for the literary mash-up challenge:

Page 207, paragraph 2, sentence 4
The moss appeared unnaturally green, inexplicable for these depths beyond the reach of photosynthesis.

Haruki Murakami - Hard-boiled wonderland and the end of the world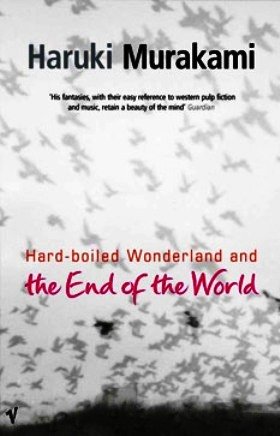 It has been a while since I first read this book but if memory serves, it is a surreal amalgamation of fantasy and internal landscape set in a present day Tokyo. Hard Boiled Wonderland somehow manages to express a massive novel-length extended metaphor for madness, as the two main characters slowly merge into a world made up of of their psychically charged unconscious. It is one of the best examples of magic realism I have ever read and if you like haunting yet aloof, deep spiritual expressions of the unknowable, this is the book for you.
Now it is your turn! If you follow the trail, turn to page number 207 in one of your favorite novels and hunt down an interesting sentence then post it in the comments with a brief synopsis of the book as directed above. Let the madness begin!

The title image in this post is my own design work created on canva.com. The picture of the book cover was taken by me using my phone. If you have any suggestions for this challenge please don't hesitate to comment. I welcome all and any feedback. I would like to say a big thank you to @sndbox for their amazing work inspiring creative engagement across the steem-o-sphere. This is my first engagement challenge on steemit and without the guidance of sndbox's weekly question, it would probably have never been. You can check out my other work on my homepage @raj808. I look forward to finding out about some new fantastic novels through this challenge. Thanks for reading.




If you would like to join a fantastic community where we strive to help new steemians grow and develop, why not join me at #promo-mentors discord group which you can find here.
---


Join us @steemitbloggers
Animation By @zord189