Response to a banal meme called "What Do I Fear?"
Social Media has distorted peoples perspective to the point that some things have become a shared delusion. Usually these ideas circulate like a virus, infecting one another. I recently stumbled upon some points of what a person should actually fear from life. I had a good laugh but after my jaw relaxed I decided to write about it.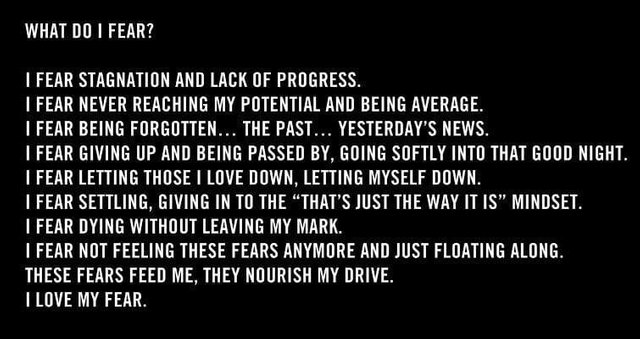 I FEAR STAGNATION AND LACK OF PROGRESS
I adhere to capitalistic principles and growth. I understand the passion wanting to do more and more. People have this innate drive and are never satisfied with anything. The real power here is to curb your automatic drive for wanting more and more for the sake of wanting more and more. Most people often misunderstand what stagnation and progress mean. Doing something for the sake of doing something doesn't really take you anywhere. A politician delving in the government in order to pass policies that limit peoples' freedom doesn't really progress towards a direction other than oppression.
I FEAR NEVER REACHING MY POTENTIAL AND BEING AVERAGE
Besides the snobby outlook of this statement, there is no potential to be reached. Nobody is keeping score. It's all in your head. Even the most famous people and the greatest innovators were more or less average in their ways. For that one thing you occasionally remember them, they just happened to be at the right place at the right time. They took previous knowledge and applied it. If we indeed progress as humanity, we will have a much better understanding in regards to who said what, who stole from where, who influenced who, what situations one went through and so on. This will make heroes much less… heroic since it will demystify their positioning. Today we are still primitive in historical records. Mix this with our general ignorance and you have people not understand what being "average" means.
I FEAR BEING FORGOTTEN… THE PAST… YESTERDAY'S NEWS
I wonder how many of these people can recite from memory the person who invented the keyboard they are typing right now. The screen they are looking through. The satellite transmitting these messages. Most people that fear being forgotten merely want to stay relevant for the sake of staying relevant. They repeat the same things as every single religion has done; immortality, glory and influence. People want to be remembered by their immortality projects whether than is genes, a name on a book spine or some time on TV. Thing is, you will be forgotten. We all are. The only question is when.
I FEAR GIVING UP AND BEING PASSED BY, GOING SOFTLY INTO THAT GOOD NIGHT
There is nothing to be afraid about giving up. Some things simply do not work. This is how this universe was meant to be. Imagine if people just obsessed over things and never really gave up. Sure, you will find a few, very few people that succeeded. Yet, most people would have wasted these efforts into absolute nothingness. They would have gotten more frustrated, angry, obsessed and lost a chance to actually enjoy life through other endeavors. Knowing when to give up is an art. Going softly into that good night is something every old and wise person understands very well. If you are OK with yourself then you have nothing to fear.
I FEAR LETTING THOSE I LOVE DOWN, LETTING MYSELF DOWN
If your happiness depends on what other people think then you will always let other people down. You will also constantly strive for approval. This is exactly how one becomes spineless and conformist to the system's desires. This is yet, how you become average. You just happen to be a "famous" average.
We don't choose the characters of those whom we love. This means that letting other people down is part of the process. Most humans are not really satisfied or content. If the people you love also belong to the above aforementioned categories then I have some bad news for you.
I FEAR SETTLING, GIVING IN TO THE "THAT'S JUST THE WAY IT IS" MINDSET
More and more and more won't take you anywhere other than a road paved with more. Civilization existed for more than 6000 years and nothing has really changed since then. Humans don't change; at least not at their core functioning.
I FEAR DYING WITHOUT LEAVING MY MARK
Everyone leaves their mark since they leave the womb. What most people mean by the above statement is that they fear leaving without making an impact in a way the most people will notice. Democracy has never been the best way to measure things on this planet. If anything, it has been a counter indicator. Stalin left a mark. Every single politician, bureaucrat, union leader, scammer, actor, jester and so on also did. Will they be remembered (for a short time) as an example to follow or to avoid? That's the question you want to really ask yourself.
(Sadly most of these people just want to leave a mark, whatever that is. This is just pathological fame and it is perhaps the most soul consuming endeavor one can delve into)
I FEAR NOT FEELING THESE FEARS ANYMORE AND JUST FLOATING ALONG
This is understandable because in order not to fear all these things you need to conquer your instincts. In order to do this one needs maturity, wisdom, contentment and understanding of the basic workings of their own experience on this earth. Unfortunately most people do not carry these values and so they fall prey to the memes propagated by social media that has self-centered attention at its core.
THESE FEAR FEED, THEY NOURISH MY DRIVE
I LOVE MY FEAR
Fortunately, the ending statement of the meme explains the pathology of the one being inspired. If your life is being fed by these kind of fears then you are doomed to lead a life of seeking constant verification and approval from others and falling apart when you are not. The above list is mostly a dopamine loophole, one that every drug addict has. At the end of the day, you end up living in fear. You forget that one day you will die. That's all it does. It keeps you a distracted coward.
Some people think they will be up in cloud 9 enjoying the same attention whoring as they do in 21st century social media. Never in history has this happened. In all likelihood, our era with this kind of mindset and mentality will serve as an example for avoidance. History doesn't judge individuals or groups by the current trends or fashions. It judges by diachronic values that remain constant. Again. People don't change.
At the end of the day, you can fool everyone around you with these kinds of banal values – even some people of the future that will suffer from the same mindset. But, as long as you live, can you really fool yourself? You get one life. Are you sure you are making the right choices about what you have been told to fear?
For more: https://thorncharmer.com/