FBN SWAP NOTIFICATION.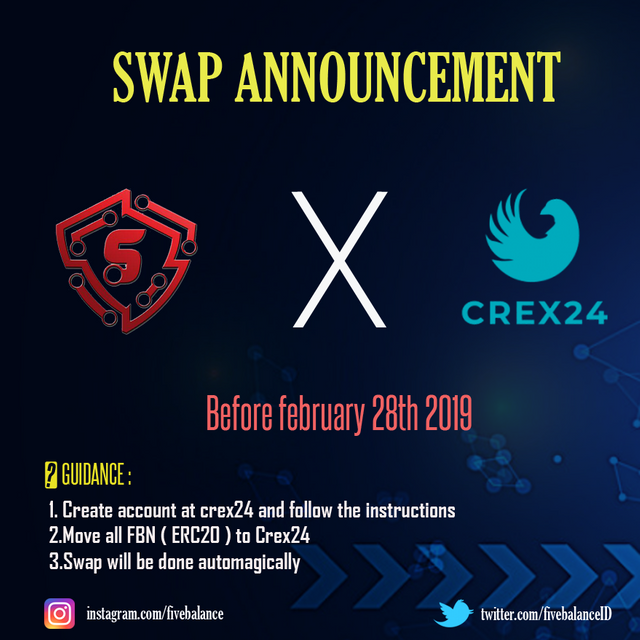 Dear all FBN Community, please give more attention of this announcement.
❗️❗️IMPORTANT ANNOUNCEMENT❗️❗️
📋 Regards : Swap
📍Location : Crex24
🗓 Due Date : Before february 28th 2019
📕 GUIDANCE
✔️ Create account at crex24 ( https://crex24.com/) and follow the instructions
✔️ Move all FBN ( ERC20 ) to crex24
✔️ Swap will be done automagically
❗️ Please send all your FBN tokens to Crex24 for swap before february 28th 2019 (IS A MUST). The integration will takes time 3 - 10 days from the due date ❗️
Bahasa Ver.
❗️❗️PENGUMUMAN PENTING❗️❗️
📋 Perihal : Swap
📍Exchange : Crex24
🗓 Waktu Pelaksanaan : Sebelum 28 februari 2019
📕 PANDUAN SWAP
✔️ Jika belum mempunyai akun Crex24, silahkan registrasi terlebih dahulu di https://crex24.com/
✔️ Pindahkan semua balance FBN Token baik dari exchange (hotbit, mercatox, idex, atau biido) dan private wallet (imToken atau Trust wallet) ke Crex24.
✔️ Swap dilakukan secara otomatis di exchange terkait yaitu Crex24 dalam waktu yang telah ditentukan.
❗️Tolong pindahkan atau kirimkan FBN Token kalian ke Crex24 sebelum 28 februari 2019 (WAJIB). Swap integrasi akan dilaksanakan sekitar 3-10 hari dari tanggal ditetapkan.❗️
—Fivebalance