You can now claim TRX, DGB, ETN, and BTT plus CRYT (simutaneously) every four hours. More coins/tokens will be added later.
CryTrEx is where it's at:
https://crytrex.com/?ref=NCTZHB
I tested them yesterday and all four attempts were succesful. Transfers took a bit of time to complete but I eventually received everything I claimed under the FREE Coins tab.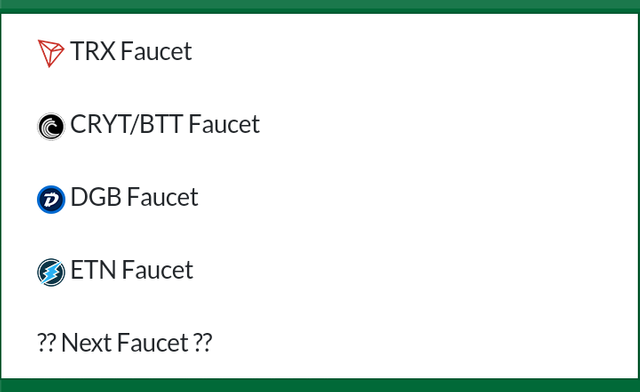 -for 0.1 Tron (TRX), I used my CryTrEx address
https://crytrex.com/trxfaucet?ref=NCTZHB
-I also used my CryTrEx address to get 0.1 DigiByte (DGB)
https://crytrex.com/dgbfaucet?ref=NCTZHB
-but for 1 Electroneum (ETN), I put in my mobile miner address (if you ain't mobile mining yet, you can use my code - BC742C - when installing the Electroneum app, and you'll receive a 1% bonus on everything you mine)
https://crytrex.com/etnfaucet?ref=NCTZHB
-same thing for 1 BitTorrent (BTT) + 1 CryTrExCoin (CRYT), I used a personal address (since there are different addresses for these two in my CryTrEx account) for which I possess the private key
https://crytrex.com/crytfaucet?ref=NCTZHB
I'm curious about what the next CryTrEx faucet(s) will be...
Posted using Partiko Android