Day 13 Juice feast! Pure, 100% honey dew juice. So Sweet, clean, and hydrating!!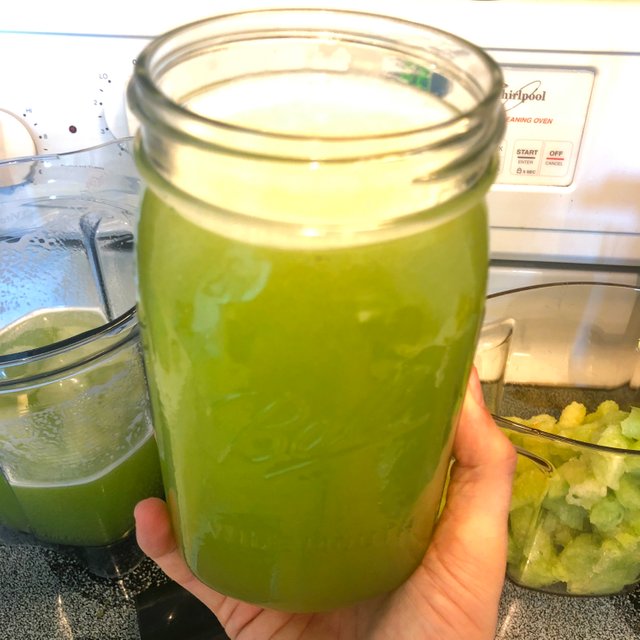 This means that today is the 13th day where I have consumed only juice for 13 days.
Each day, I am doing:
1 gallon of raw, cold-pressed fruits and/or vegetables
2+ liters of distilled water (I've had SMART water mostly),
at least 5 minutes of light exercise, and sometimes as much as 30 minutes.
Results so far
lost 8 pounds of weight.
feeling much more relaxed, focused, and energetic.
sleeping better.
feeling my emotions much clearer.
more productive with work!
What if you don't have a juice machine?
Simply chew the fruits and vegetables, allow your saliva to gently mix with the juice that your teeth "squeeze" out of the food, use your teeth to "hold onto" the pulp, and swallow only the juice! Lastly, spit out the pulp.
So, you see, people have been juicing for over 1000s of years :)
Thank you! :)
It is my wish to serve you with these words.
Some info about me: I've been involved with Bitcoin since 2010. By trade I am an expert on blockchain technology. I am the Project Director for Wall of Coins, and CEO for Genitrust, Inc. I eat primarily fruits and leafy greens ("fruitarian"). This is known as a frugivorous diet, which is the diet by design of the human species and most primates. I don't cook my fruits, so you may also call this "raw vegan". I have eaten virtually every food item and major cultural style on this planet. I have experienced long periods of many different diet regimens: acid/alkaline, ketogenic, vegan, etc. In my spare time as a child, and an adult, I truly relished reading articles, books, and research papers on nutritional observation. I also enjoy and frequently practice long periods of juice fasting, water fasting, and dry fasting.

Thank you for reading, upvoting, tipping, and re-steeming!
Robert Genito
Steemit | Instagram | Twitter | Facebook are all @robertgenito