Fashion Runway: A Fashion Design Contest [Week#2]
Hello my Steemit Friends
Today I'd love to join the contest "Fashion Runway: A Fashion Design Contest [Week#2]" Organized by @scuzzy and Sponsored by @sndbox
After I got an invitation to join the "Fashion Runway Contest" I was very exciting because I am not a fashion designer at all but I like to draw though.
If you guys interesting to the contest, check this out.
https://steemit.com/contest/@scuzzy/fashion-runway-a-fashion-design-contest-week-2-or-week-1-winners-week-2-theme-c-a-k-e-or-submit-a-design-and-win-rewards-or
The theme for this week is:
THEME : C A K E
SEASON : W I N T E R
OCCASION : F I R S T x D A T E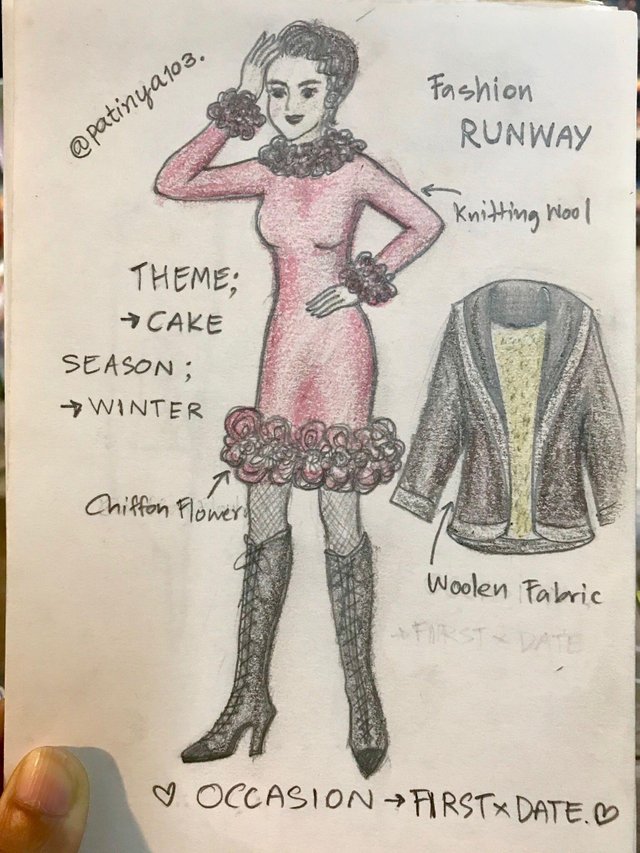 Umm... quite difficult for me hahaha because I am not a professional designer, think about putting some cake on a cloth is a bit funny actually. First I was going to do a T-shirt with a cake print on it but that would not call the sign so I started to think how can I design clothes that look sweet like cakes. Will it to be for a woman I guess because a man would not wear the clothes that give him a sweet look😁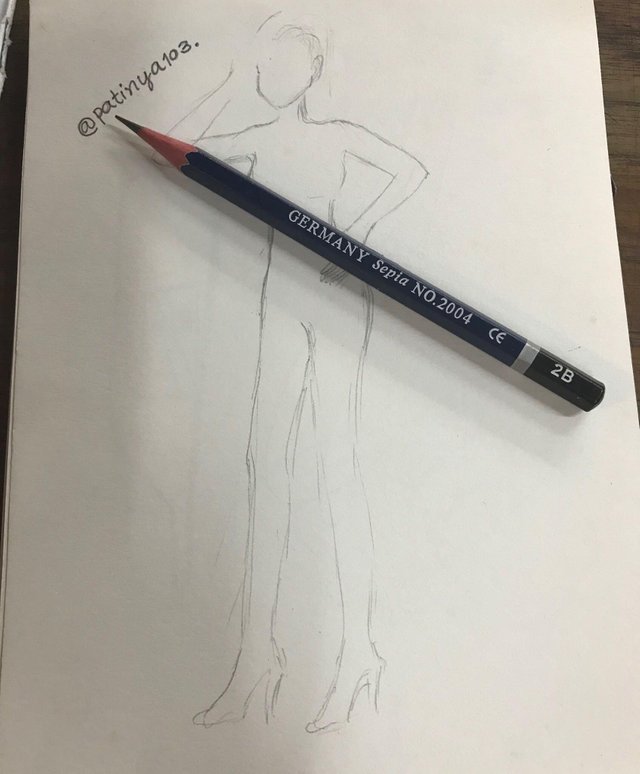 I live in Thailand in a very warm and monsoon country so I'm not so sure about how cold of the winter out there would be, then I will design it for Thailand's winter.
I started drawing a model first, then I draw flowers that should be on the top of the cakes around the neck, wrist and the edge of the dress. Those flowers made from chiffon but the dress made from knitting wool would keep you warm enoug. But if you still feel cold a jacket made by woolen fabric and lining with velvet or wool inside.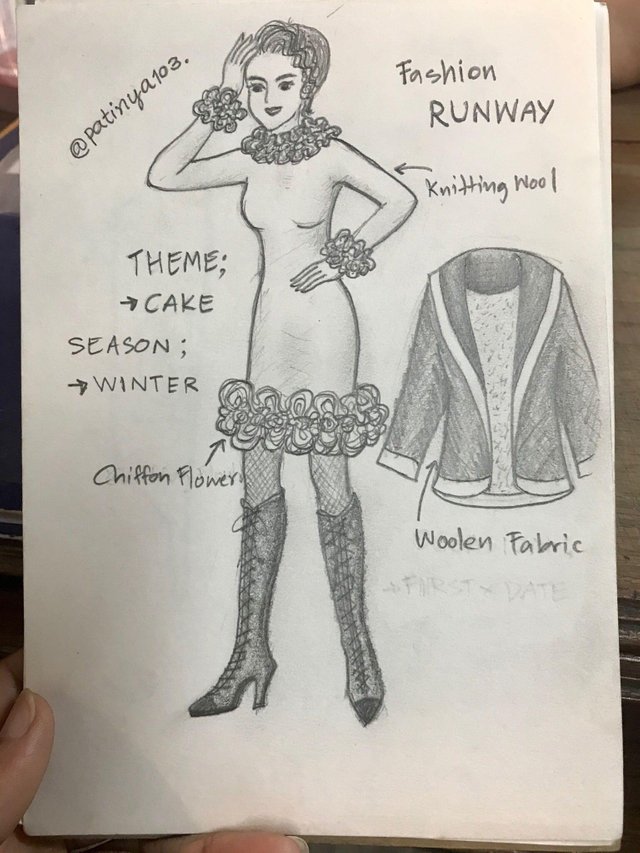 • The dress must be in pink colour would give you a sweet look.
• The woolen jacket should be in dark brown colour because it will match to the dark brown leather high heel boots with a pair of black stockings will make you more sexy 😍
• Short hair or long curly hair will look good on this and little make up, then you will look sweet like a cake and ready for your F I R T💕D A T E.
I enjoy drawing and very happy to be part of the contest, thank you @scuzzy to organize it. I usually drawing cartoons 😁 and this is my really first time of fashion design, I still have a lot to practice.