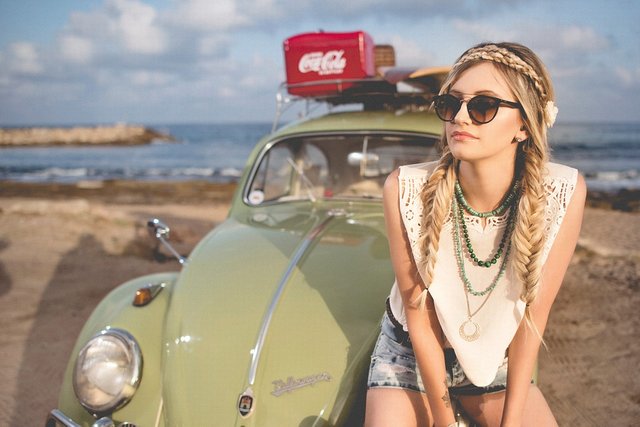 From aviators to wayfarers, the sunglass trend has consistently evolved, bringing back retro styles with new designs that fit almost any kind of face. In this paper, I will be introducing a range of modern and fashionable boldly shaped sunglasses frame you can rock anywhere and at any time.
Whether you are looking for men's sunglasses or women's sunglasses, you will agree with me that they are a necessity. The year 2017 has seen quite some trends in sunglasses, and enthusiasts who enjoy finding out these patterns create unique styles that many people are willing to adapt to and improve their style.
In this short trend guide, you will also learn some essential tips to help you find quality cheap sunglasses for your face shape.
Old school Inspired Round Frames
Fashionable metal sunglass frames from the 70's as well as the small frames from the grunge era in the 90's have been combined to produce the original hipster glasses. Rounded frames continue to grow in popularity and appreciation, and reputable online stores have them on offer for ready buyers. People with medium to narrow face shapes can rock round sunglasses look fantastic on them.
Oversized Aviators
Everyone loves aviators, and that is because of the dominant feature of being a good fit for almost anyone, no matter the shape of your face. They are undeniably fresh and are never out of trend. This year, aviators of different designs and colors with a distinct chance in shape is currently in vogue. They are now bigger and better the classic designs, but perfect for both men and women. Although some people refer to them as having a more masculine vibe, girls still look amazing in aviators. The trend on aviators is a fashion-forward twist on a classic.
Square Wayfarers
Introduced by Ray-Ban back in the 1950's, wayfarer has evolved through the years to become a style associated with beaches and summer. However, since the year Wayfarer was founded, it has fluctuated in popularity with several styles and designs being produced over the years. Today, thanks to extensive sunglass design and engineering, wayfarers are back in the trend with lovely styles and great looks for every proud owner.
Wayfarers are not exclusive to the beach, although its famous for being one of the wear accessories, you can use Wayfarers to the mall, to a party or just to enjoy a long way in the afternoon with friends or family. You can also find them in exciting designs such as mirrored frames, silver rivets, tapered temples, tortoiseshell styling and much more. Whichever one of the Wayfarers you wish to rock, you still get to enjoy that unique natural look that is comfortable and trendy.
Cat-eye Sunglasses
They are most popular in the business and academic environment. Cat-eye shapes sunglasses are a continuous trend and can be rocked under any weather or in any season. You can also find them in unique shapes such as round frames, highly styled modern silhouettes and much more. If you want to enjoy a look that is playful and sexy at the same time, then consider unlocking more fashion possibilities with Cat-eye sunglasses.