The parsley (Petroselinum crispum) of Mediterranean origin, is an aromatic plant with floriferous stems that can exceed 60 cm, from it sprout small green and yellowish flowers. Today, parsley is grown all over the world and is used as a usual ingredient in the preparation of a large number of culinary dishes and beverages worldwide.
From the seeds an oil is obtained which is used as a flavoring in the cosmetic industry, in perfumery and in soaps, it is also a very interesting herb at the therapeutic level, since it contains many properties that are beneficial to our health.
Parsley is rich in vitamins A, B, C, D, K and folic acid as long as it is consumed raw, since cooking eliminates part of its vitamin components, it also contains proteins, carbohydrates, fiber and minerals such as calcium, potassium , phosphorus, iron and magnesium.
There are two types of parsley:
Smooth or common leaf: it is quite vigorous and has an abundant foliage of intense green color. Its aroma and flavor is strong. It is generally used in Mediterranean cuisine.

Curly leaf or Chinese parsley: Its leaves are very cleft and extremely curly, it is sweeter and softer. Its foliage is lighter green and its size is lower than that of common parsley. It is usually used in English-speaking nations.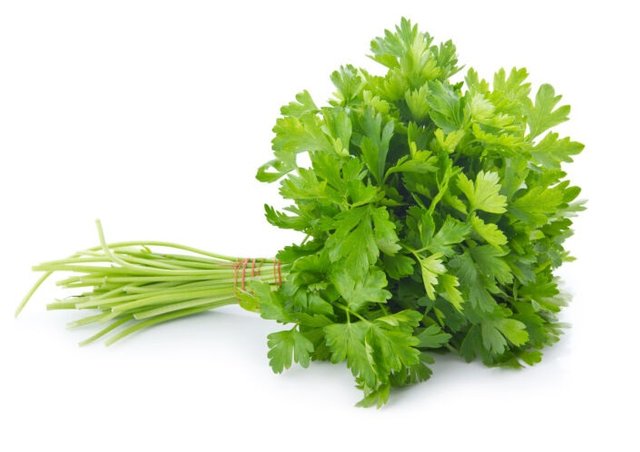 Fuente
Parsley is mainly composed of:
Flavonoids (apiin, luteolin, and apigenin and their glycosides),
Essential oil (apiol, myristicin),
Coumarins (bergaptene, imperatorin)
Vitamin C
It also contains a furanocoumarin (psoralen) that can produce photosensitivity.
Benefits.
It is diuretic.
It is a great antioxidant.
Improves hypertension and osteoporosis.
It helps to have good circulation and regulate blood pressure.
It is beneficial as a supplement after physical activity and for the treatment of anemia and chronic fatigue.
It helps to purify the body.
It is useful in treatments or dietary regimens.
It helps eliminate body fat.
It acts as an anti-inflammatory.
Useful to keep blood sugar under control and thus prevent the onset of type 2 diabetes.
Cights intestinal gas and rot.
Relieves urinary tract irritations.
Greatly strengthens the immune system.
Prevents bad breath.
Among others.
Ways to use.
You can consume raw in salads, adding different vegetables or smoothies combined with any fruit, at breakfast or between main meals, etc.

In the form of supplements, in this way, all its properties are preserved and can be dosed regularly, especially for people with hypertension.

For tea or infusion, select the stems and leaves, boil 2 liters of water, when the water has boiled add 5 branches of parsley with its leaves, let it boil for 5 minutes over low heat and turn it off. Consume those two liters daily. The only drawback is that the heat of the water eliminates certain vitamins. We can also refrigerate this drink and drink it daily.

You can drink parsley tea water or accompany it with lemon, this makes it more pleasant.

If you want to prepare an antioxidant drink, rich in vitamin C, combine parsley with orange juice and strawberries, it is healthy and delicious.

You can also combine parsley with rosemary, this helps us to deflate and eliminate toxins.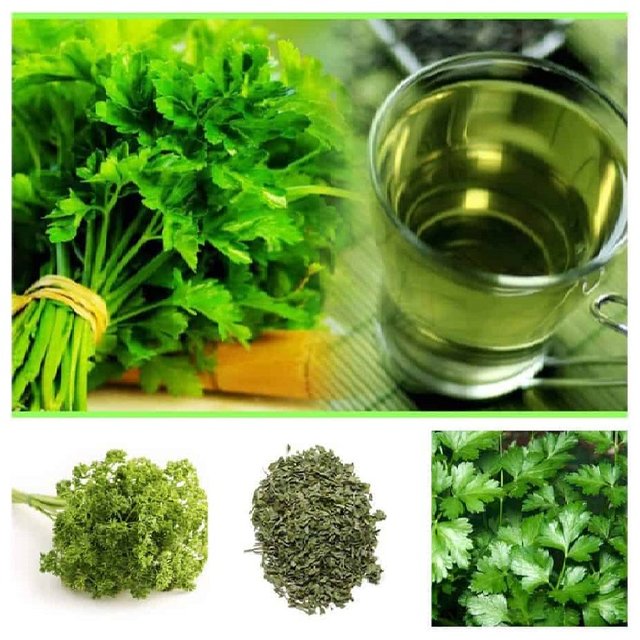 Fuente
Parsley cultivation.
This crop resists cold well although it prefers warm climates.

It is sown mainly in spring and summer, but it can also be sown throughout the year.

It grows in virtually any type of soil, preferably deep soils, rich in humus, loose, fresh and very well fertilized, except in the very clayey or very acidic.

The seeds can be sown directly to the soil, orchard or pots. In addition the selected seeds must be of good quality.

It is recommended to soak the seeds one day before planting to facilitate germination.

The seeds are sown in separate rows between 20 and 25 cm and 10 cm between plants.

It is necessary to water and maintain the moisture of the substrate until the first leaves appear. Then, watering should be frequent but in smaller quantities.

Parsley may take 3 to 4 weeks to germinate.

The harvest is made from 2-3 months after sowing, the leaves are cut at ground level with a knife as needed.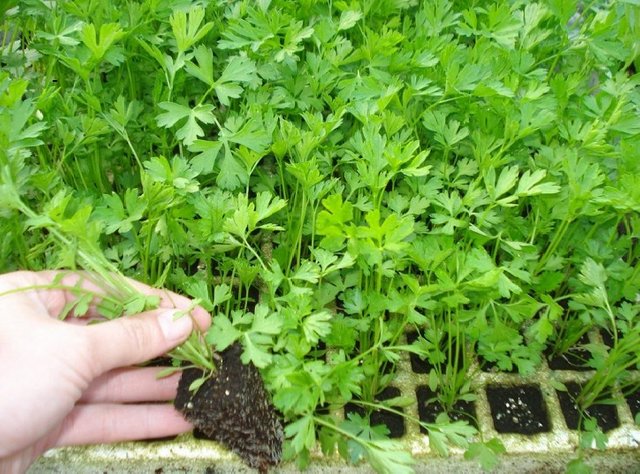 Fuente
Recommendations.
Consult the doctor before leaving for natural medicine.

It is strictly forbidden for people suffering from people suffering from liver problems, epileptic and Parkinson's disease.

It is prohibited as a medicine or supplement in pregnant or nursing women, as it could terminate your pregnancy.

Its consumption is not recommended in case of kidney stones and kidney failure.

Parsley oil is not recommended for children and people with delicate stomach, duodenal ulcers or gastritis.

Do not exceed your consumption, since everything is fine until you reach the excess.