They threw me out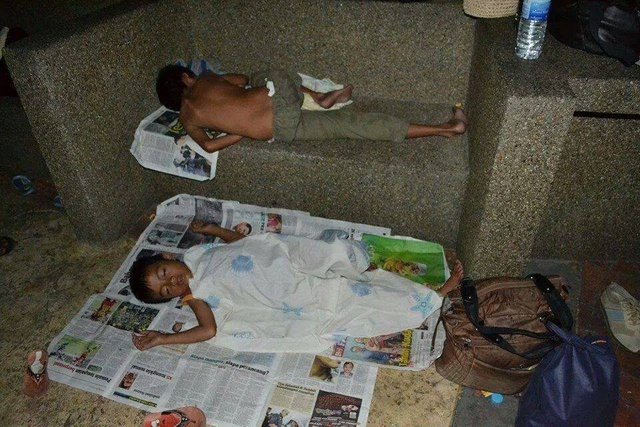 Image Credit
Hello, right now I'm going to share my life story, I have been out of the house when I was 12 years old and I live in the streets for 10 years as a homeless. Before I was a very lucky person, I had a family who loved me so much that they finally divorced without cause, that's where the destruction of my life began.
Before Divorce
I am the eldest child of two brothers, we have father and mother who have a different background, my father is a native from Aceh and my mother is a Javanese woman who has chosen to work for the government. My brother and I have only four years of the age difference when I start school he is often left behind in our neighbor's house because our mother works and we do not have enough cost to pay the nanny.
My father was a freelancer as a writer in several newspapers, often I saw his writings appear in the local media because he was a fairly well-known short story writer locally at the time and I am very proud of his frequent name in the newspapers.
Sometimes he has to go for days out of town to find new inspiration, sometimes he does not come home for a week, sometimes I miss him even though I know he did not come home.
When I started school, my friends often laughed at me because they thought I did not have a father. All was fine with our family.
The coming disaster
All was fine until one night I heard my parents argue greatly, then suddenly silent and I did not hear any sounds. A few weeks later I never saw my father again, and they were divorced, I do not know what caused it.
After the incident, the mother also had often come home late at night, sometimes even she came home while we were asleep. I've also caught mothers coming home in a drunken state, even getting worse each day.
I do not know if the mother is still working or not because she's been home a lot, sometime later our house is a guest, a man I do not know, he is my mother's guest.
The man often stays in our house, even I do not know what his name is, a few months later I got word that my mother and the man has been married, the news is very surprised and disappointed, but what should I do because I was a child that time.
A few months later our family grew more and more cracked, I do not know if I just felt it or not. The man is getting bolder with us, he often hit me and drove me away. I have no idea
I became more and more depressed at the time, knowing my mother did not care about our situation, my brother and I were often left starving or even left unattended, I was very sad when I saw the younger brother was not taken care of like not having parents.
I was forced to go home after school because I had to work to earn money to buy food for me and my younger brother until finally, my mother saw that I was working as a construction worker. Up at home, my mother asked me what I had done, he asked me to stop working and stay in school. Without thinking I finally dared to say what actually had mom and man do to me and my younger brother. The man could not accept my confession, he rudely beat me and yelled at my younger brother, he threatened to kill me and my little brother if I did not go out.
Does my mother forbid my brother and I going out? no.
because actually my brother and I have been expelled from their lives.
After Expelled
After that terrible event, my brother and I finally had to live to be homeless, without shelter and food, even without the protection of our beloved parents.
Sometimes my brother and I have to sleep in cardboard because we do not have a house, or even have to eat waste food because I do not have enough money to buy it.
We continue to walk from our hometown to the west, we believe that we will have a better future and wait for us there.
Hopefully no one else feels the same way as me.