The System is Scary Place For Children | The Three Adopted Children Who Suffered Horrific Abuse | A Support for Family Protection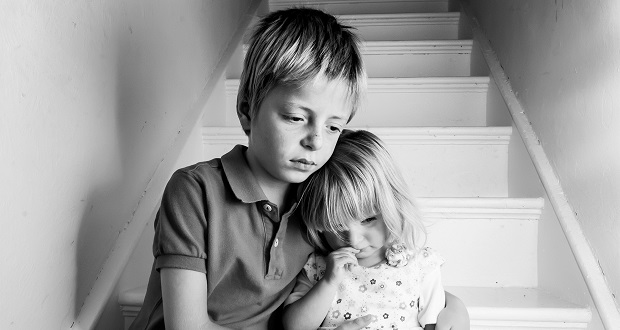 Image Source
Let's face it, even living with your violent parents is scary; how much more to another "unknown" family?
In present time, my country Philippines has over a million of abandoned children; living in squaters area or just in the street alone. After reading a lot of stories about foster children, I have seen myself to what if the same unfortunate things happened to me; would still be choosing to be with that guardianship?
Lately I've shared my story of how I have grown up. I am still blessed enough to have a strong-bond mother and father. I won't lie, sometimes they have misunderstandings; it's just part of life, but they still stood strong.
The Custody is a Scary Place
It's like bringing a child from nothingness to nowhere. How scary could it be? No matter how chaotic, abusive or neglectful a family of a child, it is still indeed terrifying to be taken away from the people you've known once. Imagine a child will be living to a complete new stranger. There will be only two possible things to happen: to change the life of a child for the better or to end and start the darkness of his life.
While scrolling up and down in my Facebook today, I have found this article from CNN which really pushes me to write up and support family protection.
Note: I have no intention to copy the content, the following article is not mine and all belong to >CNN<.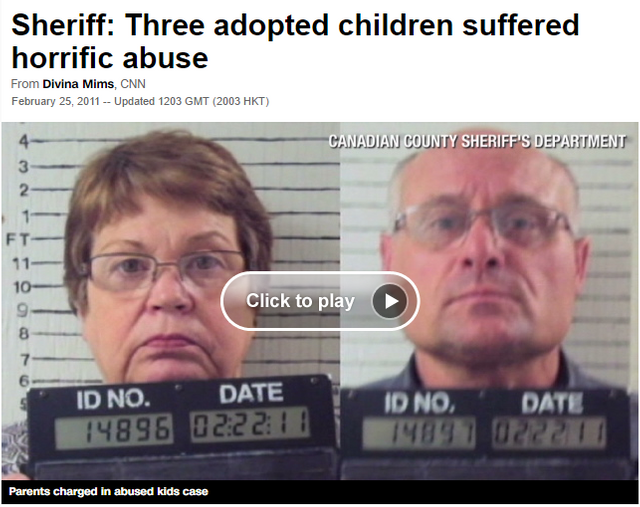 *(CNN) -- Three adopted children who allegedly suffered burns and were forced to eat pet food lived in "inhumane conditions" and might never fully recover, an Oklahoma sheriff said Thursday.
"They have been raised worse than dogs," Canadian County Sheriff Randall Edwards told CNN of the three malnourished juveniles, who are 9, 11 and 15.
John Kluth, 50, and Sonja Kluth, 57, of Yukon, Oklahoma, are accused by the district attorney's office of three counts of child abuse and three counts of child neglect, authorities said.
The complaint alleges the Kluths confined the 15-year-old boy to a plastic dog carrier for two months and deprived him of food. The couple, who surrendered Tuesday, were released on a bond of $9,000 each. A phone number for them was unlisted.
"We are certainly not happy with the low bond," Edwards said.
The Kluths confessed to some of the allegations during the execution of a search warrant, the sheriff said. According to an affidavit filed in support of the arrest warrant, Sonja Kluth told investigators that she had tried but lost control of the children and had become a "monster," doing things she never should have done.
The three children are in custody of the Department of Human Services and are improving, according to the sheriff.
All three have stunted growth, Edwards said. He called it the worst abuse case he has seen.
According to the department, the 15-year-old was found sleeping in a box behind an Oklahoma City store on November 28. An investigator learned about child abuse at his residence in Yukon, a city about 15 miles west of Oklahoma City. The teen has an 11-year-old brother and 9-year-old sister.
Originally, the three were foster children in Wisconsin, officials said. The state placed them in the home of the Kluths, who adopted them and were still receiving $1,500 per child per month from Wisconsin after they moved to Oklahoma, Edwards said.
The Wisconsin Department of Children and Families is withholding adoption assistance payments, said Erika Monroe-Kane, communications director for the department.
"On January 20, 2011, we received information from the State of Oklahoma that the children had been removed from the Kluths' home. That same day, we requested additional information from Oklahoma and are still awaiting their response," she wrote in an e-mail to CNN Thursday.
Authorities said the Kluths are accused of burning the children with hot spoons, choking them and locking them "in the storm shelter behind the residence for long periods of time with only chairs to sit in and plastic buckets for bathroom use. It was also alleged that the Kluths deprived the children of meals for punishment and fed them cat food and dog food," according to a statement from authorities.
The older boy said all three had their tongues burned with a hot spoon for lying, authorities said. The affidavit said the teen revealed scars to his body and smashed fingers. The girl and younger boy had multiple injuries on their face and bodies.
The girl reported Sonja Kluth hit her with handles of brooms and mops and strangled her until she "could not breathe," according to the affidavit.
The older boy said Sonja Kluth would tell him "get back up here, you know I want blood," during the abuse, authorities said. John Kluth told investigators the couple was strict and that "there is a wall of discipline in the home."
The kids are illiterate, although Sonja Kluth said she was home-schooling them, Edwards told CNN.
"The children disclosed that the Kluths had struck them in the face and about their bodies with their fists, struck their heads on the floor repeatedly and struck them with objects, including but not limited to a mallet, a soup spoon, a can opener and the buckle end of a belt," the statement said.
One of the children was told by Sonja Kluth that he should commit suicide, the statement said.
The sheriff also said that three biological children of the couple, who are now adults, urged Wisconsin officials to investigate their claims that they were abused while living at home.
The Wisconsin Department of Children and Families said it could not comment on specific allegations relating to anything that may have happened in that state.
"Under Wisconsin law the Department is prohibited from providing confidential information as it pertains to specific children," according to Monroe-Kane.
The Kluths' biological son, Bill, told CNN Oklahoma City affiliate KWTV he was not shocked by the allegations.
"These people were basically out just for the money. They weren't out for taking care of these kids," he said.* [end]
Never Ever Gamble Your Child to Strangers
The article itself provides and explains everything why we should stop those agencies. There are still foster parents who are good people, but how unlucky could it be like what happened to the three children. You can never tell what kind of people a child will be given. We never knew what's the story behind a foster child, and I am pretty sure it's frustrating and difficult to handle to their ages. They suffered trauma because of their family, but became a serious depression when moved to the second one.
Foster care can be avoided if there is a right help provided in every parents. There are no perfect marriage or family either, but only a good one. It's not a choice to have that custody, an intensive services from the government that will strengthen, heal and restore a struggling family are the needed.
Fight for your Family
Governments today are basing directly to their followed rules and laws. But who are they to say so? Please fight for your family, fight for you children and fight for your life. I am here with you. Count me in.
Thank you!
Mike @mikekenlytungal