Warning, this will not be a balanced, good to both sides article. I am angry. And I have zero interest in the excuses made by government and hospital officials in this case.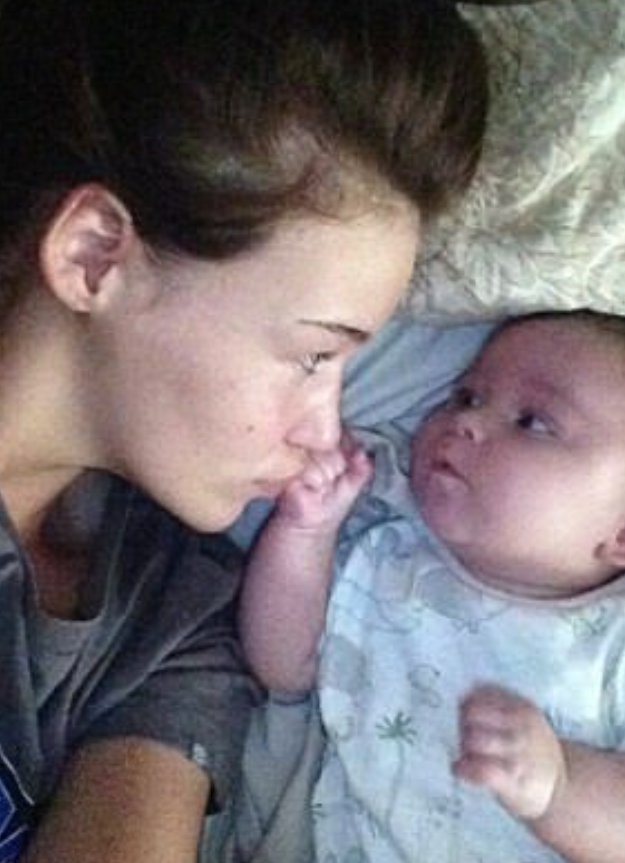 If you haven't heard of little Alfie Evans, color me surprised. My heart has been breaking for his struggle and his incredible parents for months. Twice this week I broke down crying at work for this child on the other side of the world.
Alfie is a young boy, 23 months old, less than a month from his second birthday.
Alfie is a victim of vaccine injury. He was a normal baby. Walking, talking, eating on his own.
As is so often seen on cases of vaccine injury he suffered significant brain damage from seizures. They called it a degenerative nuerological disorder. It has no name. Some think he has mitochondrial degeneration, but we'll never know.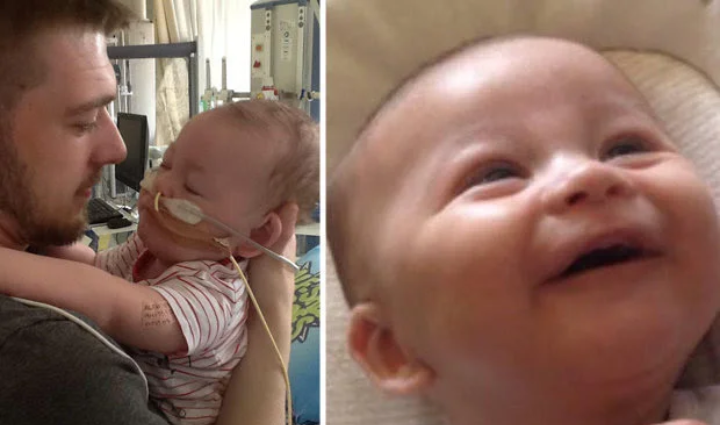 before and after photos of little Alfie
After his reaction Alfie was brought to Alder Hey Children's Hospital in Liverpool. At first things went well. Alfie was kept under sedation to help with his seizures. He has been labeled as being in a "semi-vegatative state".
What does that mean? He could open his eyes, he could grasp a finger, he could react to certain stimuli.
But over time, things got worse. Nothing was being done. Alfie still had a temporary intubator instead of a long term, more comfortable and safer device.
No progess was made in diagnosing or treating the boy.
Alfie's parents attempted to take him to one of Europe's top hospitals, but Alder Hey prevented it, claiming it was a cruelty to seek more treatment and the child should be taken off life support.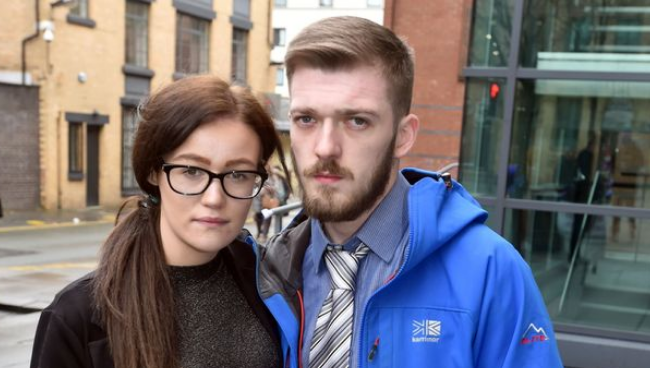 His parents, a young couple by the name of Kate James and Tom Evans put up a fight. "Child Services" and the hospital decided it was time to take parental rights from these loving, responsible and caring parents and applied to the High Court to do just that.
That happend in December of 2017. Since then, Alfie has built an army.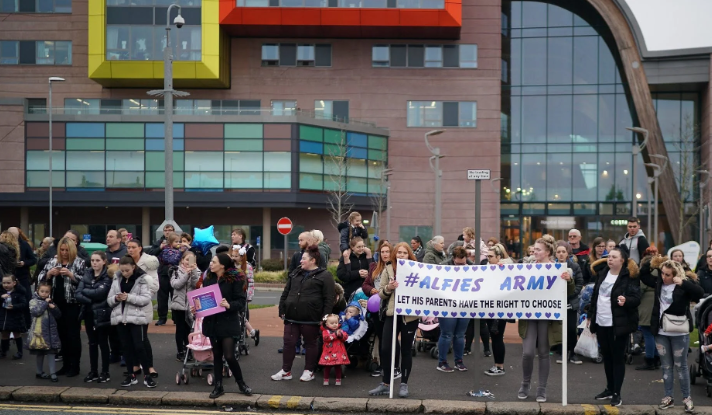 Supporters from around the world, captured by this little family and their desperation to survive. Together.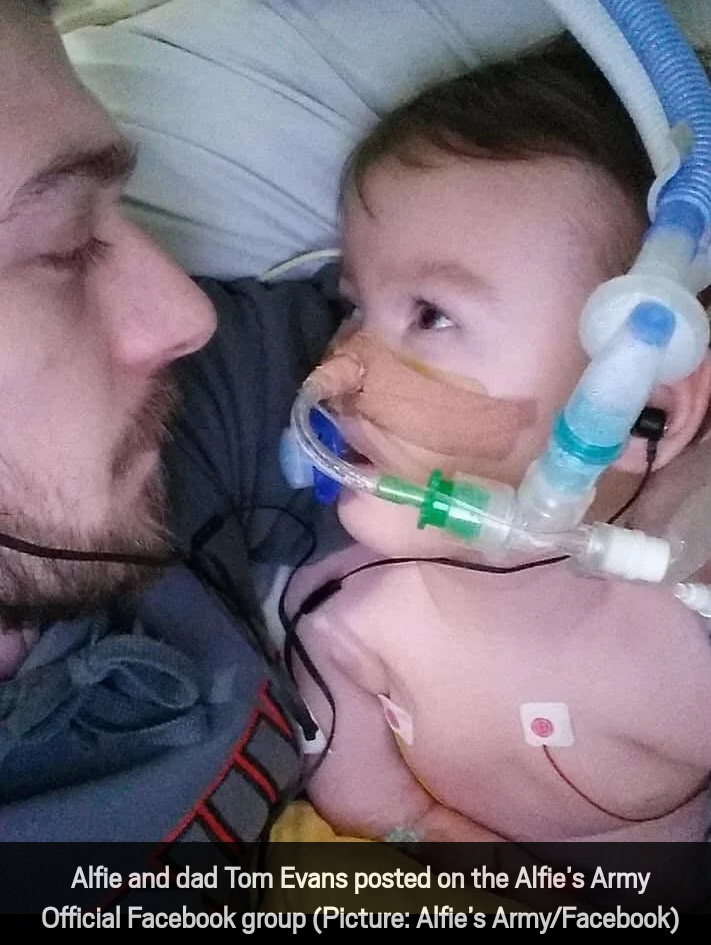 Justice Anthony Hayden fought the little family time and time again, taking their son's life out of their hands. He prevented them from moving Alfie to a better hospital.
In early April Judge Heartless ordered Alfie off life support. In Thomas Evans words, "He is to be murdered."
On Monday the 23rd, Alder Hey staff removed Alfie's breathing tubes, claiming he would die in 3 minutes or less.
That hospital claimed he was so brain dead, Alfie wouldn't be capable of breathing on his own.
This little dude defied them. 6 hours later, Alfie was still alive. 12 hours. 24 hours. 48 hours.
Even though clearly living on his own and clearly struggling to do so, Alder Hey staff did nothing.
Police lined the outside of the hospital, making sure Kate and James could not defy the judge and "kidnap" their own child seeking medical care elsewhere.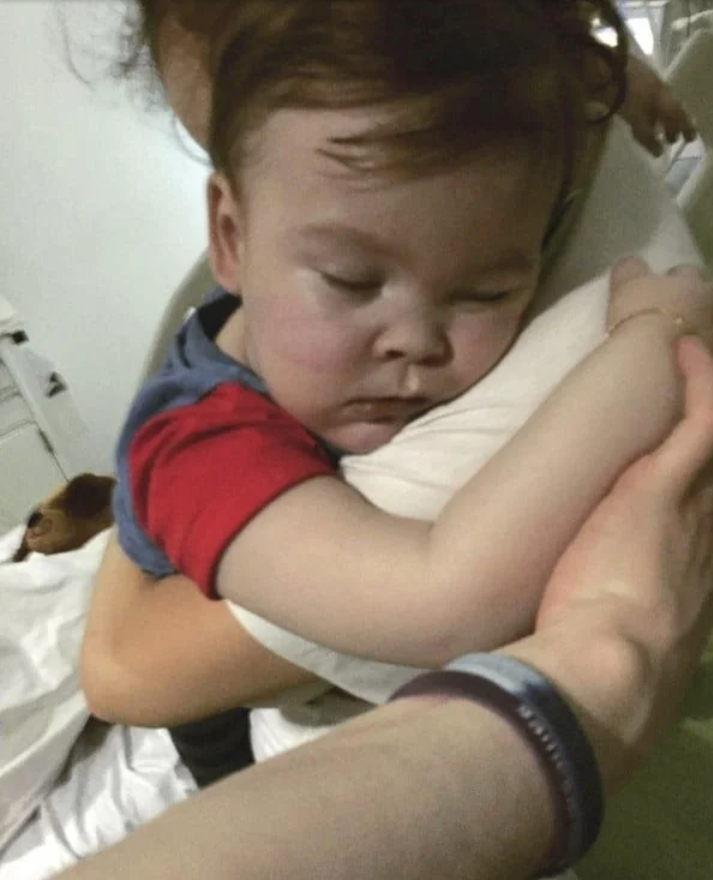 Thomas looked to Pope St. Francis. The Pope himself interviegned and got Alfie an Italian citizenship! Hope at last! He could be brought to Italy, clearly the boy could live, and Italian doctors had treatment options they wanted to try.
Judge Heartless refused to allow Alfie to leave Liverpool.
Meanwhile the parents are doing mouth to mouth to keep their baby alive while hospital staff do nothing.
The baby refused to die. So the judge ordered his feeding tube removed. The baby cannot be killed by taking his oxygen, so starve him to death instead.
Nobody in power stood up for these people. Not one person thought to give up their control.
Alfie died this morning. 6 days after he was taken off of life support a pawn in a game of power.
Why would they do this? A child SO LOVED by his family, a child nobody wanted to give up on. Why would they refuse to let Alfie go to a place willing to treat him?!
Well, he would have turned 2 next month. At that point, had he been allowed to live, the government would have been forced to pay for Alfie's lifetime of care. His medical expenses, his special foods, even diapers.
Vaccine injury compensation would have begun next month. So they sentenced the child to die less than one month from his birthday.
That's one hell of an accusation. And yet here we are. A baby systematically MURDERED by his own country.
We CANNOT let this keep happening. These are our children! Alfie could be Inari, or Sparrow or Willow! Alfie is all of our children.
They have taken away our rights to save our own children and if that does not make you absolutely LIVID I'm not sure this was the article for you.