Know Your Rights Before the Knock On the Door
Late last year, my dearest friend Jane called me in panic.
She was just released from the hospital and at her door was a CPS worker, demanding to see her children. It was unsettling.
Jane was weak from the hospital stay, in comfi clothes, and in no shape to receive any visitor. Her husband was at work. CPS well knew that. But let Jane tell her story to you. Here is her account.
It is not an isolated event. It happens all over Texas, the US, Canada, Germany, Once Great Britain, France and Sweden day in day out. Protect yourself by knowing your rights before the mid-morning knock on your door.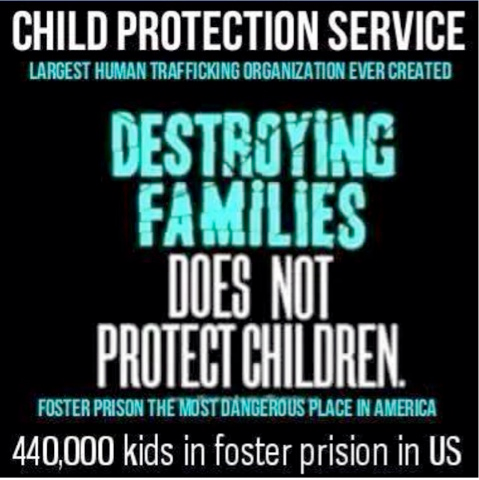 Image Source

Unwell
It all started on Tuesday, September 28, 2017.
I wasn't feeling well. Because I have no medical insurance, my only course of action to take was to insist my husband of 17 years take me to the hospital emergency room for treatment.
I mention how long my marriage is intact with good reason; CPS (Child Protective Services) likes what they perceive as "stability"-believing a good chunk of time spent together, married, represents just that. At least that is what they say. As we know, the CPS and their henchmen and women aim to break families apart, and steal children from their parents without cause or lawful authority. You see, there is a difference between legal and lawful.. But I digress.
I spent the next 4 days in the hospital being poked and prodded. Blood being drawn every few hours to process for labwork, monitoring the effects the fluids and vitamins and painkillers were having in my bloodstream. Typical ER protocol. The medical staff determined that I was undernourished. I had suffered from low-levels of potassium. I was depleted of almost all vitamins and electrolytes; all of those situations are bad for the brain -- dangerously so. It would be several months later until a new team of physicians and specialists nailed down an accurate diagnosis. That's a different story.
The Dreaded Knock
Back to my tale of woe with CPS.
There I was: back at home on October 1st, 2017. I was exhausted, out of energy and in desperate need of two days of recuperation. The state of the house wasn't, well...clean. Six days in the hospital left my home disheveled. My discharge from the hospital happened late at night. When i arrived home, I went to bed.
The next day, it is October 2, 2017. Mid-morning. Suddenly, a knock on the door. It was a CPS investigator.
"CPS? Why is there a CPS investigator here?", I pondered.
"Hello ma'am. I'm Kevil (name changed to protect my family from persecution).
"I'm a Child Protective Service investigator. May I come in? We have to ask permission."
I am panicking: "Oh God! My house is a mess! I'm a mess! Why is he even here?!!"
"Uh.. No... What's this about?", I asked Kevil.
"Ma'am, we received a report from the hospital concerning your labwork, and we understand you have small children homeschooling in the house..."
he stated.
*My children aren't "small". And, wait a minute... How did they get hold of my labwork? Aren't there privacy laws to protect against anyone getting my medical information? And how do they have it so soon? I haven't been out of the hospital for even 12 hours yet! My head is spinning.
Mistake 1
"So, may I come in?", he asks again.
"No. My house is messy. I haven't had time to tidy up yet."
"May I at least see the kids?" he insists.
"Sure", I say. That was my first mistake.
Must Know
Dear Reader, parent, caretaker!
Please know, you may refuse. Please know your rights before agreeing to anyting. Whether you think you'll ever need that knowledge or not: If you have children, protect yourself, and them by knowing your rights.
He saw my 2 children. After a few minutes, he appeared satisfied that they weren't in any danger, but then pressed on:
"I would like to come by tomorrow?"
"Sure", I said in my naivety.
As sick as I still was, I spent the next 24 hours scrubbing every square inch of the house. I baked bread. I did everything I would do when I am well, just to to make Kevil go away.
The Interview Trap
The visit went beautifully -- at first!
Kevil interviewed my kids. He even had to explain what 'discipline' was to my son. You see, my children have no concept of corporal punishment or deprivation of any kind. At the end of my sons' interrogation by Kevil, the CPS worker set a trap. He said, even he, claiming he was a Christian, would penalize his own children with physical punishment. My son starred at him and started to ask him Godly questions, to which Kevil had no answers.
Finally, somewhat embarrassed by my son, he said he was happy with the interviews. Suddenly, he turned his razor-sharp attention toward me. Like a sting of a wasp it hit me: Kevil requested to drop my my house me again, this time a female colleague.
"Sure", I said, though I had a weird feeling about this impending visit, with two of these people.
Case Closed - Trap Opened
A week passed. After several missed appointments, the same that Kevil had set-up and failed to show, he finally returned with his co-worker. He informed me that as far as he was no longer concerned with my children's safety and wellbeing.
"The investigation is complete." he said.
The case is closed. Kevil exited my home but left behind his colleague to visit with me. A young girl, barely a woman, she seemed nice enough. We talked about the kids, and the difficulties with homeschooling because of my health issues at the time.
That was my second mistake.
Never offer any information voluntarily to the CPS or any other untrusted party. DO NOT give MORE information than required by law.
Why?
Because everything you say can and will be held against you - without Miranda warning - and without court.
Suddenly, the zealous CPS girl pulled out a document and hands it to me. It's some kind of contract. And with a hardening voice, she encourages me to sign it. She insists that she was here to help. That the CPS was here to help. A promise to help, me and my children.
"We have resources, we can make a difference." ...her voice turning sharper.
I am feeling my anxiety levels rising and alarm bells going off.
Sure, all these "free" resources sounded fine and dandy.
But when I began to read the contract, my stomach started to turn.
She wants me to sign it. What I am reading here is this: Sign and commit to "at least 6 months" of total CPS control with harsh penalties for non adherence. First, at least six months is open ended.
Kevils colleague now eyes me like a hawk. Those terms. I am nauseaus. Listed are, among others, these actions:
Therapy (for what?)
Psychological evaluations (uh...who is to do the evaluating, and who determines results?)
Parenting classes (why?)
UA screenings (you mean a urine test?)
Ensuring my children attend day care (?!)
Being at home for both scheduled and unplanned visits from caseworker. (uh..so a prisoner in my own home?)
Here is the contract Kevils eager partner handed me to sign: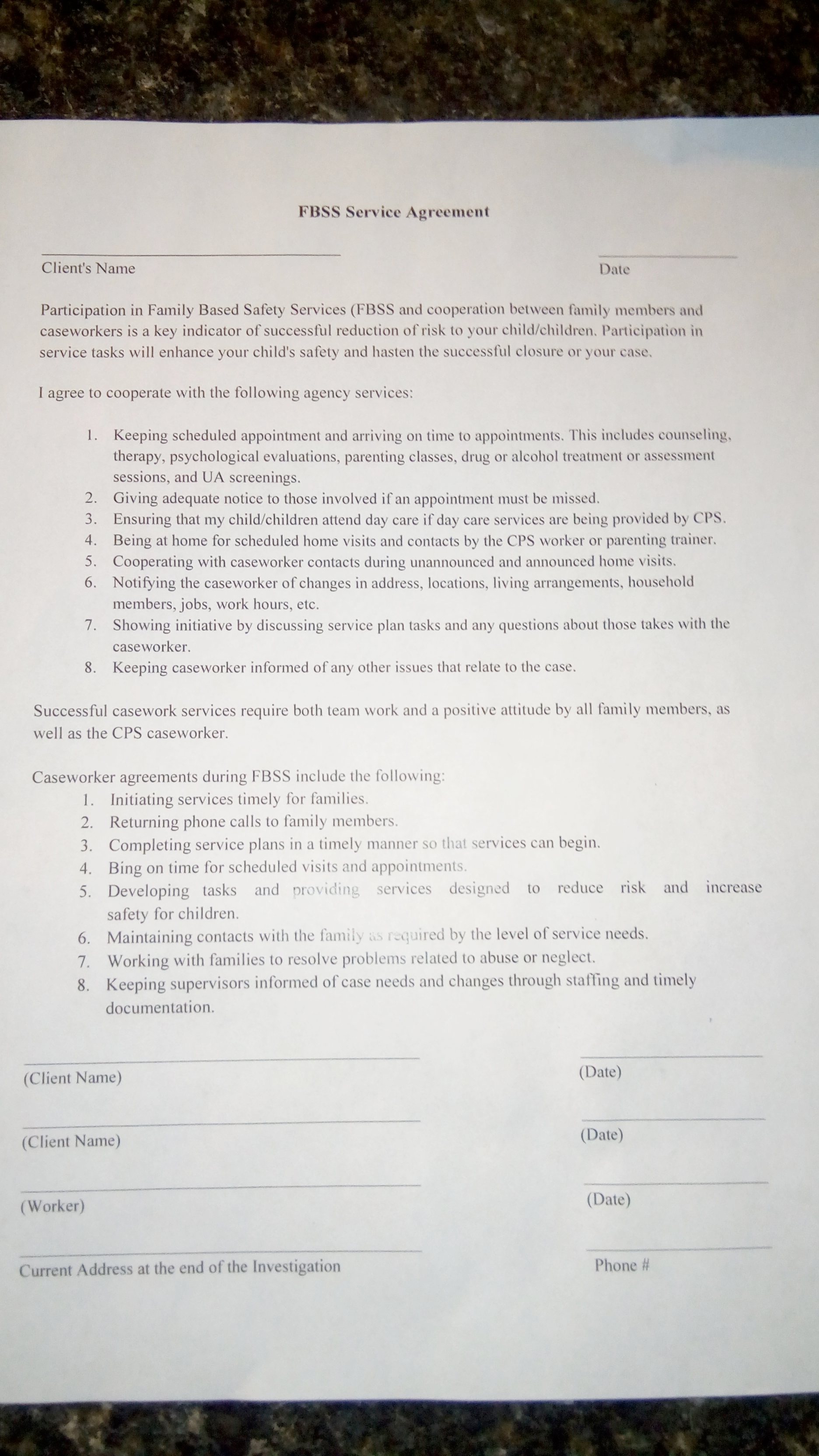 Failure to Comply
Failing to comply with just this small sampling of over-reaching, unnecessary and no value-add rules would have me made me non-compliant, and thus in breach of the contract. This status then gives CPS "probable cause" to remove my children from our home, and tear our family apart.
Qui bene? Who benefits?
Set up to fail
Let's review what let to the CPS Investigation. What did I do that warranted a governemtn intrusion my home and personal life?
Is it now a crime in Texas to seek medical attention? How did CPS come into custody of my protected medical information?
Had the attending physician or a nurse given my medical history to the CPS? What laws did the hospital break? What laws did the CPS, Kevil, and his hawkish apprentice break?
I'm reading this contract. Line by line, it seems to transform into a state decree. Now I am thinking: this "contract" has been written for one purpose only: to "set me up to fail".
Just as I'm about to place my pen on the contract, a force snaps me back - almost as if my hand cannot physically touch the contract with my pen. Suddenly, clarity washes away the clouds in my head. I realize what this is: They are asking me to sign "at least 6 months" of my life toward obligations that are impossible to meet!
DSM: We are all Mental Cases
On what grounds is this CPS person whom I have never met in my life, a woman who doesn't know me, demands Psychological Evaluations?
Anyone familiar with the DSM's 5th edition knows: their "medical" textbook classifies anyone mourning the loss of a loved one as "mentally unstable". Why on Earth would I agree to having a psych eval from ANYONE working with or for CPS? It's ludicrous, the thought!!
Once A Bully - Always A Bully
I didn't sign the contract. Zealous CPS chick now gets on her phone and calls Kevil.
"She isn't gonna' sign the contract..No..I guess she doesn't want our help...
Kevils bulldog now demands with a rather cold voice two names and numbers of people who can vouch for me ...like character witnesses?...
Ok." Wait, I thought the case was closed? What am I accused of? What judge ordered character witnesses?
I regret having even talked to this person who is now bullying a parent that was in a hospital, her husband not at home: Easy prey. Classic CPS.
Bully Tactics
The Weapon: Fear -- The Defense: Know Your Rights
Why is this bullying you might ask?
I see it like this:
CPS now demands to involve, and potentially harass two more people with intervies and uncomfortable questions - setting traps to get my children. I have comitted no crime. My children are well fed, clothed, happy and cared for.
Yet, the CPS is casting a wider net. I do not have many friends. Especially not people I truly trust. Even close family is not friendly - on either side. I don't want to drag other people into this awful situation.
Bullying.
Bulldog is not leaving without names and numbers. Alone, tired, intimidated, I finally give her the two safest names I know. For now, the Jekyll Island creature leaves. She also leaves me the 'contract,' along with her business card: "In case I change my mind."
Not a chance in this lifetime!
An Open Ended Case - Unlawul - Illegal
What about the case? Yes, the one that Kevil says is closed. I'm still waiting for my letter stating as such. I have not received a case closure letter. I therefore must assume that this case is still open? The law states any case must be brought to a close after 45 days. Let's do a little math here:
---
From and including: Wednesday, 18 April 2018
To and including: Tuesday, 2 October 2018
168 days
It is 168 days from the start date to the end date, end date included. Or...
5 months, 15 days including the end date... That's also:
14,515,200 seconds
241,920 minutes
4,032 hours
24 weeks and
46.03% of a year.
---
Perpetual lawbreakers, the CPS.
The power is not with the people, not even in Texas. It's in this case with the CPS, who care not about the well being of my children nor my family.
For now I have hopefully slipped under their radar, escaping Kevil's wrath.
Real Service Can't Be Trusted?
I know there are children in real danger, and I'd like to think they are getting real help, and that the agency isn't wasting their time and taxpayer money to screw people like me.
Yet, here I wait. Stomach in knots, waiting for one day, for the other shoe to drop. What would happen if they were to find out my husband lost his job back in February? Does that go in the casefile? Is judgement going to be passed without judge and jury? A new investigation before the closed one was closed? Is it closed, or not? I dare not to call and ask.
Some days, I worry all day long.
Other days, I seem to forget for a little while.
I just need closure, so I can go on with other things. I feel like I'm being tortured.
That's Jane's story, so far. I'll keep you all updated, when I receive The Letter.
with Love
~Jane

Follow @familyprotection on Steemit.
Governments around the world,
are using "Child Protection Agencies"
to take children away from loving families
and place them in foster care or group homes
or place them for adoption.
---
THESE FAMILIES NEED PROTECTING!
---
Share your own story and use the tag #familyprotection
TOGETHER, LET'S STOP LEGAL KIDNAPPING

Thank you for reading.

Proud Supporter of PAL and the - The Minnow SupportProject
Christopher "The Hat" Hatfield @globocop

[Upvote] [Comment] [Resteem] [Follow]
Globobop Curation Trail - Make your vote count - Upvoting Quality - Why not join today?
---