NANCY SCHAEFER MURDERED FOR EXPOSING CPS CRIMINALITY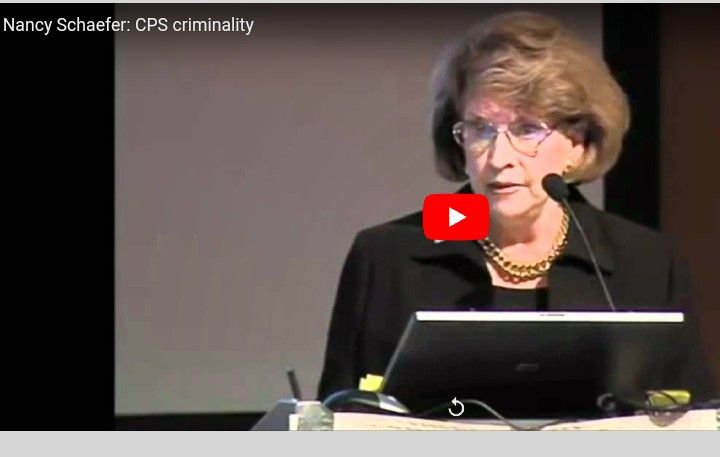 source
Nancy Schaefer was an American Politican and Conservative Activist who served in the Georgia State Senate from 2004 to 2008
Nancy Schaefer was found dead at her home in Turnerville, Georgia in Habersham County on 26 March 2010 with a single gunshot wound to her back.Her husband of 52 years, Bruce Schaefer was also found dead with a single gunshot wound to his chest.
Prior to any investigation, the mainstream media jumped on a conclusion that it was a suicide-murder, which is the typical whitewash strategy for this sort of cases;but we know that Nancy Schaefer and her husband, were murdered for their relentless work in standing up for the helpless.
Watch the video below to hear Nancy Schaefer speak for herself what she knew about the C.P.S; feel her convictions, listen to her strategies and the solutions she gave on how to defeat the CPS.
She spoke on the UNLIMITED POWER OF CHILD PROTECTIVE SERVICE(CPS)
​

Click to watch video
HERE ARE HER OPINIONS AND THE POINTS SHE MADE(THEY SHOULD BE CONSIDERED AS THEY MAY BE VERY HELPFUL):
She worked for four years in the Senate, but after four years of viewing the ruthless and unsparing actions of the CPS, she wrote a report titled THE CORRUPT BUSINESS OF CHILD PROTECTIVE SERVICES,which cost her her job, but like she said, 'There are causes worth loosing for', and the fight against CPS is one of them
we'll rather loose fighting, that stay quiet doing nothing
She pointed out that children were being taken from their families with Federal aid from a policy inacted in 1974 titled 'The Adoption and Safe Family Act' which offers financial incentive to States that increase Adoption number. To receive this bonuses, the local CPS must have more children,more merchandise to sell.
She pointed out that parents are victimized by a system that hold children longer and bonuses for not returning children to their parents
She also pointed out that it is abuse of power and lack of accountability, A GROWING CRIMINAL,POLITICAL PHENOMENON BREEDING ALONG THE GLOBE
'The CPS target poor families because they may not have funds to hire an attorney or even fight the system. The CPS has redefined poor for Psychologically inferior and in the best interest(meaning at the child's expense) for the child to be removed'

HER FACTS
six times more children die in foster care than in the general public

Once a child is legally kidnapped, and placed in the so called safety homes, the child is far more likely to suffer abuse including sexual molestation and or rape

The social workers destroy evidences and seek to terminate parental rights while being backed by state immunity

Judges have control over the income of 4.3 million Americans

As at 2002, $40 million of transfer payments were made between house hold of custody parents and other parents and this $40 million is under the control and direction of Family Court judges.

Foster children make up the homeless population of today.
She gave instances of 3 Fathers who committed suicide because they lost the opportunity to even visit their children. She pointed out clearly that these are crimes against humanity for financial gain

WHAT COULD BE DONE
An independent Audit should be called on in every state of all Child Protective Service Departments

A Federal congressional hearing is needed.

Remove and abolish the Federal and State financial incentives.

Give parents their rights verbally and in writing

open family courts,remove the confidentiality laws

To terminate the right of a parent, the case should be heard before a jury
'There has to be perseverance for any great reform and great reform is needed in this area'
HOW DO YOU TAME CPS-IT MAY BE ONLY BY CLOSING IT COMPLETELY AND STARTING OVER

THANKS FOR READING