I've written here on Steemit a bit about my youngest, Evanna, and the challenges she has faced and will face in the future. So I thought I'd bring her whole story to this platform.
The beginning
Her story started in January of 2016, well before she was even born. That's when my wife found out she was pregnant. Unexpectedly, surprisingly, wonderfully pregnant. We thought we were done, and there was a 7-year gap since our last one. But...her body at the age it was decided to drop an egg many days early. So we were going to have another...our 5th.
Something's not right
At the 20-week ultrasound, the tech was taking longer than normal and checking things repeatedly. My wife knew something wasn't right, but the tech doesn't go over results.
The next day, our midwife called, saying we needed to come in. And we did. At that point, and then the next day with a maternal fetal specialist, we found out indeed there was something wrong. Very wrong. The ultrasound was showing some severe brain abnormalities, with some major sections not even showing. Was not good news, and prognosis was very grim. But we refused to give up on our baby.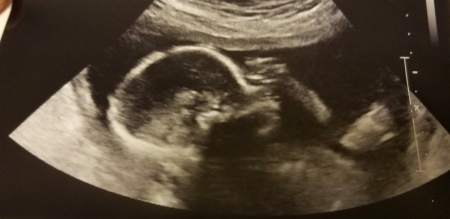 Subsequent ultrasounds seemed to confirm their findings, but they added that it was not spina bifida (no ultrasounds showed an SB defect). They were preparing us for a hospice situation after birth.
The actual diagnosis
It wasn't until 8 weeks later, with the help of a rapid fetal MRI, we got the actual diagnosis: it was spina bifida. When the neuro specialist told us, we actually cheered, because spina bifida was a known thing compared to what we were facing.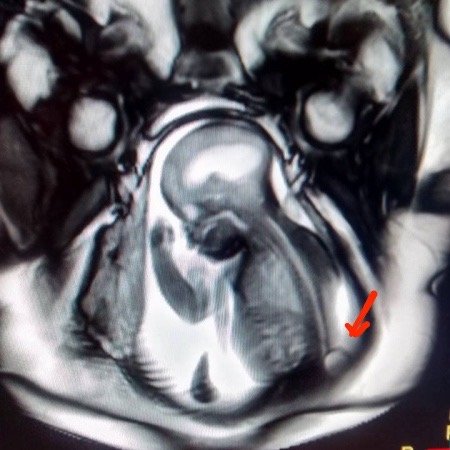 (red arrow pointing to her defect)
Her name
During that 8-week window, we'd chosen a name for her that reflected our hopes for her: Evanna Joy. Evanna, as the feminine form of Evan, means young warrior or young fighter. And Joy, of course, the radiant expression of the love of God that isn't dependent on external circumstances.
We should have had a hint that she might live up to her name. My wife was scheduled for a C-section prior to the due date (especially considering all our other children were 3-15 days late), but no, Evanna wanted to come early, on her own timeline. And so she did.
Her birth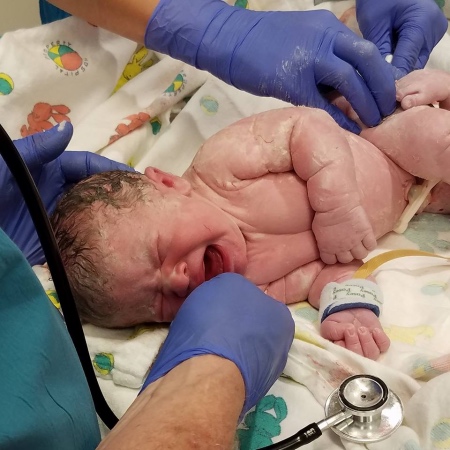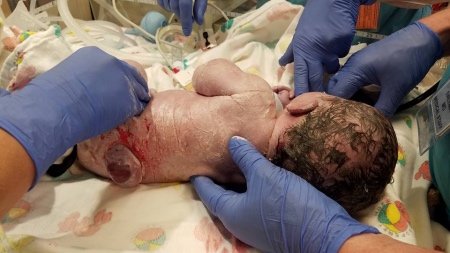 This is just moments after birth, transferred to the NICU team standing by. That lesion on her back is her spina bifida defect, which I'll explain further in another post.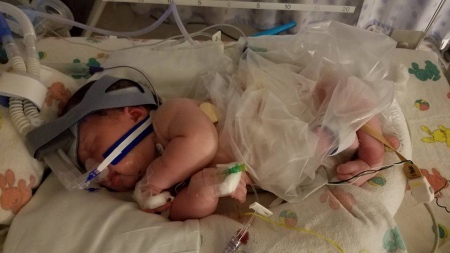 This is her just before the first of her surgeries, with the plastic providing a barrier to protect the nerves and spinal cord within her lesion.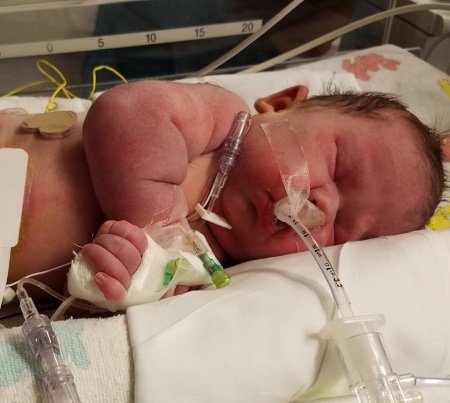 The first of her surgeries
And this is her just after her surgeries (4 hours after birth) to close up her back and to place a shunt to help drain the cerebrospinal fluid from her brain and alleviate pressure. Mom was still recovering, so I was alone, and to see her so swollen from surgery, and struggling was one of the hardest times for me.
---
To be continued...
(I'll post link here when next part posted in a couple days)
Where Evanna's story is being told
Facebook Community Page:
http://fb.com/EvannasJoy
Her website:
http://evannasjoy.com
IG: mostly on mine,
http://instagram.com/scotters2k1
though she has her own at
http://instagram.com/evannasjoy