My wife and I decided to take her mum to the beach today, for a walk. She's still recovering from her cancer operation, chemotherapy and general convalescence however seems to be going ok...We like to take her out often and do things and today being a beautiful-weather day we decided a walk, some fish and chips and a sneaky ice cream at the beach seemed legit.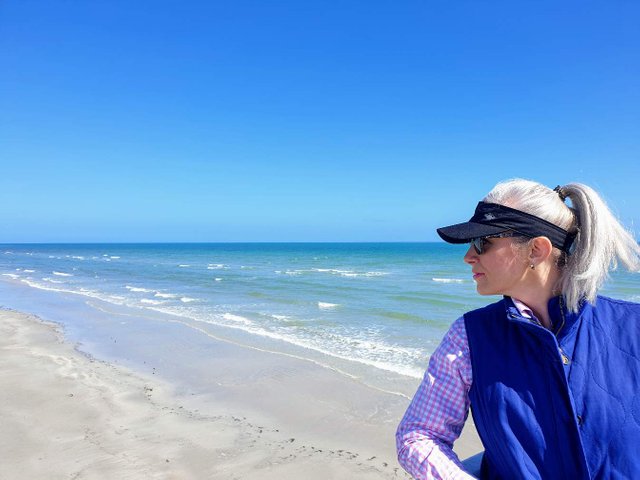 Here's faith looking up the beach thinking about fish and chips...Not really, fish and chips were on my mind though.
As you can see it was an awesome day, around 18 degrees and sunny! We parked and took a walk on the coastal trail and strolled out onto the jetty as well. We just chatted about stuff, our upcoming trip to New Zealand, my niece @smallsteps and various other things, just generally enjoying the easy-going day. The sun was warm and the air fresh and it was simply simple and enjoyable - A nice way to spend Sunday.

Looking to the West and out to sea from the jetty.
Around lunch time we headed back to the main street of the beachside town as fish and chips were calling my name. Well, not really, but it was definitely time to eat and eat we did.
I had some fish and a couple calamari rings...Chips of course too! We sat on the grass munching and watching the world pass by; I'm an accomplished people watcher you know, and there were many out today! You see some sights these days huh?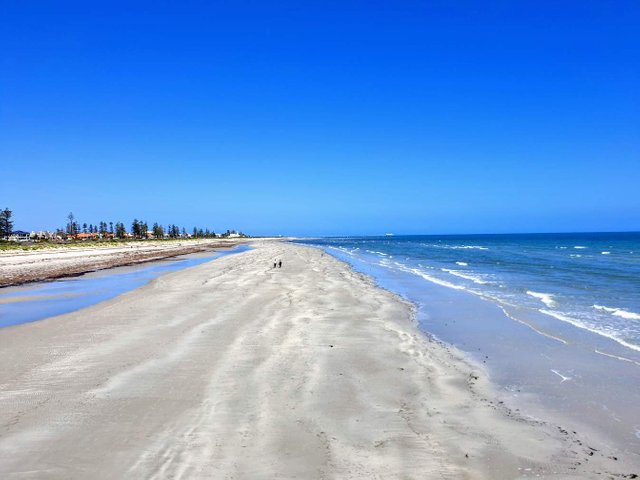 Looking south back the way we walked. Looks deserted but there were loads more people on the coastal path.
Now, some of you may be wondering about the tarts I scored today. They were beautiful. The Swedish ones. Well, there's a picture of them below and yes, they were as tasty as they look. We decided to forego the ice cream in preference for tarts and whilst every ice cream not eaten is an opportunity lost it ended up being a good decision.
We got them from a place called...Swedish Tarts - Yes, ingenious name-creativity there right? It's a café in the main street of this coastal town and apparently there's three others located in various other places in Adelaide. We picked up the three you see here and ended up taking them home to have with coffee later...Which we just did. Yum! I don't know what makes a Swedish tart, but they're scrumptious and I can suggest to everyone to score yourself a Swedish tart if the opportunity arises.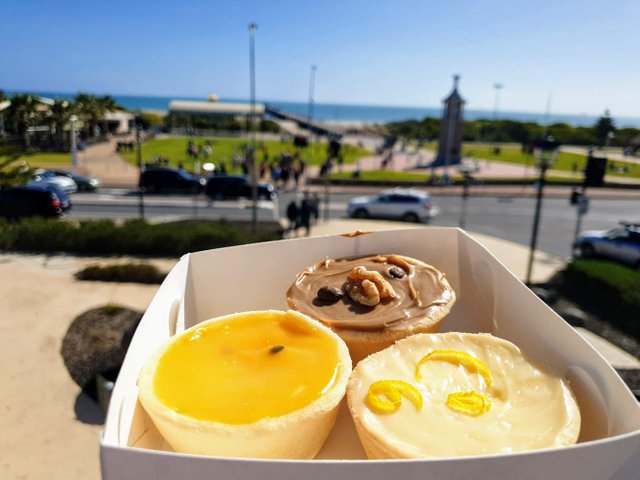 Three varieties of Swedish tarts
We had a nice day today. As I said, it was simple with nothing really planned.; Just some chatting and strolling, people watching and fish and chipping. Legit. We're pretty simple people really, and simple, easy-going days like today bring us a lot of enjoyment.
Hopefully y'all are making the most of your weekend and doing things that make you happy. Life's too short not to.
Design and create your ideal life, don't live it by default 🇦🇺
Posted using Partiko Android