Did You Know ? Actually i don't know.
Hello Friends Did you know what i am going to Tell You,I guess you Know it From Tittle.So Lets Get Started A I will Some Awesome Real Life Facts which will Blow you Mind and Make You Think Is It True??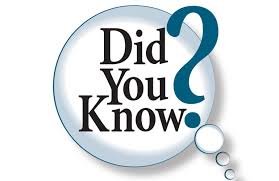 1.Did You Know?
" The Gorilla weights at least 3Times As much as A human Being,But The Human Brain Is At Least Ten Times Larger Than Gorilla's Brain!"
2.Did You Know?
"The Monkey has Two Brains, One To Control its Body The Other To Control its Tail!"
3.Did You Know?
"Candy Was Made And Enjoyed In Ancient Egypt Over 4000 Years Ago!"
4.Did You Know?
" A cow gives Nearly 200000 Glasses Of Milk in her Lifetime."
5.Did You Know?
" One Of the world Rarest and most sought after collector coins, The 1933 Double Eagle, Was Sold in A auction house Of New York On 30th July 2002 for the Record Sum Of $7.59 Million."
I hope you All Like These Awesome Facts Please Share your Views