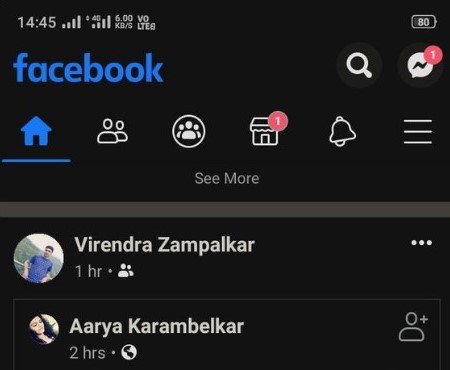 The presence of the Dark Mode feature is one of the most awaited by many users, because it is quite a lot of benefits and comfort that can be obtained by its users. This time it was the Facebook application's turn to get the feature after a few months ago its instant messaging service, Messenger.
Previously on the Reddit forum there were already many circulating related to the appearance of Dark Mode on this most popular social media application. But now back in circulation with the number of users who get more than the previous number.
But as said, this is a testing phase so that not all users can try the latest features that make batteries more efficient and use more comfortable when in a low-light room. And after this test is done, do not rule out Facebook immediately rolling it.
And when seen, this appearance is still the same as usual mode. It's just that the background is changed to completely dark, and some important icons such as notification bells, watch, messages, until the writing will turn white plain.
Then for the notification notification will be blocked as red. While in the upper left corner there is a Facebook logo as usual. And the color used is dark blue, so it remains comfortable and looks compatible with a dark background. Likewise with the marking of the menu being seen.
Not only India, some Facebook application users in Malaysia have also been seen to find this update. While in Indonesia there is still no further information, as well as the release schedule globally. Therefore, it is better to look forward to further information developments.