Well, for me, it basically is...but for my friend, Susie, it's special! She's turning 50 today.
She is probably the strongest, most positive and loving person I have ever met. I met her about 5 years ago when she decided to join the roller derby league I was in. At the time she was a potter who volunteered all of her time to the American Cancer Society, which she had been doing for many years...ever since she was diagnosed, treated for and kicked cancer in the ass.
Now she has paying gig with the ACS and we never see her anymore. Poor me.
I won't go on and on about how great she is, since she's not in the Steemit community, there's no point in embarrassing her.
But, that also works in my favor because I want to show off her birthday gift.
Well...it's not actually done. So I guess it's a good thing she's so busy so I don't have to explain myself.
Anyway, I honestly don't remember if I shared a pic of her adorable little Shasta...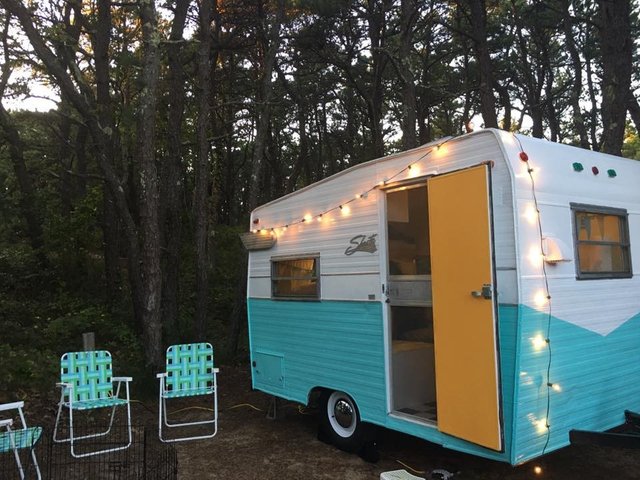 She doesn't like camping in tents, but she is headed out with the little Shasta for 4 days when her vacation starts on Wednesday.
So, she loves this little thing. She set up a little campsite in their yard, to enjoy it all summer.
I took this photo and did some futzing so I could make her a little embroidered wall hanging. (If I was more talented I'd have done this with a photo of her 3 dogs, but since this is only my third 'gift' piece, I needed it to be fairly simple.)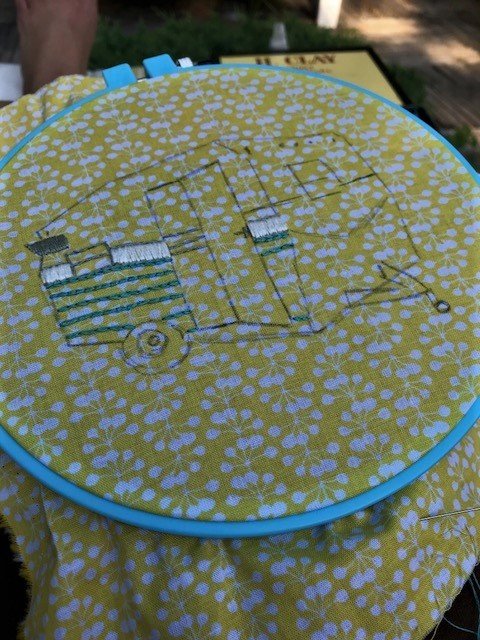 Once I started stitching I realized it was going to be a lot of filling spaces...and I really didn't want it to be just a bunch of filler stitches.
So decided to add a little of the dimensions you actually see on the camper siding, by doing rows of chain stitches to fill in between.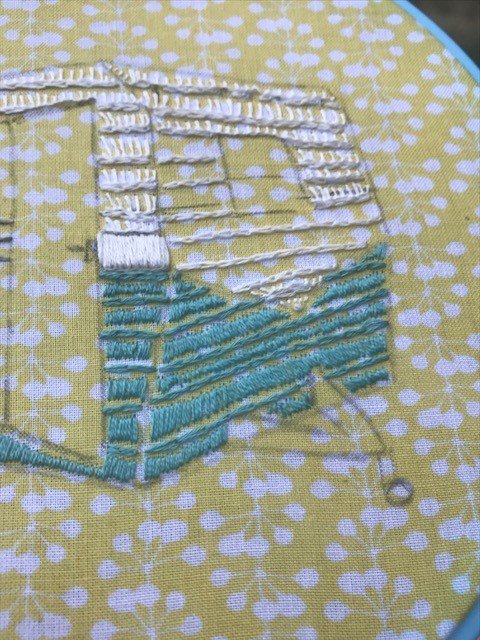 Again, I didn't want the white half to just be a duplicate of the blue half, so I changed it up and started doing a loose blanket stitch as filler.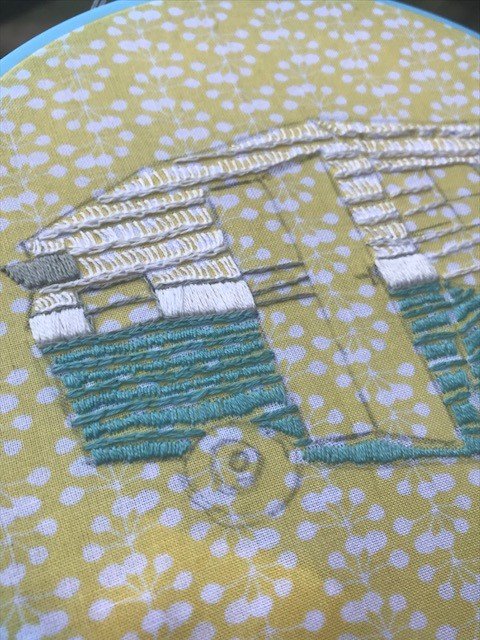 I am struggling with what to do with the tire, simply because I had some shifting of fabric during the tracing phase. But I'm thinking of just doing a pinwheel in black, then adding a little ring of white for the white-wall, then a little grey for the hubcap.
So here we are on her birthday, and this is as far as I've gotten because I've been lazy...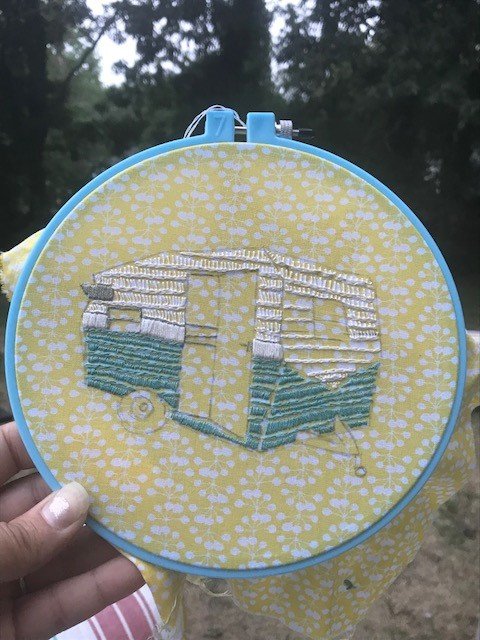 (so lazy I haven't even managed to remove my old nail polish!)
I do feel I'm getting better with keeping my stitches clean, and planning each new row of stitches to keep the back clean.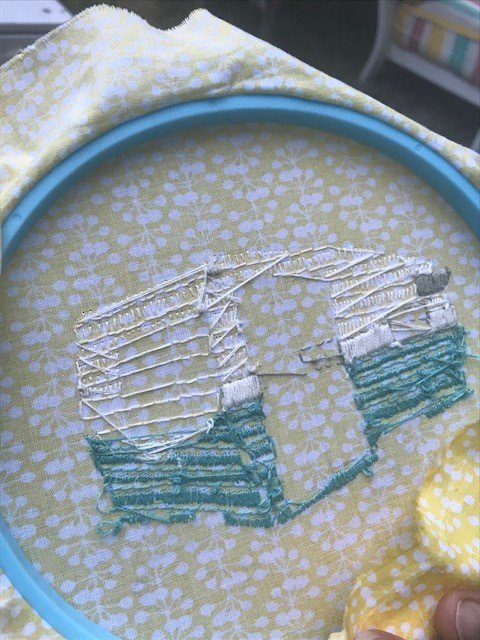 Though you can still see the times I decide it's too much trouble to cut, knot, and start fresh. There are loads of mistakes and it's certainly not a professional piece but I'm super proud of how it's turning out and she will love it, regardless.
In other news, the moon was absolutely amazing the other morning!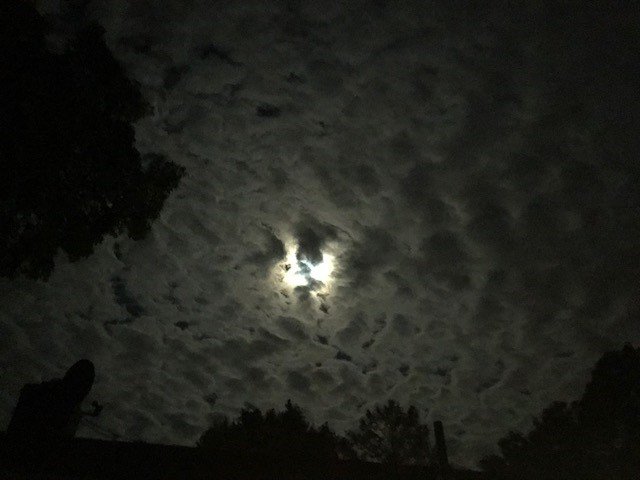 And, a couple weeks ago, I could've auditioned for Frenchie, in Grease.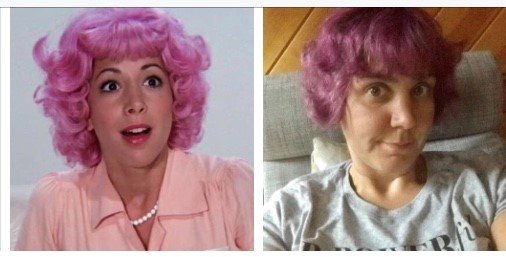 I guess that's my re-cap for the week. The humidity is wreaking havoc on Moxie's already compromised respiration, but she's a trooper. The new rotors for the Barracuda Project are on back order for at least a couple more weeks. We're hoping Mother Nature finally comes through on some good heavy rains today.
Enjoy the weekend...whatever that means for you!