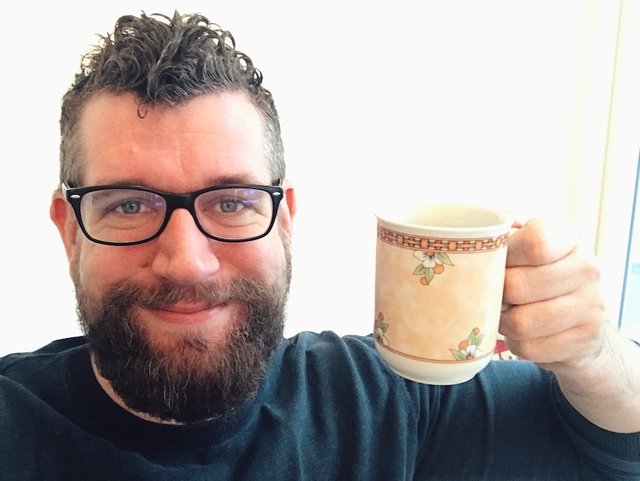 ---
Last night I went to bed a 2 AM because of the little STEEM pump that we had.
Even though this has happened many times before this one was a little different and enough for me to stay up for.
This pump made us close/cross above the 200-day Moving Average (the green line) on STEEM/BTC.
The last time that happened was in the end of may 2018 (we closed below it and stayed below it = bad)!
---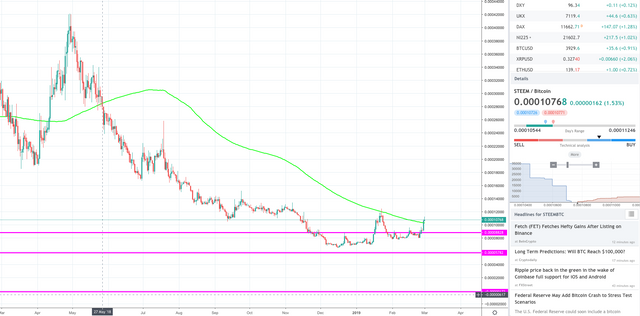 ---
Ever since @ezzy taught me about TA and made some incredible calls based on it I have changed my mindset about TA a little (I used to think it was all voodoo) and I have adopted it as a sort of hobby and tool to help me spot resistances and trends.
But don't worry I haven't changed into a TA master and I can't predict the future.
I also have never bought anything based on it (I'm a sucker for fundamentals for long term).
So what is the 200-day MA?
---
It just shows the trend of a stock or in this case STEEM over a 200-day average in the form of a line.
You can use it to get a quick overview of the general trend which obviously on this chart is bear! (it's pointing down).
They also say that when the price trades below the 200-day MA it's not a healthy sign but when it trades above it's a healthy sign and when price crosses it it can indicate a possible trend reversal.
And that's what happened yesterday. It crossed it on the up side! Pretty cool! (I think).
But what will happen now? I'm not 100% sure.
From what I read: when the price manage to stay above the 200-day MA the green line will flatten out and slowly reverse back up. It also will start acting as support.
So let's see. For me this is all new. But it's fun.
Like I said, I will never trade of it, my position in STEEM is already done.
---
My position in STEEM.
---
My position in STEEM stays the same as it has been. I have made my investment in the downtrend. And have managed to almost double up in the course of a year.
If price decides to go lower I can still buy more but if it goes up I can only buy more if other crypto goes up faster.
I'm sort of in limbo right now. Can't sell, can't buy. But I can earn! (STEEM's most underrated aspect).
---

---
Please consider us for your witness vote if you think we deserve it here:
---


---
Vote for @blockbrothers via SteemConnect
Set blockbrothers as your proxy via SteemConnect
---
We are the creators of Steemify a notification app for your Steemit account for iOS.
Get it Here: