EXTRADECOIN ICO PROJECT- Cryptocurrency Trading Platform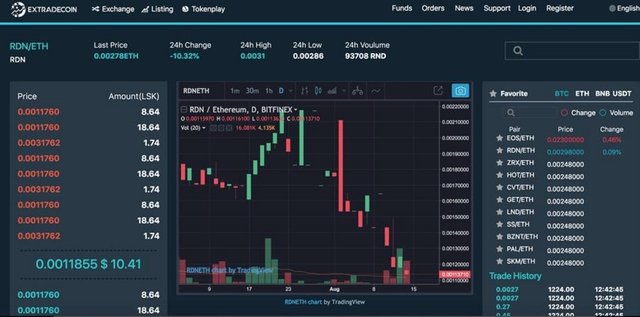 Hello dear crypto world, in this article I would like to examine the EXTRADECOIN ICO PROJECT, which aims to be a new generation cryptocurrency exchange, which will also give you the opportunity to make cryptocurrency by playing games while doing buy and sell transactions.
Extradecoin is a cryptocurrency trading platform where investors can buy and sell transactions via cryptocurrency exchanges. This platform is designed to provide high quality, reliable financial assistance. In addition, Extradecoin's main goal is to provide the latest technology platforms, the best user interface experience. Anyone on the Extradecoin platform can easily trade cryptocurrency.
Extradecoin will provide free analysis reports to its customers to help them trade effectively. This will also be one of the special opportunities planned for customers in the ecosystem. On the other hand, Extradecoin will have a highly interactive Broker (IB) commission policy that will bid up to 30% of the transaction fees charged by Extradecoin per transaction.
EXTRADECOIN PLATFORM'S FEATURES
STILL WALLET
Extradecoin will provide a wallet service with a few signatures on customer accounts. These wallets will consist of two private keys. One of the keys belongs to the user, the other belongs to Extradecoin. All private keys will be stored on a separate server.
SECURITY
Extradecoin uses the security mechanisms of Amazon Web Services. For this reason, for authorization, customers will need to pass the customer identification and security 2FA procedure. Different individual systems will not be able to interact with each other if they are not approved and unchecked.
MARJ TRADE
In order to increase the profitability of investors, Extradecoin will support margin trading on the platform. Trading collateral allows the trader to open a position with the leverage; margin can trade with double deposit. In addition, investors are required to pay margin fees. This fee is based on the amount of time and deposits the investor makes in the transaction.
TOKEN PLAY
Extradecoin will also integrate virtual gaming into the platform itself for a good time in the process of buying and selling to its users. Investors will not only trade but also play on Exctradecoin's Blockchain platform.
Token Play will not only be a game, it will also offer the opportunity to earn cryptocurrency while playing games. The games planned to be at the first stage of the platform; Worms - Dice Game - Diamond Game - Kitty Meow.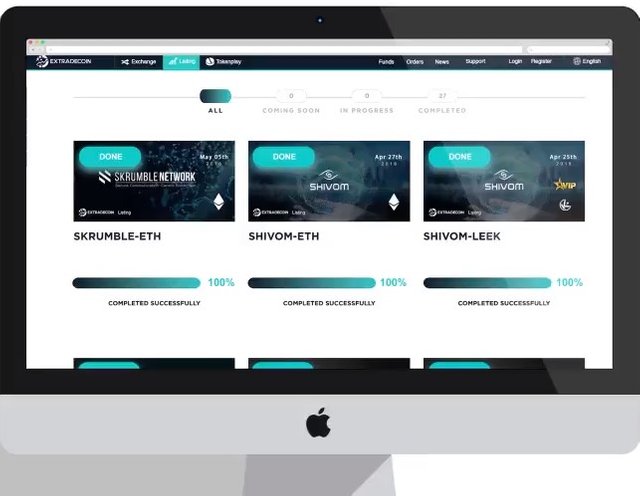 ICO LISTING
New ICO projects will also have an ICO section on the platform to integrate and promote the fund raising. Investors can use ETH to buy ICO project tokens they want. This ETH will be transferred to ICO managers and the project will send the token to the investor.
At the end of the ICO, investors will be able to use the tokens to trade through Extradecoin. So when the ICO process ends, there will not be any question as to when the token of the project will be listed in a cryptocurrency exchange. The cryptocurrency exchange to be listed will be ready.
WHO CAN USE EXTRADECOIN PLATFORM?
We can list them as Investors, ICO Developers, Buyers, and Sellers.
INVESTORS
Extradecoin will help investors in purchasing the majority of current crypto money on the market. The lowest transaction fees, the minimum withdrawal time, the fast transfer process and a different and advantageous cryptocurrency exchange is desired.
ICO DEVELOPERS
Extradecoin will support new ICO projects in the process of opening up and making calls for financing. Clients will help with selection and investment in ICO projects.
It also wants to help investors to sell tokens even if the ICO project is still ongoing. Once the ICO has been completed, investors will be able to continue processing this money in Extradecoin. By doing so, Extradecoin will help the ICO community grow to increase liquidity and token value.
GAMERS
"Token Play" aims to enable gamers to play games on the platform and win tokens at the same time. When playing in TokenPlay, users will use these tokens to take advantage of in-game services. TokenPlay will have high security knowledge. In Extradecoin, individuals can be players and investors at the same time.
TRADE PLATFORM
Extradecoin's integrated platform will produce ultra-fast processing speed, which will allow the market to achieve high liquidity. Thus, buying and selling can be done very quickly. This means that the money flow rate will increase.
Extradecoin will enable investors to trade through limit and market orders. In addition, margin margins can be realized profitably with high margins that can be integrated with the credit platform.
In the near future, Extradecoin also wants to create a decentralized cryptographic exchange. Through a decentralized platform, investors can make cryptographic money transactions without restriction. Extradecoin wants to grow by developing new trading models, including transactional decentralized structure at Blockchain to meet different investment requirements.
Extradecoin will also have multiple language options on the platform. It will also support common language in all user interfaces. The first version will be English and Chinese, followed by Korean and Japanese. Other languages will be added later to Extradecoin.
Extradecoin platform will be designed to be used in different digital media and vehicles. As a matter of fact, the Web-based investment environment will work in a compatible environment such as Android and iOS mobile applications, Process Application on Windows PC (Windows Original Client PC), HTML5 mobile website (Mobile HTML 5 Client).
On the Platform:
Extradecoin will be a trading platform that supports various cryptocurrencies but does not support any fiat currency. Initially, Extradecoin will support popular cryptocurrency transactions, namely BTC, ETH, USDT, XRP, LTC, NEO, ADA and especially ETE.
This list of supported crypto coins will be expanded. After the end of the ICO, the exchange rate will be added to the registered cryptocurrency to be listed on Extradecoin. This will help increase liquidity for ETE money traders and investors.

TOKEN AND ICO DETAILS
Token - ETE
Token Standard - ERC20
Total Token Amount - 250,000,000
Pre-sale Token Price: 1 ETH = 6000 ETE
Accepted currency during sales - ETH
ICO Master Sale Tokens Price: 1 ETH = 5000 ETE
Soft Cap Target: 5 million USD
Hard Cap Target: $ 10 million
You can register for the purchase of ETE tokens under this project via this link: https://ico.extradecoin.com/

For more information on EXTRADECOIN ICO project, you can review the following links:
Website: https://extradecoin.com/
ANN BTT: https://bitcointalk.org/index.php?topic=4789548
Whitepaper: https://drive.google.com/file/d/1ZOZiqfFTu71UiY5-FAWTnHWa2uKqH4wV/view?usp=sharing Twitter: https://twitter.com/Extradecoin1
Facebook: https://www.facebook.com/extradecoin
Telegram: https://t.me/extradecoinofficial
Author:
BTT Profile Link: https://bitcointalk.org/index.php?action=profile;u=2034249