Extent: The New Way of Handling Airdrops

INTRODUCTION
The level of progress the blockchain and cryptocurrency industry has experienced in the past 10 years has been mesmerizingly awesome and astronomical. Last year, the value of Bitcoin and countless other cryptocurrencies went to the roof causing the rest of the world to take interest in them and the technology that brought them into existence - blockchain.
This has created a situation where numerous blockchain-based projects, targeting the massive security and financil potential of the crypto world, have emerged. Owing to some factors and the huge technicalities involved in the processes of blockchain and crypto, non-technical individual find it difficult to participate. The leaning of blockchain-based projects towards the technical audience has mean a loss of other audience. This has greatly affected its widespread adoption, despite the fact that more information is now available on the subject.
One way to solve this problem is the introduction of airdrops. An airdrop is a blockchain-based project through which free coins or tokens are distributed to the crypto community.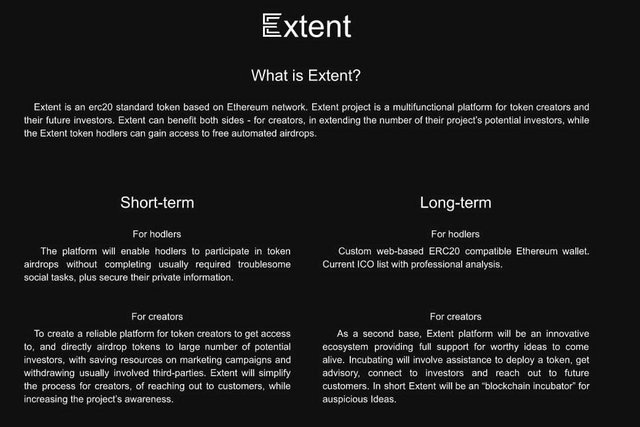 Extent has succeeded in creating a platform where token creators can easily airdrop token to participants of the community and also increase the number of their potential investors. The Extent platform allows users to kill two birds with one stone.
Original ANN: https://bitcointalk.org/index.php?topic=4811497
Website: https://extent.space
Official Extent group on Telegram ☄️
Join airdrop: https://tinyurl.com/extent-airdrop
Participate in bounty: https://tinyurl.com/extent-bounty
Contact: [email protected]
AUTHOR DETAILS:
Bitcointalk username: sagacity
My bitcointalk link; https://bitcointalk.org/index.php?action=profile;u=1256825
Wallet address: 0x3daCc0DB082E264264114A5c13C9E995B903Ab59