🚴 My Cycling Log | Afternoon 26km | 14/07
I just finished a 26.928km cycling that lasted about 0hh:58mm:23ss !

First ride out on my brother's Bianchi Via Nirone 7 that I'll be using for road cycling from now on, and it was an absolute pleasure! It's just been serviced with a new bottom bracket, cassette and chain, and it was very, very speedy. It'll take some getting used to as the frame is a little smaller so the drop from saddle to bars is a lot more than I'm used to, but first impressions were very good!
Went out with my brother and did a short 26m (ish) loop, riding towards Grateley, down into Over Wallop and then back up but then through Allington to have a go at one of the local KOM segments. I didn't fancy it but my brother was 1 second off of his CR. I reckon I'll be able to come close pretty soon!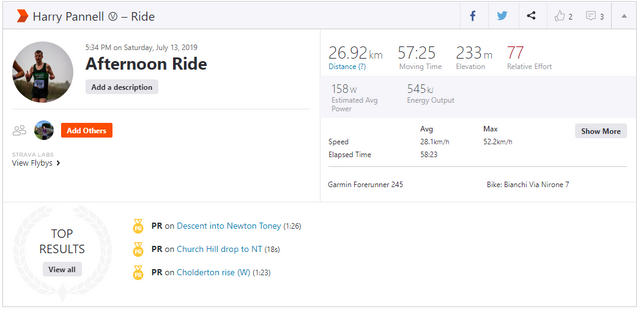 Check out some detailed info at my EXHAUST page
Join me in testing out EXHAUST!