🚴 My Zwift Log | SST (Short) 50m Workout | 10/07
I just finished a 21.728km cycling that lasted about 0hh:50mm:10ss !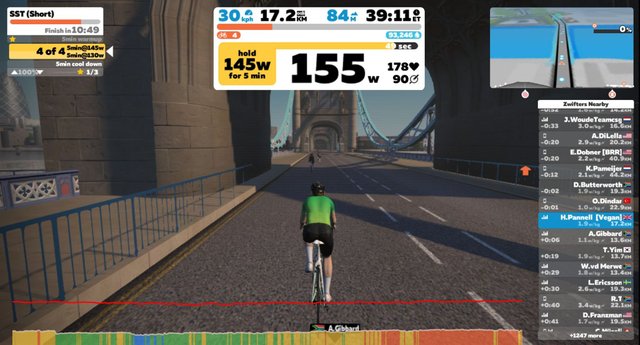 Completed my first Zwift 'workout' today and I really enjoyed it! These are basically workouts tailored to your FTP (functional threshold power) that try to keep you in certain watt zones for varying amounts of time, and can better your fitness base, FTP, etc.
I decided to let Zwift chose the specific route but I chose London over Watopia today; I ended up with a Central London loop that was good fun, and it looked like a popular one as there were a lot of other Zwifters! I chose a 50 minute-long workout based on improving my fitness base (thought that it'd be the best choice as I'm being really unproductive training-wise at the minute). It wasn't really easy, but it wasn't at all difficult so I did up the resistance setting on my turbo trainer for the 2nd and 3rd efforts.
In the future I think I'll try to do one Zwift Workout, one Zwift race and also a Zwift freeride a week alongside a couple of road cycles and runs each week. My next running goal is going to be a sub 1:30 Half Marathon followed by a sub 3:00 Marathon, and hopefully intense running/cycling/zwifting will help me towards those goals.


Check out some detailed info at my EXHAUST page
Join me in testing out EXHAUST!