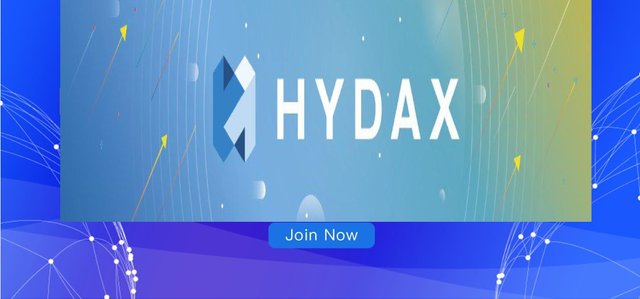 Hearty greetings to my amiable audience, I hope you did enjoy the first article I wrote on Hydax. I promise to keep you updated on the latest happenings and developments, which is why I have come with another intriguing update from Hydax team. I also hope and believe you will find this interesting. Thanks.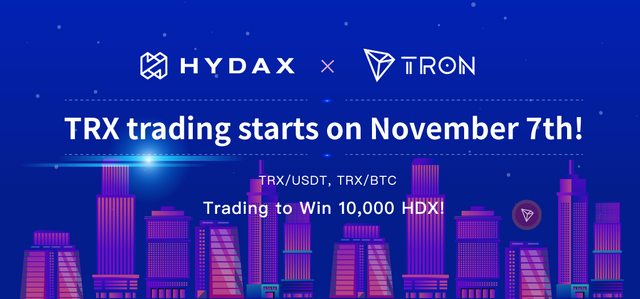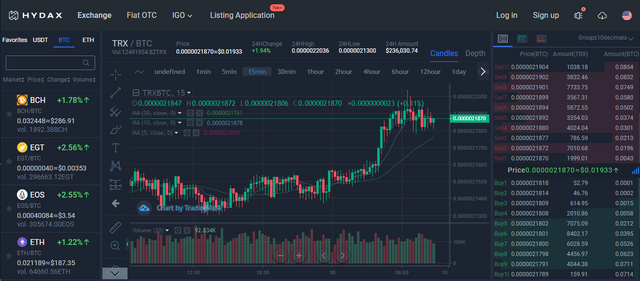 Tron (TRX) officially listed on Hydax
This is an amazing opportunity for all crypto enthusiasts, most especially for traders and investors, that TRON (TRX)in collaboration with Hydax exchange, has been officially listed on Hydax and that there is an ongoing trading competition, where 10,000 HDX (Hydax token) has been reserved for you. It started on November 7, 2019, and will end November 11, 2019, which means that you have about two days left to participate. So, you are called upon to join the ongoing trade.
Below is the reward details:
1st : 5,000 HDX
2nd: 2,000 HDX
3rd: 1,000 HDX
4th: 600 HDX
5th: 500 HDX
6th – 10th: 180 HDX/person
TRX trading volume = TRX buy-in + TRX sell-out
Reference: You can get more information on the TRON (TRX) trading competition from this ARTICLE.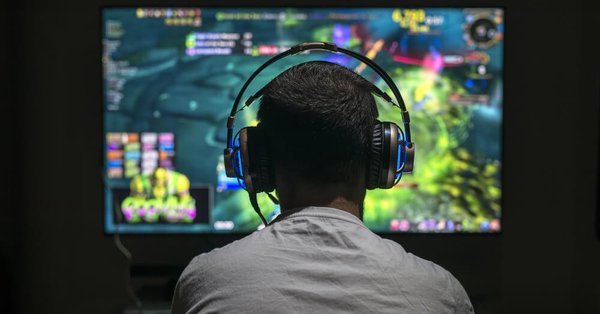 Hydax's Perpetual Contract
With the recent expansion of the crypto market, it is now showing a striking resemblance to traditional markets. However, it is becoming more diversified and sophisticated than even the traditional markets. Centralized crypto exchanges having noticed what traders want due to their astute knowledge and understanding of trading, now include complex features, like, margin trading and cryptocurrency derivatives (contract trading), which include future contracts and which is a variant of perpetual contracts.
Future contracts have been in existence for years. The largest future traded commodities is crude oil, but this started much before the discovery of oil, which began in the agricultural sector.
In those days, through future contracts, farmers were able to hedge against fluctuations in the price of their commodities between planting and harvesting while trying to prepare to sell them in the market, which is also beneficial to consumers alike. There are other commodities that can be traded using futures contracts, but the most interesting of all are digital assets, such as, Bitcoin, Ethereum and likes. However, Hydax has chosen to use a more sophisticated and better variant of it, called Perpetual Contract, for the development of its contract trading product, so as to satisfy the desires of its consumers.



What is contract trading?
This is the agreement struck between a buyer and a seller, to buy and sell an asset at a given future date and at a given price, which is designed as a way to hedge and minimize risks and protect against volatile future price fluctuation. There are two different types of contracts, which include, term contracts and perpetual contracts.
The main difference between the two is that term contract has an expiry date, while perpetual contract, just as the name implies does not have an expiry date. The most advantageous of the two is a perpetual contract, which is the type of contract Hydax is integrating into its system as the next product in the line.



Features of Hydax's Perpetual Contract Product
Gone are the days that mosts traders only aim at buying low and selling high, however, due to exposures and experience, the trend seems to have changed, where traders and investors aim more at preserving their assets, by learning how to control risks, rather than making profits. The following, therefore, are the features of Hydax's perpetual contract products:
✔️No expiry date: This is an advantage over other the term contracts. Since there is no expiry date, traders and investors can have a stress-free trading environment, where they can hedge and hold trades as long as they want. Also, there are no added costs, apart from the funding costs settled every 8 hours.
✔️The possibility of leverage trading for up to x100: Unlike the traditional futures market whose leverage trading culminates at x10, Hydax's perpetual contract allows between x2 to x100 leverage, depending on what the investors or traders want, which means there is a possibility of getting the same return at even a lower cost.
✔️High liquidity and a protective antimanipulation mechanism: The liquidation process follows several consecutive prices affirming that a position must be liquidated, which also uses two different mechanisms- If the spot price of BTC has fallen, investors can earn on the futures contract and on the other hand, if the spot price of BTC has risen, investors lose on the futures contract. Also, despite the manipulations on some platforms, transparency is a key ingredient for Hydax.
You can get more information on Hydax's perpetual contract product from this ARTICLE.




New User Bonus Program
Also, as earlier informed in the previous article, I will like to iterate that the new user bonus launched by Hydax is still on, where, newly registered users are given the opportunity to receive 50 HDX tokens, which is the token issued and used on its ecosystem. Each new user has a referral code, which when given out to others who will be interested to join the Hydax platform, you will get additional 50 HDX, which makes the total to be 100 DDX. That is amazing. If you remember how Binance BNB started, a little knowledge about the tokenomics of Hydax will convince you that this is a huge opportunity.



Conclusion
There is a saying that "an opportunity once lost might never be regained." I will urge you not to miss this great opportunity of a lifetime. Hydax has come at the time we need it most. Be part of the trading event and the amazing product launch.



References
You might also find the following articles interesting because they will provide you with more details.
https://medium.com/hydax/hydax-starts-a-gaming-revolution-launching-the-best-exchange-in-the-global-gaming-ecosystem-5d987039eee1
https://hydax.zendesk.com/hc/en-001/articles/360035265592



To access more information, you can visit the following links: WEBSITE, ANN THREAD; FACEBOOK; TWITTER; LINKEDIN; HYDAX EXCHANGE GROUP; HYDAX BOUNTY GROUP
REDDIT; MEDIUM; INSTAGRAM; APP Download
You are welcome to use this invitation link: https://www.hydax.com/register/v2BSpC