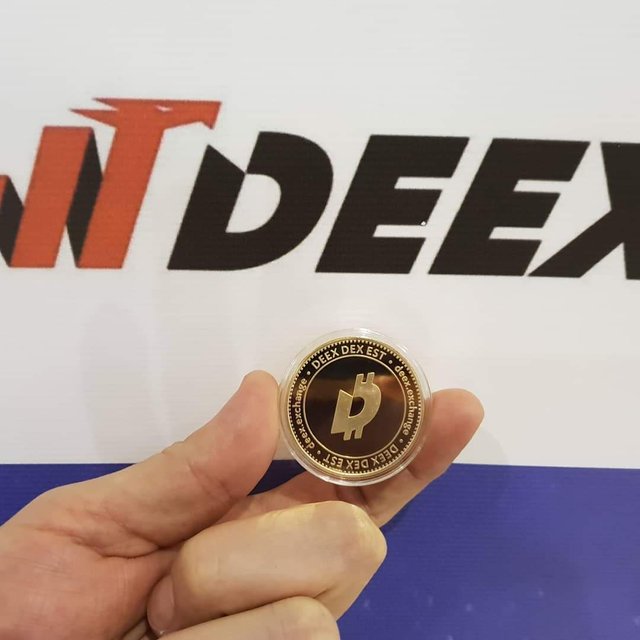 Need to buy any cryptocurrency of choice? Visit the CoinMarketCap, locate the coin or token, select it and search for the cryptocurrency exchange it's listed on, such as DEEX exchange. That is to say for sure, cryptocurrency exchanges are very vital to this space, as they make it possible for users of the crypto space to buy, sell or trade their choice coin or token. It is also important to note that within the crypto space, there are many cryptocurrency exchanges and according to CoinMarketCap, there are more than 500+ cryptocurrency exchanges so as to make it possible for buying and selling of cryptocurrencies and one of such cryptocurrency exchanges is DEEX.
WHAT IS DEEX CRYPTOCURRENCY EXCHANGE?
DEEX is a decentralized cryptocurrency exchange based on the outstanding BitShares 2.0 blockchain. DEEX is a cryptocurrency trading platform with the aim of combining various features and functions so as to offer to users a nice and amazing trading experience.
Just like every evolving system, DEEX cryptocurrency exchange aims to start first on BitShares blockchain thus transforming to an efficient global cryptocurrency exchange which will combine both traditional and digital world's as well as removing the gap between them.
Then again, in order to serve its users well as well as lasting long term, DEEX will create its own engine with its own nodes and token.
The question that might arise is, why did DEEX choose to be a decentralized exchange?
Decentralized exchanges is an exchange where users have the power to follow their heart, trade the way they want with no one deciding for them. In decentralized exchanges users also have the power to contribute to the growth of the ecosystem. In the same way, the decentralized exchange doesn't save users funds in their wallets thus reducing the loss of assets which might arise due to security reasons. Another very important advantage decentralized exchanges have is the high rate of data confidentiality.
DEEX: A CRYPTOCURRENCY EXCHANGE WORTH KNOWING
As earlier stated, DEEX is a cryptocurrency exchange based on BitShares 2.0 platform thereby allowing the Implementation of the following functions;
Buying and selling of cryptocurrency are possible within DEEX exchange as well as the creation of a secure and efficient cryptowallet where funds transfer can take place at the least commission.
DEEX exchange also makes it possible for users to invest in buying tokens from organizations and as such partaking in the distribution of anticipated profit. In the same way, the creations of own crypto assets as well as trading it possible.
DEEX being a decentralized exchange based on BitShares blockchain will ultimately ensure security and transactions reliability through its DPOS consensus algorithm. In the same way, the creation of accounts with escrow and creations of ICO mechanism is also made possible.
DEEX also makes it possible for the transfer of funds, in this case, fiat between different trading systems or platform through a special and efficient gateway.
DEEX makes use of a very stable, flexible and efficient consensus algorithm for the confirmation of network blocks known as DPOS, that is Delegated Proof-of-Stake Consensus Algorithm.
With the help of BitShares 2.0, DEEX will be able to have a processing speed of about 100,000 TPS which is at the level of centralized exchanges, through this, performing operation in seconds.
CONCLUSION
DEEX is a decentralized exchange based on the secure BitShares 2.0 blockchain which enables it to process up to 100,000 transactions per second. DEEX also ensures users funds are safeguarded as the whole system is decentralized.
TO KNOW MORE ABOUT DEEX
Join the Telegram Group: https://t.me/deex_exchange
Follow on Facebook: https://www.facebook.com/groups/deex.exchange
https://www.facebook.com/deex.exchange/
Follow on Twitter: https://twitter.com/deex_exchange
Follow on LinkedIn: https://www.linkedin.com/company/deex-exchange
Subscribe on YouTube: https://www.youtube.com/channel/UC5oYUk9QC4kbM5ZBpodOUcQ
Website: https://www.deex.exchange
Whitepaper: https://www.deex.com/docs/DEEX_wp-2.0_eng.pdf
Writer's Bitcointalk Username: Emmy92
Writer's Bitcointalk Profile Link: https://bitcointalk.org/index.php?action=profile;u=1329140