Steem on Poloniex is back in action!
Hey everyone!
A week ago I made this post announcing that Poloniex support had resolved my ticket after almost 4 months of waiting. What surprised me the most was that I hadn't even replied back to them after their last response and that they got around themselves to resolve it and that fact alone made me believe they might be doing a comeback soon.
Yesterday, without an announcement and as quite as it was disabled, Steem was enabled on Poloniex again. I am glad that I listened to my own gut feeling and purchased some by sending Bitcoin Cash (due to the low fees) to Polo from Bittrex and got me some cheap Steem there a few days ago when it was hovering around $1 each. I figured worst case scenario I'd just have to sell them on Polo again for a small loss and experiment with a currency that isn't listed on Bittrex. After it was now re-enabled I made quite some profit by having bought them early on there.
This is the chart the last 24 hours on Poloniex after Steem was enabled again: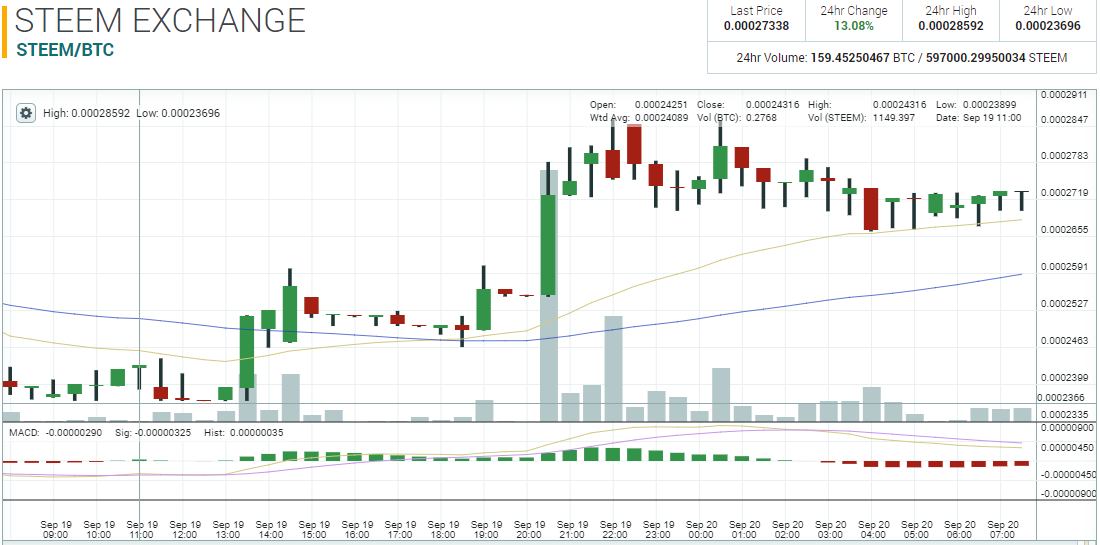 Those who noticed it really early also managed to get themselves some cheap Steem yesterday and many probably did some arbitrage trading by sending it to Bittrex shortly after to sell for a profit. Since Steem only has a 3 second confirmation timer and arrives onto the exchange really quick it is one of the best coins to do arbitrage with. I have had some luck in the past to do the same with exchanges like Livecoin that were following Polo's prices for quite some time after it was disabled.
This arbitrage resulted on a lot of sell pressure on Bittrex which leads me to believe that Steem might have been oversold on Bittrex now and will go back up short-term: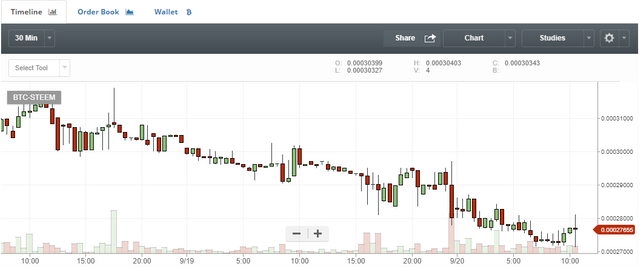 The volume of Poloniex has now again been added to Steem on coinmarketcap.com which will probably get more investors attention. Both exchanges now with almost equal volume:

---
What are your thoughts about this? Will you be able to trust Poloniex again with your Steem trades and transactions or is the lack of communication and long downtime reason enough for you not to use it again in fear that it might go down any time without a notice?
I personally have used Bittrex for as long as I have used Poloniex and even though its nice to use Polo now and then for certain currencies that are listed there I probably won't be using it for Steem as much anytime soon. I'd rather trust the exchange that has shown time after time to communicate about their issues and be reliable in general.
I personally think these issues of Poloniex lately have been good for other exchanges and the decentralization of volume and holding of currencies, especially Steem. Although it may have had a bad effect on the prices due to large volumes not happening for a long time because of Poloniex, it has now made customers aware of other exchanges and not to hold all their coins they trade with in one basket.