Peckham Palms opens its doors
Words by Joanne Oguntimehin
Photo credit: Garry Carbon
Peckham's exciting new luxury Afro hair and beauty centre, Peckham Palms, officially launched on 24th January 2019. This is the first of its kind, a one-stop destination to receive different hair and beauty services under one roof.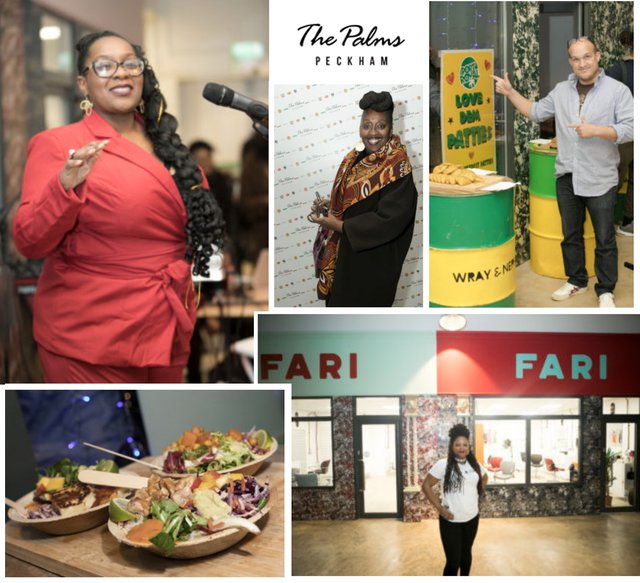 Commissioned by Southwark Council and designed by collective, Something & Son, Peckham Palms will be a home for hair businesses relocating due to the redevelopment of Peckham Rye Station this year. Part of its existence is also a response to the fact that doing your hair as a black woman should not be a chore or burden, it should be a pleasant and enjoyable experience as it is for others.
Attention to detail has been paid on this project. Braided roped columns, made by the hairdressers, have been used to decorate the space. Their 3D head scans were printed, casted and painted gold to mark them as pioneers of the space. The bar/café, Mae J's is named after Mae Jemison, the first African American woman to travel into space. The Peckham Palms team even took the hairdressers to the annual Afro Hair and Beauty Live show last year (a first for many) and have been supporting them with business administration related training and customer service training to increase the quality and professionalism of their service. The Palms is an inclusive space for the community and with affordable salon chairs for hire, Peckham Palms is not only concerned with looking good (which it really does), but there is purpose and substance here that is hard to deny.
The launch night treated attendees to a beautiful music performance by singer Shingai Shoniwa and a hilarious comedy set by the one and only, Judi Love. The night was nothing but good food, good vibes and good music.
Director and General Manager, Monique Tomlinson, was expectedly teary eyed on the night, calling Peckham Palms, her baby that she and the team has worked tirelessly on for years. Doing something that hasn't been done before presents new challenges that don't come with a rule book. Driven by a necessary mission to support and grow black entrepreneurship, we know that Peckham Palms will rise from strength to strength.
Keep up to date with the latest from The Palms:
Instagram: https://www.instagram.com/PeckhamPalms
Twitter: https://twitter.com/PeckhamPalms
Unit 1-10 Palms Arcade
Peckham
SE15 4PB
Follow us on Twitter: https://twitter.com/VINE_Creatives
See more of our creative and curated images on Instagram: https://www.instagram.com/vinecreatives/