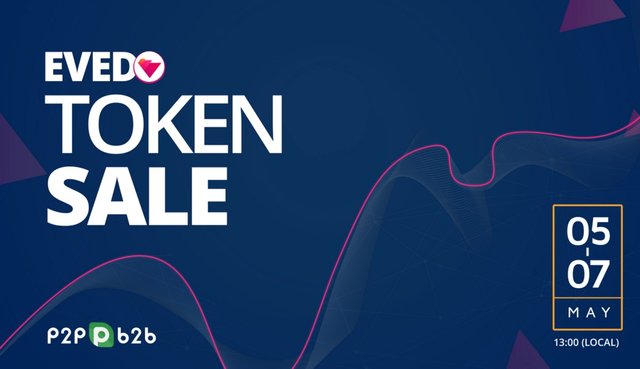 Evedo, the Bulgarian decentralized platform endeavoring to establish the event industry to the next level, is proudly announcing the launching of their second round of Initial Exchange Offering (IEO). The token sale will be conducted on the P2PB2B exchange starting on May 5, 12 pm Sofia Time.
The Evedo team led by Stoyan Angelov aims to accomplish this another token sale to fulfill their long-term vision of making EVED token tradable in many exchanges with huge volume. They want to reach out as many traders as possible and widen their scope in the cryptocurrency trading community that brings significant value to the health of EVED token, as well as the future of their project.
Evedo Unifying Event Organizing Businesses And Participants
Evedo is the newest blockchain-based project that is providing everyone in the event industry a great platform to remove event charges and ensure that all involved sectors make a fair shake.
It consists of B2B & B2C Marketplaces that unites all businesses and participants associated in organizing events. They intend to develop a marketplace and a real ecosystem that will support the $850+ Billion event industry progress by connecting all parties without unnecessary intermediaries.
The main players in the B2C Marketplace are the Organizers, Promoters, and Attendees. The principal roles will be to Buy/Sell tickets and market events to new and existing audiences.
The B2B Marketplace
Event Organizers can build their profile and start organizing events, booking entertainers & venues, renting equipment and advertising their events.
Venue Owners can create a profile that presents information about their venues that open for booking. The data given will involve the capacity, a standard price or minimum price based on per person attendance, photos, etc.
Rental Companies that can provide an arsenal of materials that they can supply for events. They can handle the scheduling of their Equipment and roadies to move and setup hardware around events.
Sponsors can search for events and propose additional sponsorship for advertising spots/affiliate marketing. Value can be given using goods or services.
Entertainers & Booking Managers can create a profile listing their services, add links to their works and social media, and can post an hourly rate, flat rate, or a percentage with a soft cap and optionally a hard cap as well.
About P2PB2B
P2PB2B is an Estonian cryptocurrency exchange established in 2014. This trading platform can support up to 10,000 trades per second and one million Transmission Control Protocol (TCP) connections. They also provide 24/7 customer support in multiple languages including English. It has succeeded to captivate a worldwide audience and lead to an immense value daily turnover.
The main currencies are BTC, ETH, and USD. What makes this platform unique and appealing is the lack of trading fees and the fact that it has accepted a free listing of any business application's API. P2PB2B today supports 42 trading pairs with the following most popular combinations: BTC/USD, BCH/ETH, BCH/USD, DASH/BTC, LTC/BTC, BCH/BTC, DASH/USD, ETC/BTC, DASH/ETH, LTC/USD.
P2PB2B is also an EU licensed exchange and listed in the top 20 on CoinMarketCap. It has a daily trading volume of 400 million USD with more than 150,000 active traders. This crypto market is a leader in terms of security and customer satisfaction.
Follow And Subscribe To Evedo's Official Social Media Pages To Know More About Their Latest Updates