The EU has passed a new copyright law, basically trying to protect original content creators.
The way this is done, is as usual in our old world: A central point of trust is created, which then enforces the rules.
Anything that will be uploaded on the internet in the future has to be licensed and anybody leveraging or using this content in their own content must gain approval to use it.
Imagine you want to create a meme about a tv-show you like: you would need to get approval from that show to use their picture to then create your content.
Likewise upload filters must be created for any platform where content is being uploaded, such as YouTube etc.
Practically this means nobody can create content about their TV shows anymore. Maybe you could write about it as long as u would not copy any worlds from the show (I am not sure how that is possible)
The upload filter must be able to catch all the illegal stuff and prevent it from uploading.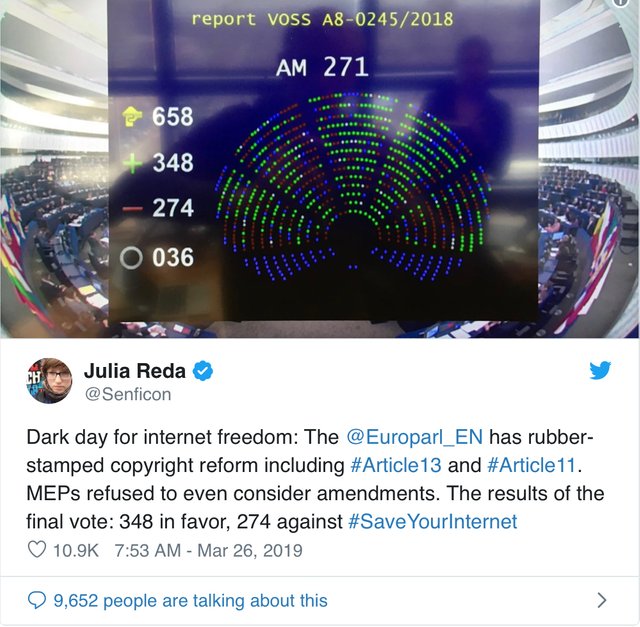 https://www.theverge.com/2019/3/26/18280726/europe-copyright-directive
I don't have a license for the tweet above and consequently what I am doing in this post would be illegal. Steem would have to prevent me from uploading this to the blockchain because this could be viewed by Europeans, even though I am sitting here in the US.
WTF.
Ultimately only big companies will be able to enforce this, such as google, Facebook etc. practically anyone else will have to not allow its users to upload any work.
This will have a big negative effect on the internet, but I also believe it will create a great chance for blockchains.
what if you are the little guy?
Imagine your are a new little startup and want to built a new product where users can upload content. There is this new little world called blockchain, it lives outside of any country. You now have the choice of competing in a world that is designed for you to not be able to be competitive, or you can build your solutions on a blockchain in a decentralized Organisation in your own little world that is accessible to everyone in the world.
To me this law is trying to show the world and particularly the internet who is in control. The laws and rules may make sense in an old world, but do not work in this new decentralized environment that is the internet.
If content is created by a few institutions and big brands, licensing may makes sense. When every kid creates stuff on their phone every day, not so much.
It is a little bit of a sad day, but I think this will also create new opportunities for technologies and blockchain. These will however work with a different kind of Organisation and governance structure.
I am excited about these opportunities.