Hello Everyone,
This is Satish from India.
Today I would like to make a review on Swarm Fund Crowdsale.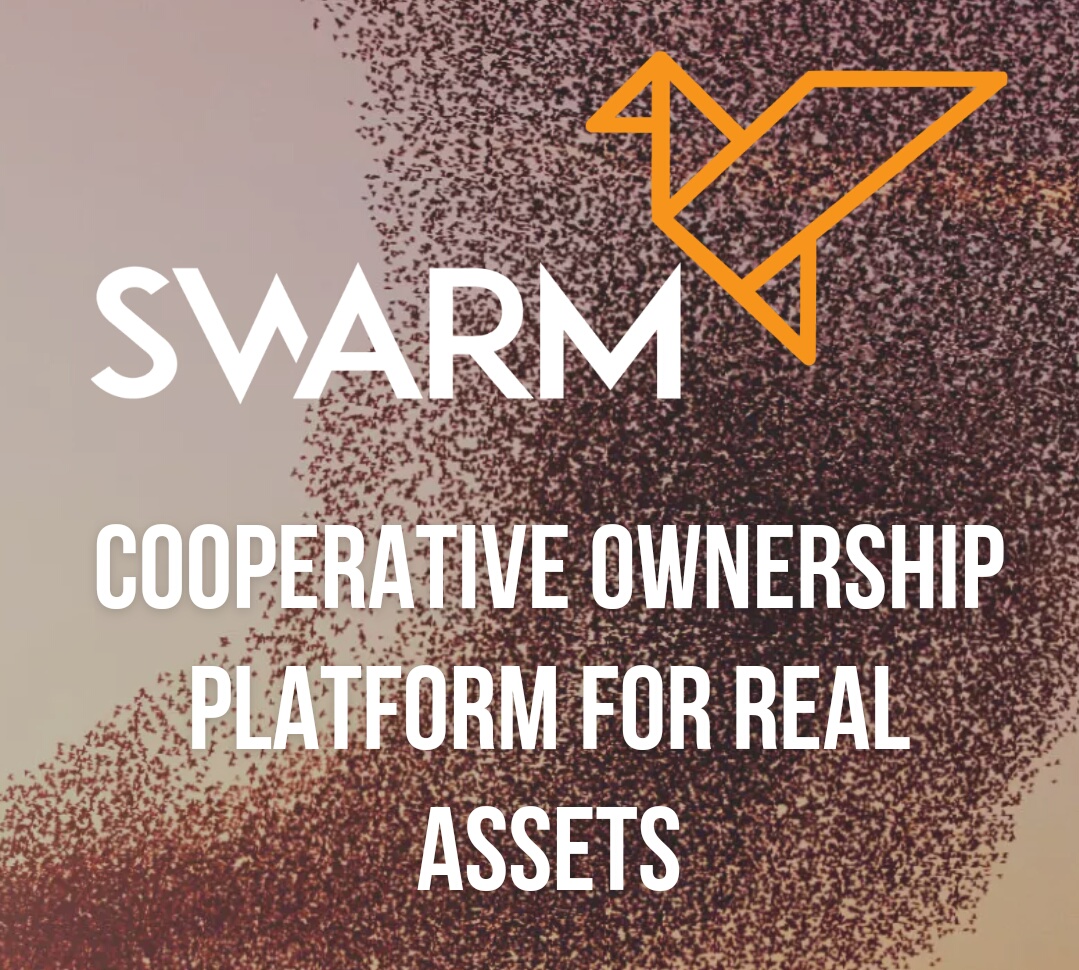 Every day new ICOs are coming into the blockchain industry to disrupt the traditional infrastructure and trying to provide the benefits from the blockchain technology. But out of 100% ICOs only less than 5% of ICOs who are sincerely trying to disrupt the existing system and remaining other ICOs are simply cashing out the opportunity of "Fear of missing out" from the investors. Nowadays ICOs are able to raise money from investors due to its nature of "immediate liquidity" and "low level of entry". Because of these two primary reasons the people around the world are interested to participate in crowd sale to earn immediate gains. But with this, the innocent investors who believe in ICOs are getting caught by holding their huge savings in new startups with a simple reason for "hype". Most of the ICOs running currently are in deficit with the legal framework and regulatory approvals. Generally the ICO can be successful in the future only when they have MVP at the time of Crowdsale and they should have Escrow for the funds raised.
As of now, Cryptocurrencies are giving high returns compared to any other. But it is having the huge volatility of around more than 100% in a day. So simply cryptocurrencies are offering high returns for high risk. If we think closely the returns we are getting for putting risk is less when compared to returns on standard assets which are managed by funds. And most of the cryptocurrencies are facing the problem of valuation of their tokens due to not knowing the intrinsic value of the tokens.
This type of returns from normal ICOs may be lucrative to investors, but the people who want to save their money safely, It is not at all feasible solution.
Currently, the standard or real assets like real estates which are giving high returns are available only to wealthier people like syndicates and accredited investors. Due to the requirement of heavy investments, long lock-in periods, the small people are not able to invest in high-class standard assets till now.
Now Swarm Fund is creating a decentralized marketplace by tokenizing standard and real assets by using ever growing blockchain technology entirely owned by the community.
Swarm Fund is looking to bring real assets to the crypto world and trying to increase the entire cryptocurrency market cap from $ 100 billion to $ 1 trillion through the partner funds.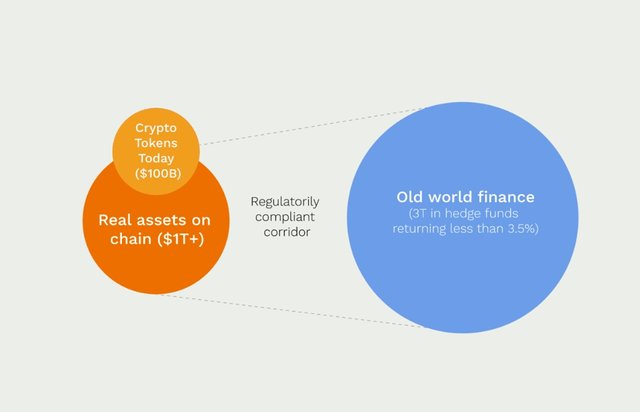 Swarm Fund provides the full liquidity to investors like a normal ICO model but backed by real assets instead of nothing. Swarm fund will tokenize from distressed real estates to Solar installations and many other real assets. Swarm Fund using the innovative concept of liquid democracy for the first time in its platform for decision making by the community. With liquid democracy the community can delegate their vote to knowledgeable persons who can make decisions correctly (Board of directors). And also they introducing "Process language" for Smart contracts from "Statebox". Which contains entirely in diagrammatic representation instead of high-level language. This can be used primarily for KPI reporting, Compliance, Process optimization.
Swarm Fund wants to introduce its token called Swarm token is a standard ERC 20 token in its platform to unlock or access the facilities inside the platform like accessing tokens from partner funds (Distressed real asset fund, Solar installation, Crypto hedge fund) and ability to create sub-funds, execute network functions.
The Swarm model has two layers.The first layer is a utility token which allows access to the underlying sub tokens and grants access to the Swarm's governance technology.
The second layer includes the many financial opportunities run by the Swarm syndication partners and made possible their own Applications and tokens On The SUN (Swarm Utility Network).
The SUN tokens works in the Swarm platform as mentioned below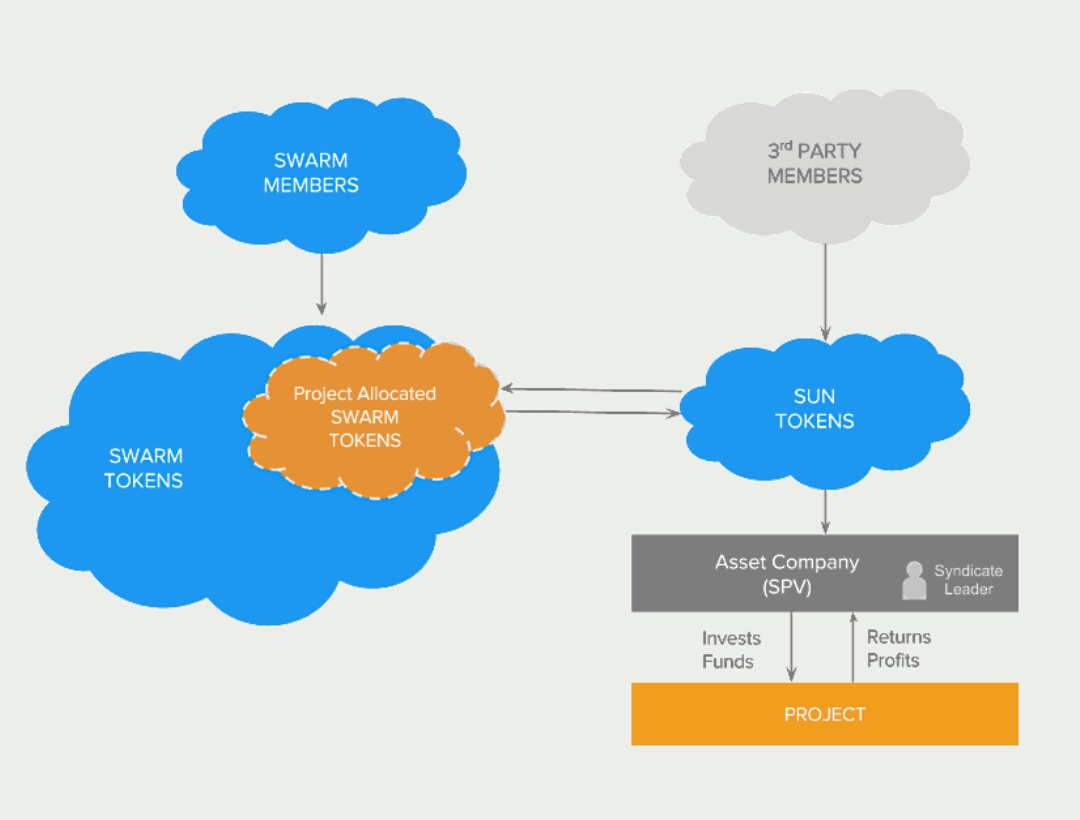 Initially released Swarm tokens used for governing the market infrastructure for the pool of assets running Swarm Utility Network and the system is design to handle up to $5bn in assets. If any further capital deployed to Swarm utility network then the new tokens will be released at 3.5%.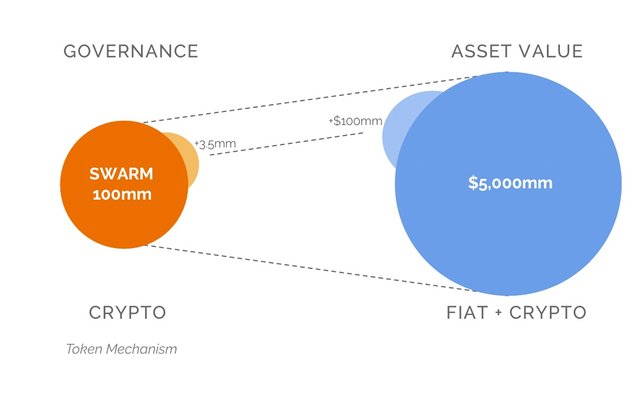 The Swarm token use in Swarm Platform

The Swarm fund team has managed $ 10 billion in portfolios and built a platform which handles $ 25 billion of monthly deal flow and already has several pre-selected funds which generate 30%+ IRR through scalable models powered by AI.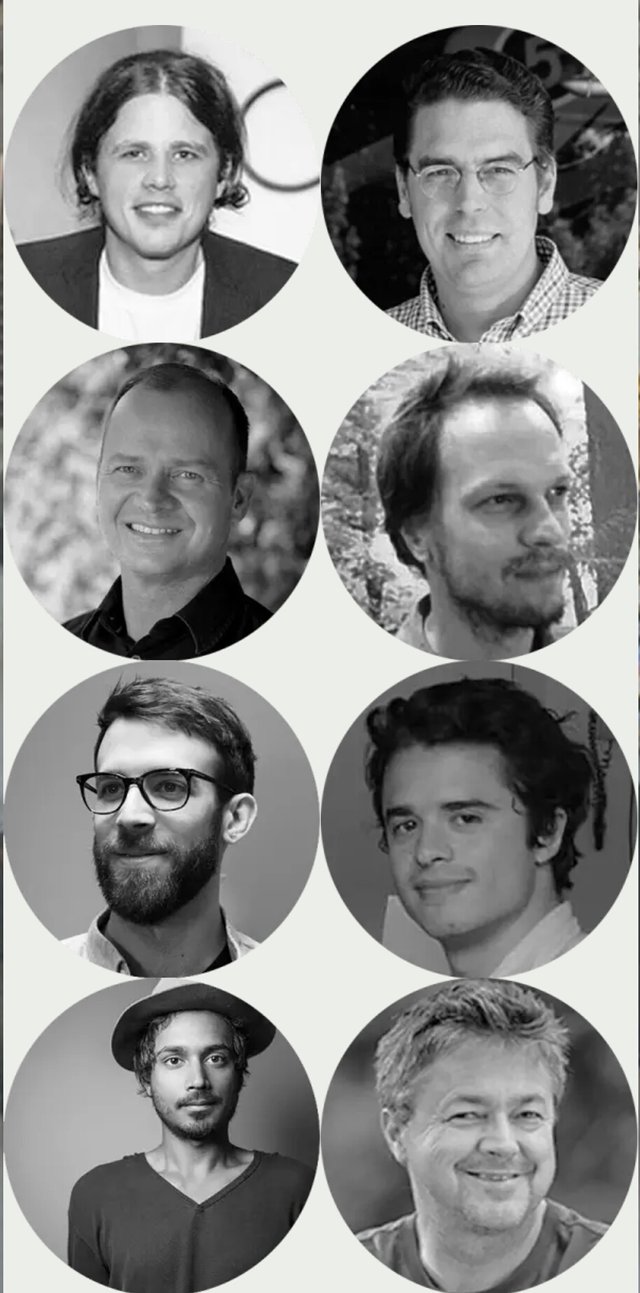 The Crowdsale details
Swarm Fund following reverse Dutch auction model for their crowd sale like Gnosis and OmegaOne.
The Crowdsale will begin on September 5th, 2017 and end on September 22nd, 2017
Tokens available for crowdsale : 33,000,000
Token price 1 Swarm Token = $ 1
To participate in Crowdsale visit https://swarm.fund/
To know more about Swarm Fund project download white paper from https://swarm.fund/wp-content/uploads/Cooperative-Ownership-Platform-for-Real-Assets.pdf
Bitcointalk Profile link : https://bitcointalk.org/index.php?action=profile;u=978916