Natural next step in blockchain development is facign the challenges of scalability, performance, governance as well as on the big picture - connecting existing and new chains and providing a "linux-like" framework for creating and adding new commercial chains onto the ecosystem.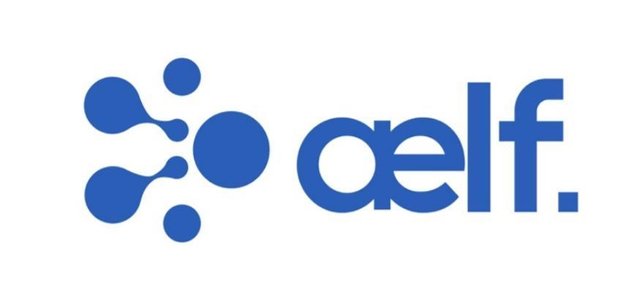 Resources
---
What is AELF?
Crosschain blockchain protocol (Polkadot of China) / a multichain parallel computing and communication framework / "a linux-like blockchain system model" enabling creation of customised blockchains with a customisable consensus
The key goals are:
To create a foundational blockchain for a large scale commercial application and allows communication across existing as well as new blockchains
Multi-layer blockchain infrastructure connecting both private and consortium blockchains
The infrastructure has two levels: the main chain with DPOS consensus mechanism and side chains with customisable consensus mechanisms
The main chain uses Merkle Tree format to exchange information between the side chains as well as public blockchains such as Bitcoin and Ethereum
Each side chain can support specific and dedicated smart contracts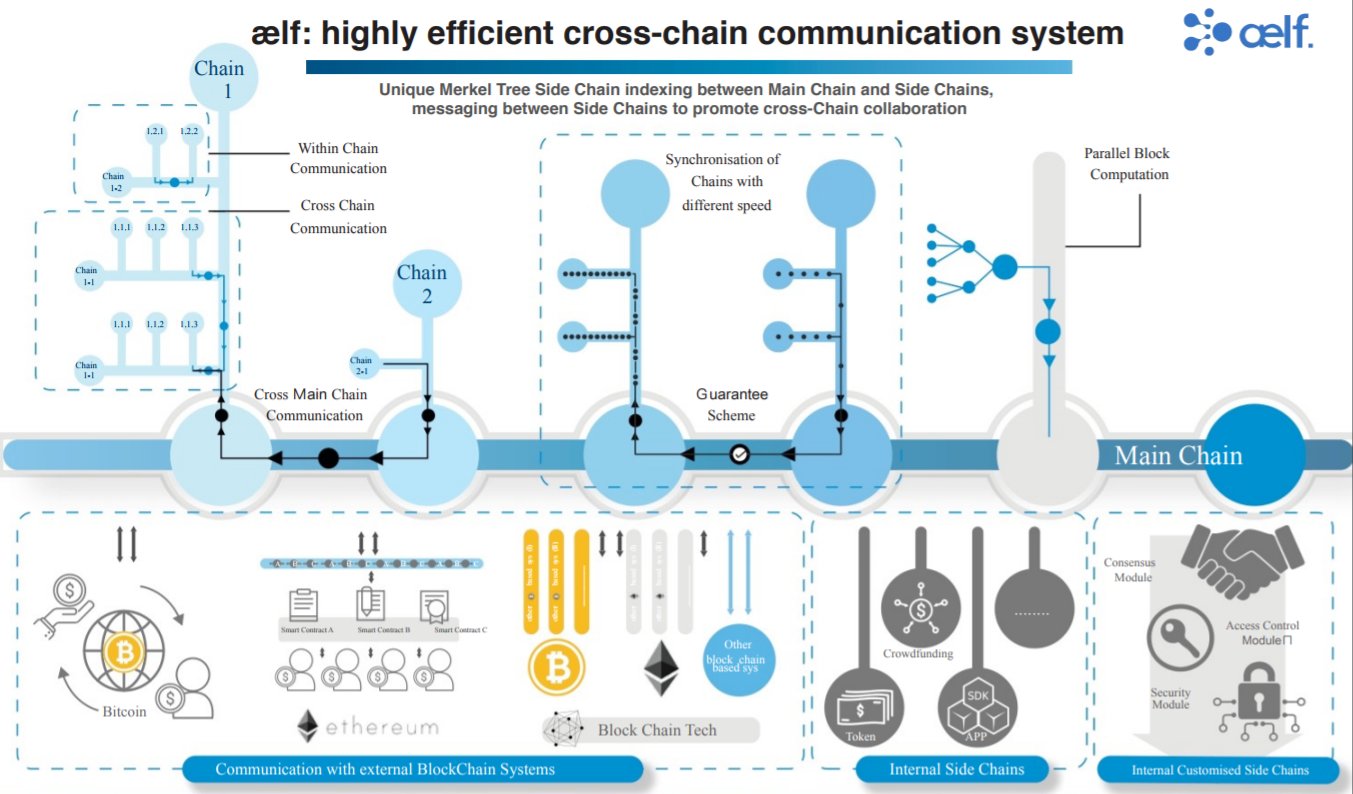 Other features include:
Parallel processing of non-competing transactions
Dynamic side chain joining and exiting
Flexible protocol update
Private chain module
Interoperability with existing DAPPs on existing chains
What does AELF improve:
Scalability: Current blockchains are not scalable, as the performance of one single node/mining machine determines the performance of the whole system
Resources: Current blockchains do not segregate resources for different Smart Contracts, leading to interference among Smart Contract executions
Consensus Mechanism: Current blockchains do not have pre-defined consensus protocol to adopt updates or new technology
Technology behind the key improvements
Main chain and multilayer side chains: To handle various commercial scenarios. One chain is designed for one use case, distributing different tasks on multiple chains and improving processing efficiency
Communication:Communicating with external blockchain systems via messaging
Parallel processing: Permitting parallel processing for non-competing transactions and cloud-base service
Genesis block: Defines basic component of minimum viable block and Genesis Smart Contract collection for each chain to reduce data complexity and achieve high customisation
Consensus: Permits stakeholders to approve amendments to the protocol, including redefining the consensus protocol. Permits side chains to join or exit from main chain dynamically based on consensus protocol. Introducing competition and incentive to improve each side chain
Please check the White Paper for the following: Side chain indexing and timing of indexing, Merkle Tree structure, Pre-verification and Order calculation, Cross-chain optimisation, AELF operating system interface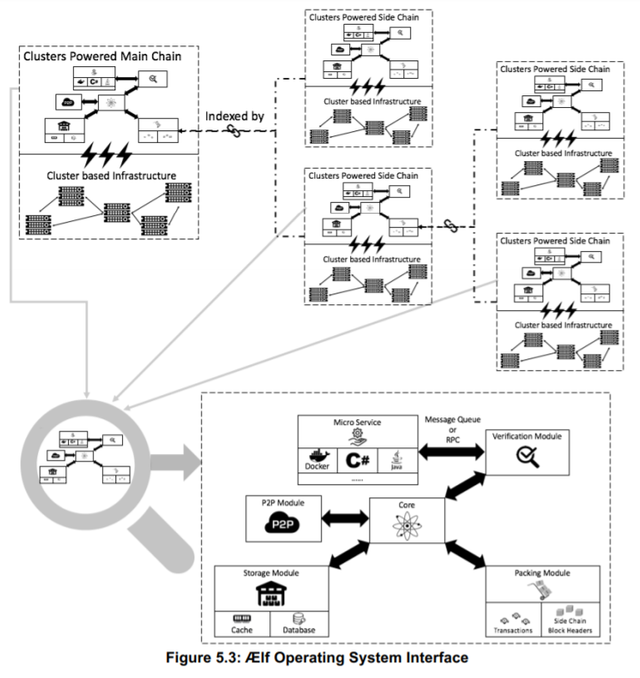 "When m00n? :P"
The mainnet launch is scheduled for May 2018
Token function
System transaction fee
Voting rights on the public blockchain
Side chain used to enter Aelf public chain
Investing/rewarding good projects built inside Aelf ecosystem
How is AELF different from Polkadot?
Similarities
Both are multi-chain systems
Both provide opportunities for scaling
Both focus on governance solutions
Differences
Vision: Polkadot envisions a Web where everyone's identity and data is safely secured from any central authority. AELF on the other hand, is looking to build a blockchain ecosystem suitable for any industrial problem.
Structure: Polkadot creates an environment for multiple state channels while AELF provides main chain+ side chain architecture that coordinate homogeneous chains hosting different Smart Contracts
Focus: Polkadot bridges various chains while AELF creates a homogeneous environment in which the performance is increased by parallel processing
Scaling: Polkadot is designed to be a blockchain development, deployment and interaction test bed that realizes scaling and extensity. Polkadot enables assimilation of new blockchain technology without the help of over-complicated decentralised coordination on hard forks. AELF, however, enhance the scalability by empowering the nodes. AELF also aims to extend this to a cloud-based service.
In brief:
The best part of Polkadot is the original design of a heterogeneous multi-chain structure, which improves interoperability and extensibility to the largest extent.
The most exciting part of AELF is the ingenious framework that leverages parallel computing to fulfill business needs.
Applications
The AELF ecosystem is designed for industrial application. The "one size fits all" Blockchain faces tough dilemmas to balance needs from different business scenarios. For example, digital ticket issuance or payment processing would require high number of transactions per second, while digital legal contracts would emphasize high security and reliability. In a perfect world, there would be one blockchain that would have high efficiency, flexibility, adaptability, and compatibility. One Blockchain cannot satisfy all the various requirements. AELF multi-chain structure can.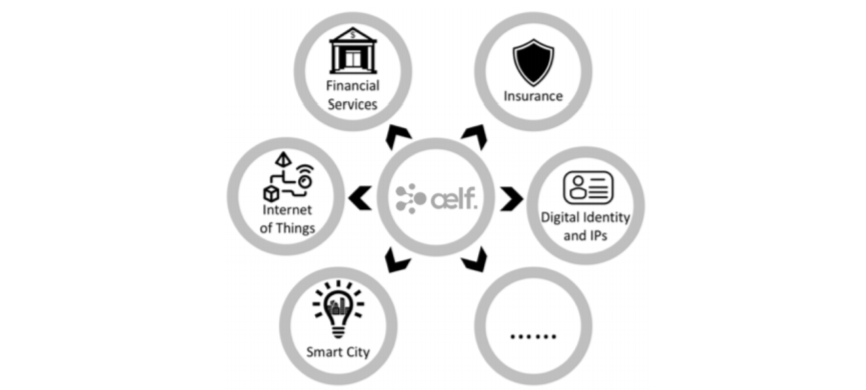 ---
Personal reasons why I invested
They were 6 times oversubscribed during the private placement
Very popular project among "asian whales" investors
The marketing team understands the differences between Asian and Western market and are building long-term relationships which they will be able to utilize in future
They were/are obviously extremely well prepared since ELF was instantly listed on Binance. Every single token that has been recently listed on Binance immediately
I really admire the long-term vision and use of freshly opened opportunities (e.g. Crypto Valley ) as well as next-generation problems to tackle
I feel like AELF can really help mainstream blockchain adoption
---
Closer look at the team and advisors


Investors
"(FBG)[https://www.fbg.capital/] doesn't support many projects. But when they do, expect moon."
An idol investor whom I look up to.

---
Partnerships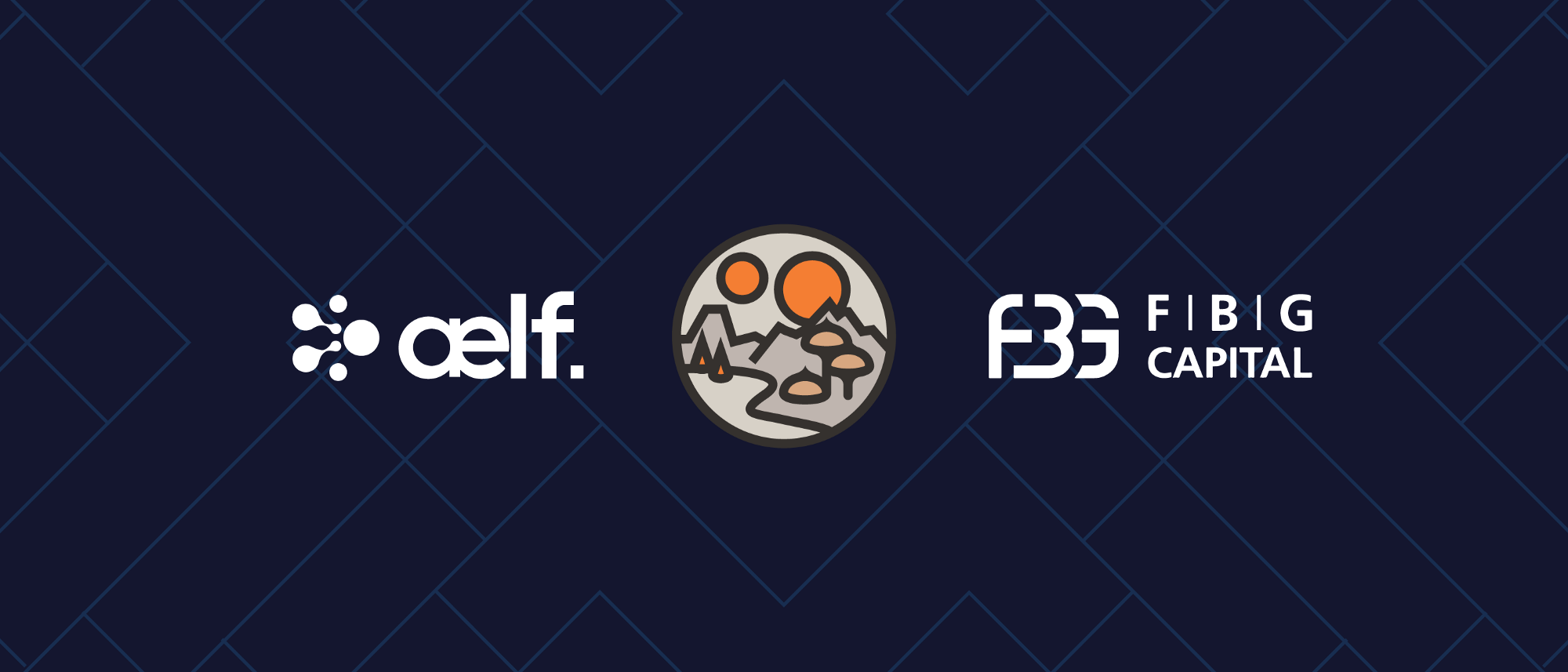 An example of a recent partnership is the collaboration between FBG, AELF and Decentraland. The intention is to build a digital city called Crypto Valley.
"Blockchain investment has ramped in recent years, but the fact that projects are based in different parts of the world creates an obstacle for communication. Crypto Valley would provide a better way to meet and engage with communities regardless of geography." 
— Shuoji Zhou, FBG Capital Founding Partner.
"Blockchain markets are globalized, but it's not always easy for teams, investors, and communities to interact. We wanted to find a way to reduce communication costs, increase efficiency, and make encrypted digital cities the development hub of blockchain technology. Crypto Valley is positioned to achieve that mission." 
— Zhuling Chen, Aelf co-founder
---
How did they distribute the tokens
There was no ICO, only private placement
There were 250 million ELF tokens distributed in exchange for 55 000 ETH contributed
Total suply is 1B ELF tokens and is distributed according to the following pie chart
The foundation has a 3-year freezing period
The team has a 2-year freezing period
Advisors and partners have a 2-year freezing period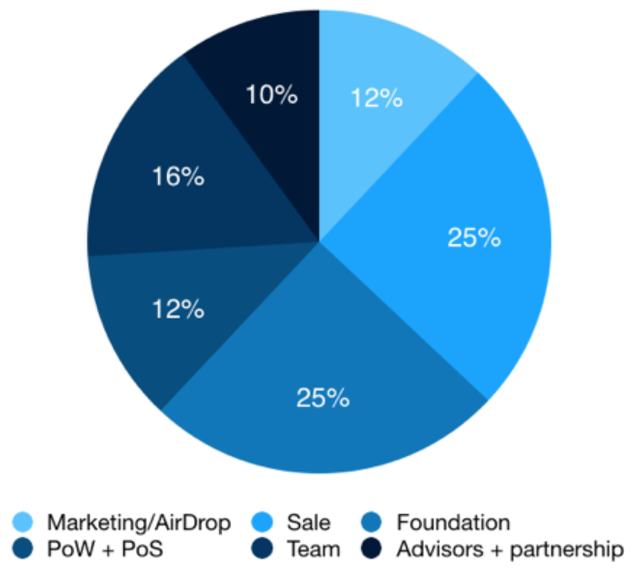 ---
Further Resources
Presentation by the COO Chen Zhuling: