In the Network appeared the game Connect6, based on Ethereum
In the Network appeared the game Connect6, based on Ethereum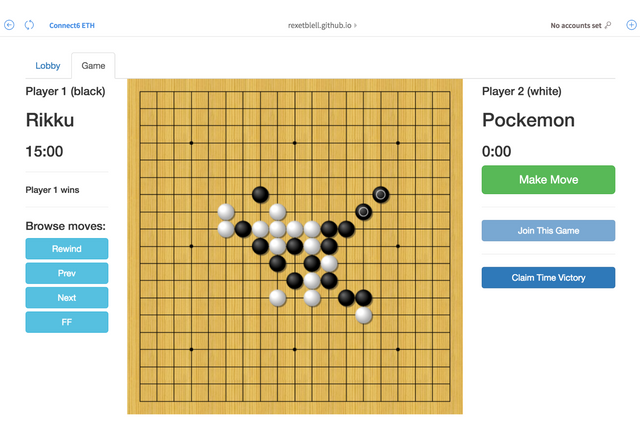 According to the rules, participants pay with cryptocurrency for the opportunity to play, and the winner gets the whole pot.
The rules are fairly simple: two players (black and white) take turns to put the empty intersection lined plaid Board your stones. First move black put one stone in the center of the field, and in all subsequent turns, both players put two stones. The winner is the one who will exhibit six or more stones in a row horizontally, vertically, or diagonally.
The game is designed as an application for Ethereum Mist browser. As written by the developer in the discussion thread on Reddit, the game is equipped with a simple interface and optionally allows users to make bets in ether. The player who starts the game, choose your bet size and bets. Selecting "0", players will be able to start a free round. At the end of the match, the winner receives the total pot.
According to the developer, the app automatically determines the winner, and the risk to be deceived and to remain without money. If one of the players for not making his move, his opponent can press a special button and complete the game in their favor.
The developer invites all users to try to join the game and promises to pay to 0.3 in ether case, if you lose.
Recall that in late June, the founder of crypto-currency online trading platform Bspend Vedran, Kajic developed by analogy with the Civilization computer game Etherization, which also operates on the basis of the Ethereum platform.