The Most Private Coin Ever (???) Launch TODAY - Details + Tokens Inside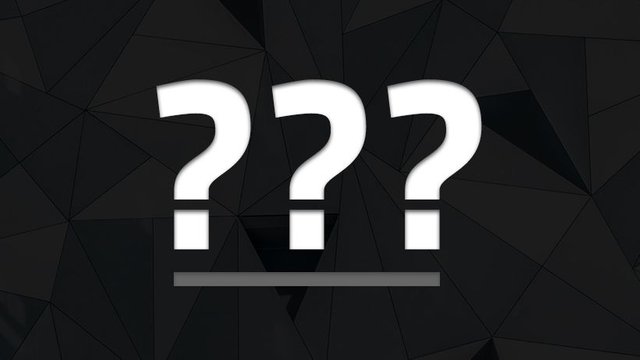 Officially Announcing The Most Private Coin Ever
I'm pleased to announce that The Most Private Coin Ever (???) is official on the ETH Mainnet as an ERC20 token.
What is it?
Simply put, The Most Private Coin Ever (???) is a token built on the Ethereum platform.
There are a total of 100,000 tokens.
1,000 are reserved as gifts to the community.
The remaining are listed for sale at .003 ETH.
Once all of the tokens are sold, I will release The Most Private Thing Ever to all of the token holders.
The sale will remain open until that point.
The Most Private Thing Ever will be created from the funds generated from the token sale.
I do not want to tell you what The Most Private Thing Ever is as I don't want to set expectations around it, however, I can tell you that it will be well worth the .003 ETH spent on a token.
If you want to learn more, you can view the whitepaper here.
Why was this created?
Hi, my name is Max Nachamkin.
I've been following the cryptocurrency wave since 2010 or so, and I believe that decentralized networks are the future.
My freedom is important to me, and I believe that moving our systems onto platforms that support freedom are more important now than ever.
Since I started following cryptocurrency in 2010, I've been brainstorming on how to best launch my own contribution to the blockchain. I'm finally ready to say that the project is underway.
However, in order to test the technology, its capabilities, and market feasibility, I've decided to launch this as an experiment.
For most people, things like decentralized networks and Ethereum are insanely confusing.
They don't know how things work on a detailed level, but know that it's important and want to participate and get involved in the movement.
This is my experiment to...
help refine my own understanding, and;
help other people gain control of their own resources, and take the control away from centralized sources where their assets can be manipulated.
If you're curious about this whole thing, are down with the positive movement of decentralization and the blockchain, I invite you to join the Most Private Coin Ever community and purchase yourself a ??? token.
Redeeming Your Tokens
Once the Most Private Thing Ever is launched, you will have the opportunity to redeem it using your ??? tokens.
People without a ??? token will be unable to redeem it.
There are a few things to note:
If you have one ???, you will be able to redeem it for The Most Private Thing Ever.
If you have more than one ???, you will be able to redeem it for a "bonus package" for The Most Private Thing Ever.
Whoever holds the most ??? tokens at the end of the sale will be entitled to something especially epic.
How To Purchase A Token
For those who are experienced, the steps are simple.
Send .003 ETH per token to 0xc9307a0f0da6354b1f324bc9c52197e725d3cb59 and the tokens will come straight back to your wallet.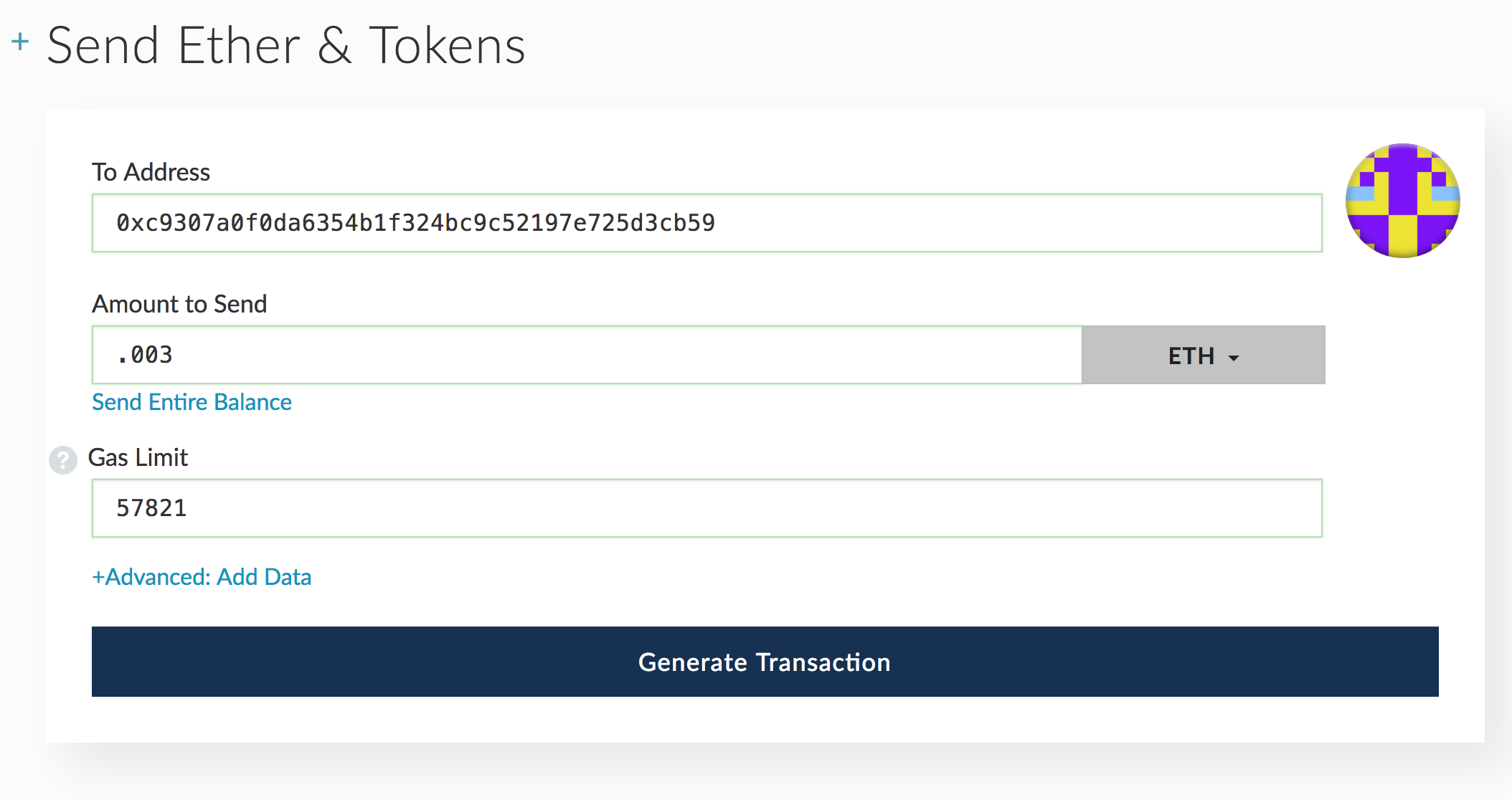 For those who are inexperienced, I created a tutorial to help you understand how to 1) create your own wallet outside of an exchange (absolutely necessary) and 2) manage your custom tokens.
You can view the tutorial here.
Keep in mind that you do not want to send funds from an exchange like Coinbase, as exchanges won't be able to hold your ERC20 tokens and interact with this contract!!
To Watch Your Token
In your wallet, add a custom token with the following information:
Address: 0x1a645debd700890f1bc93626078d89e260bd09ce
Token Symbol: MPCE (most wallets will not show ???)
Decimals: 0
Token Contracts and Markets
Token Contract: 0x1a645debd700890f1bc93626078d89e260bd09ce
Etherscan
TokenTrader Contract: 0xc9307a0f0da6354b1f324bc9c52197e725d3cb59
Etherscan
Listed on CryptoDerivatives Decentralized Marketplace right around First Blood (1ST), Basic Attention Tokens (BAT), and AMIS.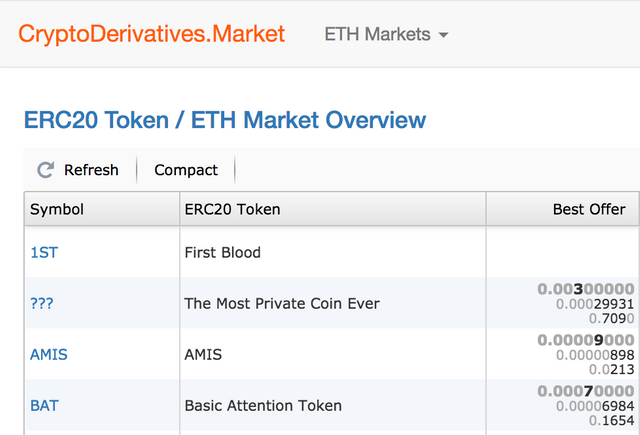 Once you have your token you will be able to redeem it for The Most Private Thing Ever, trade it with others, or sell it on a decentralized exchange like CryptoDerivatives or EtherDelta.
Frequently Asked Questions
I have some Ethereum or Bitcoin, but I've never purchased a token before. What do I do?
This is important - you do NOT want to try purchasing a token from an exchange. It will be lost forever as the exchanges can't handle it.
If you'd like support, come ask a question on our Facebook group, or shoot me a message at [email protected] and I'll help you out.
How do I get access to The Most Private Thing Ever once the tokens are sold?
You have a few options:
Once the tokens are sold and The Most Private Thing Ever is complete, I will update each channel and send out a broadcast with a way to redeem your ??? token for The Most Private Thing Ever.
Is my ??? token worth anything?
The ??? token is subject to the same market forces as any other token on the Ethereum blockchain.
In other words, it's possible.
Once you own a ??? token, it's 100% yours. I cannot control what people do with their tokens.
Given that once a person holds a token it is theirs, it is possible that people will trade the token on various exchanges and sell them themselves for higher prices of ETH.
If the demand for ??? goes up as supply goes down, and the price of ETH continues to raise, then it's likely that ??? will raise significantly in value.
What the heck is Ethereum and what's a token?
How are you on Steemit? :) http://www.ethereum.org
Join us on Social Media
If you're wanting to learn more about the experiment, learn more about cryptocurrency/managing your own wallet, and/or wanting to participate in the community, I invite you to join us here:
Steemit Special Offer - Free ??? Token for 50 people
Because I've enjoyed Steemit in the time that I've used it, and love the mission that it's on, I want to give back to the people who are supporting it.
So...
IF you have a custom wallet outside of Coinbase AND you know how to watch a custom token, and you'd like a free token, comment below with the following:
Confirmation that you have your own wallet
Confirmation that you're watching the MPCE token (information above)
Your ETH wallet address
And I'll send you a ??? token. Valid for the first 50 people only.
For those who do not know how to setup a wallet with a custom token, join our Facebook group and I'll show you how so you can get setup to purchase your tokens.
Thank you for being a part of the decentralization movement!
To Freedom,
Max
@maxnachamkin