This project is interesting and quite complicated. It aims to kickstart new way of protecting your data and devices without using passwords and letting hackers in.
Remme Idea
They want to use blockchain to make logging in as easy as 1 click of a button to every website or service using the Internet of Things which is a big trend right now.
No more passwords, no more human errors, no more hard logins or authentications.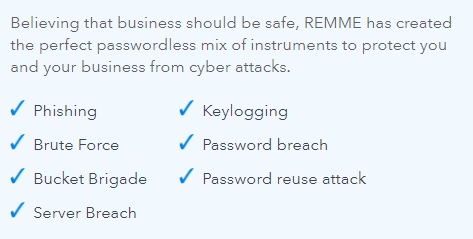 REMME Aims to Provide Next-Gen Access Protection by Making Passwords Obsolete. It is designed to facilitate and resolve access management by building the distributed Public Key Infrastructure protocol and a set of DApps on top of it. Instead of a password, the user generates a specific SSL/TLS certificate for each device. The certificate data is managed on the blockchain, which makes it extremely difficult for hackers to use fake certificates.
Product Tests


They already test product in few places and if you own business you can apply for the pilot program too.
Join ICO
Token sale starts on February 13th, 2018 ( 20:00, UTC) and in presale they raised $1,800,000 so far.
There will be 1 billion REMME (REM) tokens created.
Public sale hard cap - $20 million (including pre-sale stage)
Initial price - 1 REM = $0.04
Type - ERC-20 (Ethereum)
Currencies accepted - ETH, BTC
Website: https://tokensale.remme.io
Whitepaper: https://drive.google.com/file/d/0B1jTRGmj_3khUV9RTERnYzNvaE0/view
Always do research before investing!