COTI ICO - Digital Currency Built for Payments
With current cryptocurrency payments in commerce, there is a problem - no possible refunds. These guys want to fix current problems of online scams with their very own Trust Protocol.
Coti - Currency of the Internet
The main problem of current cryptos is their volatility of price, no general acceptation and lack of trust between buyers and sellers due to the impossibility to reverse anything. COTI plans to make a currency and payment ecosystem that wont have any of those issues.
Trustchain Protocol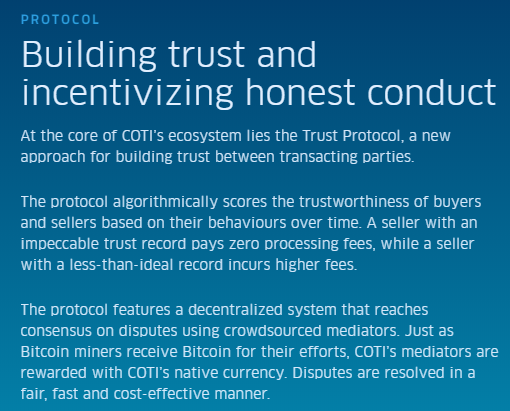 The main interesting point here is their very own protocol where seller won't be scared of chargebacks and buyer from sellers not delivering. To fully understand clusters and other parts of the idea you will need to read the whole whitepaper but the base can be learnt from below video.

Team and Advisors
There is a really solid team behind the project with people who are from/worked with Processing.com, Ripple Labs, Investec Bank UK, Mizrahi Tfahot Bank, IBM or Yahoo.
Token Sale


It will start soon to get in line you should subscribe with email at https://coti.io/token.html
Overview: https://coti.io/files/COTI-overview-document.pdf
Whitepaper: https://coti.io/files/COTI-technical-whitepaper.pdf
Token Economy: https://coti.io/files/COTI-Token-Sale-Summary.pdf
This post is just an information. As always remember to do your own research before investing in anything.