Ethereum: Too Big to Fail?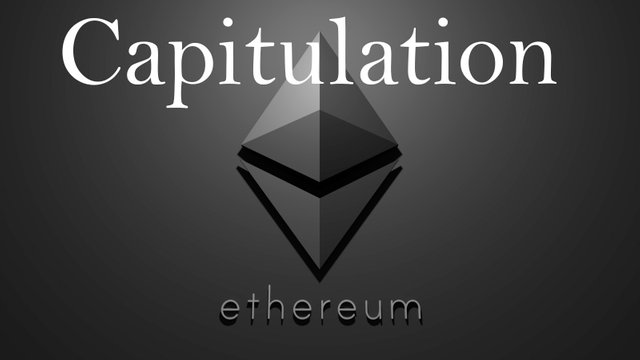 Photo courtesy of Ethereum World News
The rise and fall of Ethereum over the past 21 months has been nothing short of epic. We have seen it go from $8 to nearly $1,400 in the span of a year, reaching a market cap of $133 billion. That makes it larger than almost all companies in the S&P 500 outside of roughly the top 30 companies by market capitalization. All this for a network that got bogged down because people wanted to buy crypto kitties. The project is now well into it's fourth year and has still yet to prove being good at anything besides fund raising. Even Vitalik Buertin stated that he had to stop being evangelical about Ethereum and the rest of crypto because it isn't ready for the stress load.
Vitalik's tweet from December 27th, 2017 (peak euphoria) pretty much sums it up. At this time, many thought we had hit a permanent plateau and the thought of anyone's shitcoins losing value was unthinkable to many naive crypto "investors."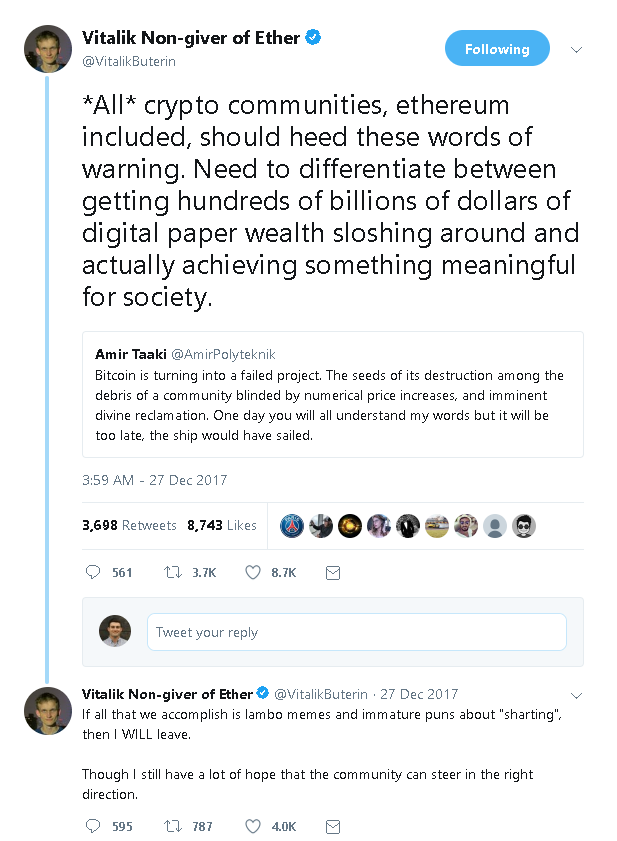 Naive Retail Investors
These people were investing into straight vaporware looking to sell to the next greater fool. That didn't happen for many of them and they were stuck bag holding for a bumpy, painful ride down, as many had anchored their price fixation to the ludicrous highs seen in late December and early January.
A tweet that really stood out was Loomdart's, when he was talking about these profits aren't normal and nearly the whole comment thread was attacking him for taking profit and calling him stupid. This further reinforced his point because at this point the sheep were lined up for the slaughter.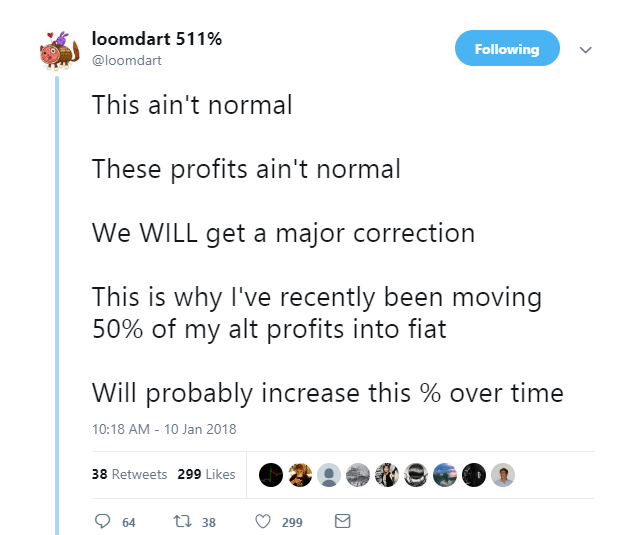 Tweet courtesy of Loomdart
That tweet was January 10th, it was only a few days later when the Korean FUD hit and the whole market dropped hard across the board, but fear for the most part hadn't set in for many. This is because they were still anchoring to previous highs and were waiting for those to come. Well... it's been nearly 9 months and still no new highs and Ethereum is on the verge of being a double digit shitcoin.
ICOs Poor Management of Funds and Lack of Hedging.
Now price shouldn't be a focus for Ethereum, but it's everything to everyone else besides developers who are hard core on making a revolutionary platform. We can see now that many ICOs have done a poor job hedging and managing client funds that were provided to lift the project off the ground. I've personally talked with some execs who have managed funds very well while others who seemed clueless how to hedge and are now paying the price. Many were getting essentially "free money" they thought by holding Ethereum as the paper value rose even higher than there initial funding. ICOs that raised ETH when it was around $200-$250 last year saw a 700% gain when ETH peaked at it's all time high in early January. The price of Ethereum now is $172 as of writing this, down roughly 87.5% from the peak. You can imagine how many ICOs have lost a good amount of value in terms of USD raised in ETH anywhere above the current prices. Now they have to explain to investors why they weren't properly hedging their funds. Most ICOs should've placed funds straight to fiat (cash), stock, commodities, &/or bonds to protect value and keep idle funds working for themselves.
Just looking at this chart, you can see ETH is at a critical point. Break below this support and R.I.P. to most of Ethereum's projects that weren't hedging properly.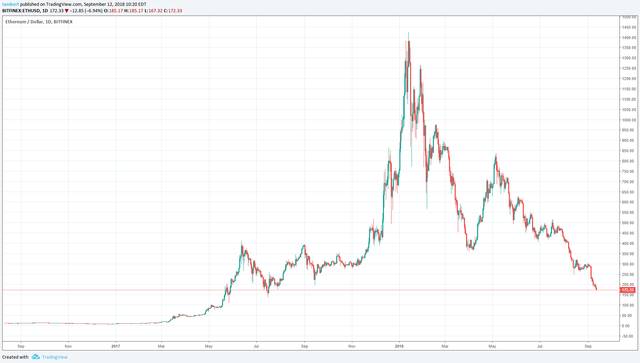 ETHUSD Bitfinex Daily Candle
Why is Ethereum to Big to Fail?
Etheruem currently supports 1,875 decentralized apps (Dapps), of which the most active is IDEX, a decentralized exchange (DEX). It currently has 1,795 daily active users (DAU) and 26,300 monthly active users (MAU). Fork Delta, another DEX is the second highest DAU at 1,130 and 12,972 MAU. No other Dapps currently has over 1,000 DAU. Once you get past number 21, all Dapps have below 100 DAU. The 100th ranked Dapp see's currently SEVEN DAU, and remember there are currently 1,875 Dapps. I would be generous to say that Etherum's Dapps see ~6,000 DAUs. With Ethereum's current valuation at $18 billion, it's hard to justify that with the current amount of DAU and MAU. Although Ethereum is the third most active chain per Blocktivity, a lot the transactions aren't coming from an adoption use case, I.E., use of a Dapp or other platform. Facebook for instance has 1.471 billion DAU and Snapchat has 188 million DAU for Q2 2018. By any current comparison to platforms that run today, you can see Ethereum in it's current state is still way overvalued.
One of the biggest drivers for ETH demand last year was ICOs. Most ICOs only accepted ether, so you had to go buy ether to send it to the projects wallet and once the smart contract enabled it, you would receive tokens to be "utilized" on the platform. You can see how this would drive demand for ETH, as investors just went out and market bought ETH to displace across various ICOs.
In a time of zero regulation and easy to replicate money, it was a "no-brainer" to write a white paper defining your platform and how it will solve problem "X" through the application of blockchain. The ICO has been the death of Ethereum, pushing stress limits of the network. For instance, when ICO fever was insane during the summer of 2017, many token sales caused huge swings in gas price due to people bottle necking the system as investors sent there ETH to the smart contract addresses for the token sales.
Ethereum has become too big to fail now. With nearly 500 ERC20 based tokens listed on Eidoo, there is a lot projects not including the 1,875 Dapps that have valuations in the hundreds and tens of million that rely on Ethereum. A question on Reddit was asked to Sia developers about a year ago was why Sia wasn't launched on Ethereum platform. The CEO & co-founder David Vorick stated something along these lines: "We aren't on the Ethereum platform as to avoid issues if Ethereum decides to change their protocol, network exploitation, or the network gets congested." He couldn't have been more right in hindsight and this has allowed them to avoid issues that many projects have atop of the Ethereum network like unwanted protocol changes. There are projects like EOS and Tron (both Shitcoins in my eyes, just listing for example) that used the Ethereum platform and ERC20 token to raise funds and down the line have switched to their own networks. There also have been ICOs that used Ethereum originally and now are looking to switch to EOS for various reasons.
That being said, I don't see any of the other platform currencies like EOS, Tron, NEO, etc. succeeding in the near term by any means. If ETH continues to sink, they will follow in suit. The hard reality to face is many ICOs are sitting on war chests full of cash and various crypto. TenX for instance raised over $80 million last year and now currently sits on $104.5 million - $70.5 Mln fiat and $34 Mln in crypto. So while there may not be real adoption in places that need a stable currency like Venezuela, Iran, Turkey, and others experiencing hyperinflation, the hype can still be carried on through promotion from various projects. Many projects will be able to last the better part of five years or more if they keep there burn rate under control. This means we will still get a bunch of baloney blockchain and crypto events that are hosted and sponsored by tokens with zero use case and adoption.
Although Vitalik Buterin speaks of adoption and real usage, the biggest issue facing Ethereum is scaling. This was the main reason for the switch in consensus mechanism from Proof of Work (PoW) to Proof of Stake (PoS). The name of the new consensus mechanism is Casper. The big issue here is we have yet to see a PoS consensus mechanism prove it's sea legs yet in terms of security. Without security the network is vulnerable and when it is vulnerable it will be exploited.
On top of everything listed above, Ethereum has only proven to be successful at capital raising. Outside of that, Dapps are struggling to gain traction and when they do, they have bogged the network down, do to inability to process transactions faster. Many ICOs have found themselves with no way to generate revenue and are sitting on tokens that are worthless than what they were sold at ICO price. Projects that are able to generate revenue may be able to weather this storm as they will have a stream of income outside of token appreciation which is what every ICO road last year as their tokens went parabolic.
How does this end?


Capitulation.


Similar to other past boom and bust periods, whether it is oil in the U.S. during the 1870's, the tech boom during the late 1990's, or this recent crypto boom, capitulation is needed to flush out the bad projects and other useless organizations. We are definitely getting to capitulation now, but I don't think we have reached a bottom for many altcoins. Many will come to find that their coin has become illiquid and will only have selling pressure till it's value becomes nil.
There will be projects that through determination and smart planning make it through this. They will be few and far between. So if you do decide to look to put money into a project, look for one that has been around for a while and has a team focused on developing a real product. Ask yourself: "Does it make business sense?"
Most of these alts will be worth nothing and will continue to stay illiquid over the next year. Just remember, the tide comes in, but it also goes out. And to me the tide is still going out. It seems the speculative buyers are all but gone and crypto twitter is deader than ever, outside of a few salty posts here and there.
At the end of the day, Ethereum is still a shitcoin and should be treated the same as all others.


If you liked this content, please upvote, comment, share, and resteem it!
Follow me @investoranalysis
Follow me on Twitter @Brett_Kotas to stay up to date with the market.
Follow me on Instagram @crypto_coitas to keep up to date on market.
Thanks!
Check out my website and my Contributor site, Influencive.
Disclaimer: The views expressed in this article are solely the author or analysts and do not represent the opinions of the author on whether to to buy, sell or hold shares of a particular cryptocurrency, cryptographic asset, stock or other investment vehicle. Individuals should understand the risks of trading and investing and consider consulting with a professional. Various factors can influence the opinion of the analyst as well as the cited material. Investors should conduct their own research independent of this article before purchasing any assets. Past performance is no guarantee of future price appreciation.