How to use EtherDelta to trade Rush Coin and other tokens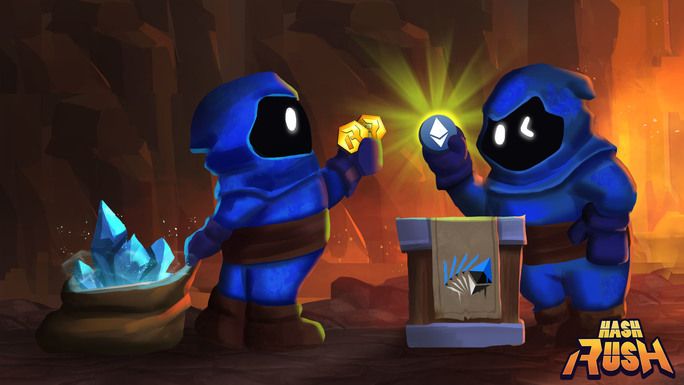 Last week we announced that Hash Rush' own token, Rush Coin (RC), is now listed on the EtherDelta exchange. But to those of you that are new to cryptocurrencies, getting to grips with EtherDelta's interface may seem quite daunting. In order to help you out, this article will explain exactly what EtherDelta is, how it works and how you can use it to buy and sell Rush Coin — and other tokens too.

What is the EtherDelta Exchange?
EtherDelta is a highly trusted decentralised exchange that specialises in the trade and exchange of Ethereum-based tokens. Since Rush Coin works on the Ethereum blockchain, EtherDelta is the ideal starting place for us to list it.
EtherDelta allows you to buy and sell hundreds of different tokens for Ethereum, which in turn can be traded for fiat currency (e.g. Euros, Dollars, Pounds, etc) on other exchanges such as Coinbase. Please view our Coinbase guide here, if you need a refresher.
Using EtherDelta to trade tokens
While on first glance EtherDelta may look complicated to use, getting the hang of it is surprisingly easy — you will find yourself trading Ethereum tokens in no time. In this Quick-Start Guide, we'll guide you through setting up an account, transferring Ethereum, and we'll show how to buy or sell your Rush Coin.
Part 1: Creating an Account
In order to use EtherDelta, you will need to create an account. It's as easy as clicking on 'New account' as show in the image below.

Next, you will get a pop-up that confirms that your EtherDelta account has been created. It is very important that you now make backups of your wallet address (the number that begins with 0x) and your private key.
An important note to remember: Always keep your private key safe and private, ideally offline. If someone were to get hold of your private key, they would have access to all of your funds (on that specific wallet). Almost all cryptocurrency thefts occur due to improper private key management.
Part 2: Transferring Funds
Now that you have an EtherDelta account, you first need some funds to start trading. Note that the type of funds vary according whether you want to buy or sell Rush Coin. If you want to buy RC, you need to transfer Ether to your EtherDelta account, and if you want to sell your Rush Coin, you need to transfer your RC to the account.
We'll show you how to transfer funds in order to buy Rush Coin, though the process is the same if you want to sell your RC. In short, you need to send Ethereum from your personal wallet to the wallet that you created when you made the EtherDelta account (the alpha-numeric string that begins with 0x). Once that is done, you will need to deposit your Ethereum from your personal EtherDelta wallet to the EtherDelta smart contract. If this sounds too complicated, don't worry, we'll walk you through it.
Transferring Funds — Step 1
Go to the private wallet that you use to store your Ethereum and send some to the EtherDelta wallet you just created.
Transferring Funds — Step 2
Select Rush Coin from the list of Tokens that EtherDelta supports. Make sure that you select Rush Coin (RC) and not RCC or RCN. Once you have selected RC, wait for the page to reload and to be safe, verify two things. First, make sure that under 'Balance' RC is listed (not any other tokens) and that the page URL contains RC-ETH (so it should be: etherdelta.com/#RC-ETH).

Transferring Funds — Step 3
Now is the time to send your Ethereum from your EtherDelta wallet into the EtherDelta Smart Contract. You do this by navigating to the top left of the EtherDelta site and clicking on the 'Deposit' tab.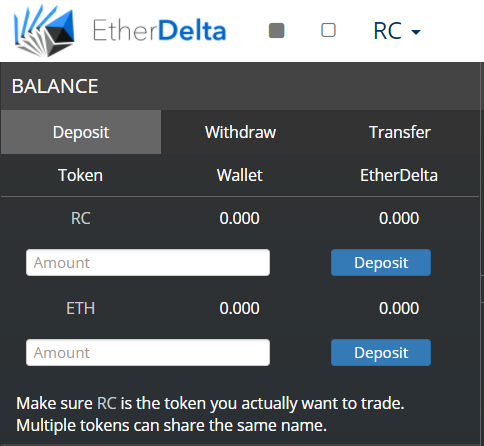 From here, specify how much Ethereum you want to transfer over to the EtherDelta Smart Contract. Just be sure not to send all of your Ethereum, as you will need a little bit in your wallet to cover transaction fees.
Once that is done and your funds are in place, you are ready to actually buy (or sell) your first Rush Coin!
Part 3: Buying and Selling Rush Coin (or other tokens)
Now that you have your Ethereum (or Rush Coin) ready, the last thing that you need to do is to actually buy (or of course sell) your Rush Coin tokens. The easiest way to do this is to look at the 'Order Book' section located in the center of the screen and browse through the sales. These are Rush Coin that are on sale for a price specified by the seller.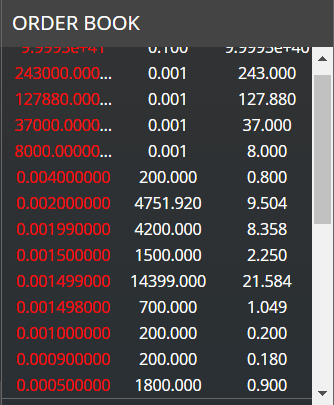 To understand the Order Book, you need to know that each row is a new listing and that each column gives you information about that particular listing. The column on the left displays the price of 1 Rush Coin in Ethereum, the middle column shows you the amount of Rush Coin that is either on sale or requested, and finally the right column shows you the total price in Ethereum.
If you scroll down, you will notice that there are listings highlighted in red (at the top) and listings highlighted in green (towards the bottom). A listing highlighted in red indicates that someone else is selling their RC (these are what you're looking for if you are buying RC). Conversely, if the listing is highlighted in green, it indicates that a person wants to buy RC (this is interesting if you want to sell your RC).
Whether you are buying or selling, the best price is at the bottom of the listing. So if you were to buy RC now, you should scroll to the bottom of the listings in red and select that sale.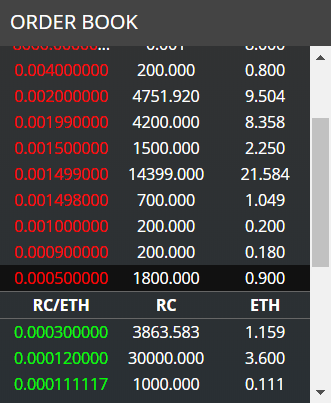 If you wish to post your own sales, then you can do so in the New Order section, just below the Order Book.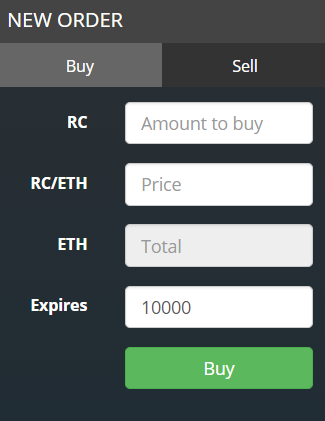 All you need to do here is input your own values and hit buy or sell, depending on your preference. In order to be successful in your bid to buy or sell your RC, you should look at the existing rates and make your listing competitive.
Finally, take note of the number under 'Expires', which indicates how long your listing will be live if it's not fulfilled. The default value (10,000) means that your listing expires after 10,000 blocks, which translates to roughly two days. If your listing has not been successful after these two days, it will be cancelled and your Rush Coin or Ethereum will be returned to you.
That's it! We hope that with this quick start guide you will be able to quickly get a hang of EtherDelta and exchange some Rush Coin. If you need any further help head on over to the Hash Rush Discord Server and we'll be happy to help you out.
If you got some value out of this article, we'd really appreciate your upvote below!