What The Hell Is Going On With ETH? - Tell Me Charts!
Mixed Charts For Ethereum
Ethereum is providing a great example of the importance of looking at all time frames, with the Daily chart offering some possible bullishness, but the other 2 time frames I'll be looking at - the 4 hour and weekly - not looking too promising.
4 Hour
---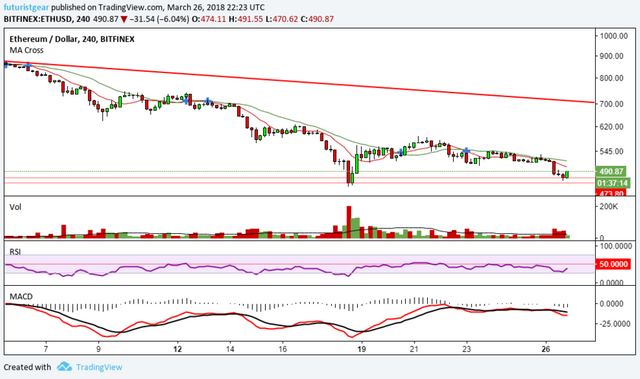 ---
The 4 hour chart looks pretty bearish right now, with the RSI below the 50 level, but the MACD looks like it could perhaps head back in the bulls favor.
Support at $473 has held nicely, and there's also another level just below that at around $461 that might not be tested yet because...
Daily
---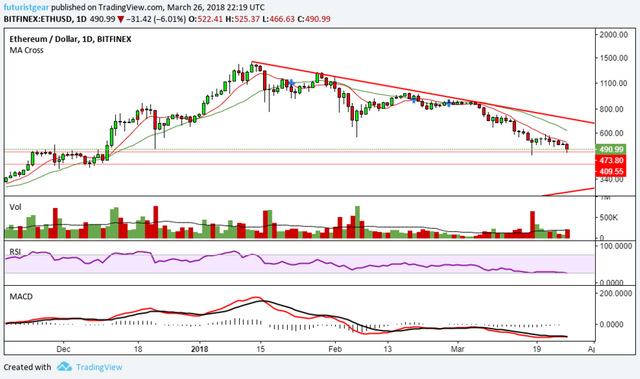 ---
The daily chart is showing an oversold RSI right now, so on this particular time-frame there could be some bullishness. (If you can call an oversold bounce bullish). The MACD is also bearish on the daily chart too.
So the daily chart might be showing some positive signs, but there's another but, this:
Weekly
---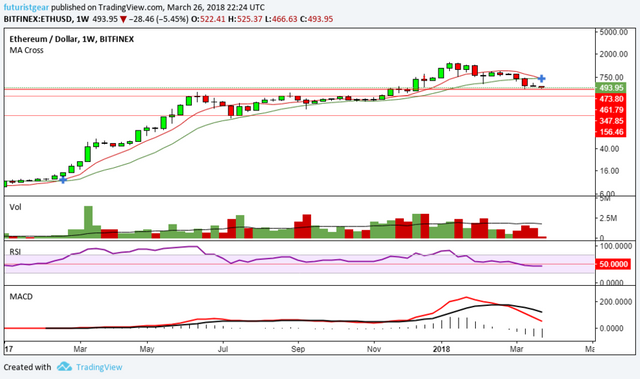 ---
The weekly chart still looks bearish. The MACD is still correcting and on the bear side, and the RSI is below the 50 level showing some minor weakness.
Below the 2 key levels mentioned above, the next major support zone is at around $347.
Summary
Will it drop to the $350-ish level? It's certainly possible. But there could/should be an oversold bounce first at the very least.
Please remember; I'm still learning and I could be very wrong! Being an ETH holder; I'm also hoping the bulls return. But we'll see what happens!
Thanks for viewing!
---
Want more technical analysis and crypto related posts? See also: @toofasteddie, @gazur, @ew-and-patterns, @pawsdog, @cryptomagic, @exxodus, @beiker, @lordoftruth, @masterthematrix, @cryptoheads, @tombort, @maarnio, @steemaze & @briggsy
---
Not intended as investment, financial, or trading advice. For entertainment purposes only.