An Accountant's Attempt at Mining Crypto - My First Post
Hey Steemit,
As the title indicates, I'm an accountant. Well, not yet technically, since I don't graduate until next week and won't start working until the fall. But close enough.
About a month ago I decided to get into mining cryptocurrency, specifically ethereum. Me and ETH go way back to 2015, where I first read about it in the WSJ. I'm not that technically skilled with computers but the idea of smart contracts seemed interesting to me. Long story short I bought some ETH, only to then lose interest as I decided to spend more time getting drunk at frat parties.
Anyways, flash forward to March 2017 and I hear that ETH is booming. The price rise seemed a little premature and I wasn't quite confident enough to invest a lot of cash into it. I decided to build a rig in order to limit my downside, as the hardware still has some resale value. Little did I know my investment would've doubled in a month had I just bought ETH.
I knew I was pretty late to the mining game but I figured, screw it, why not? I don't know much about computer hardware so I had to do a little research but found a lot a of great guides online. I shelled out $2500 for my first 6gpu rig, "Rogue One" I call it.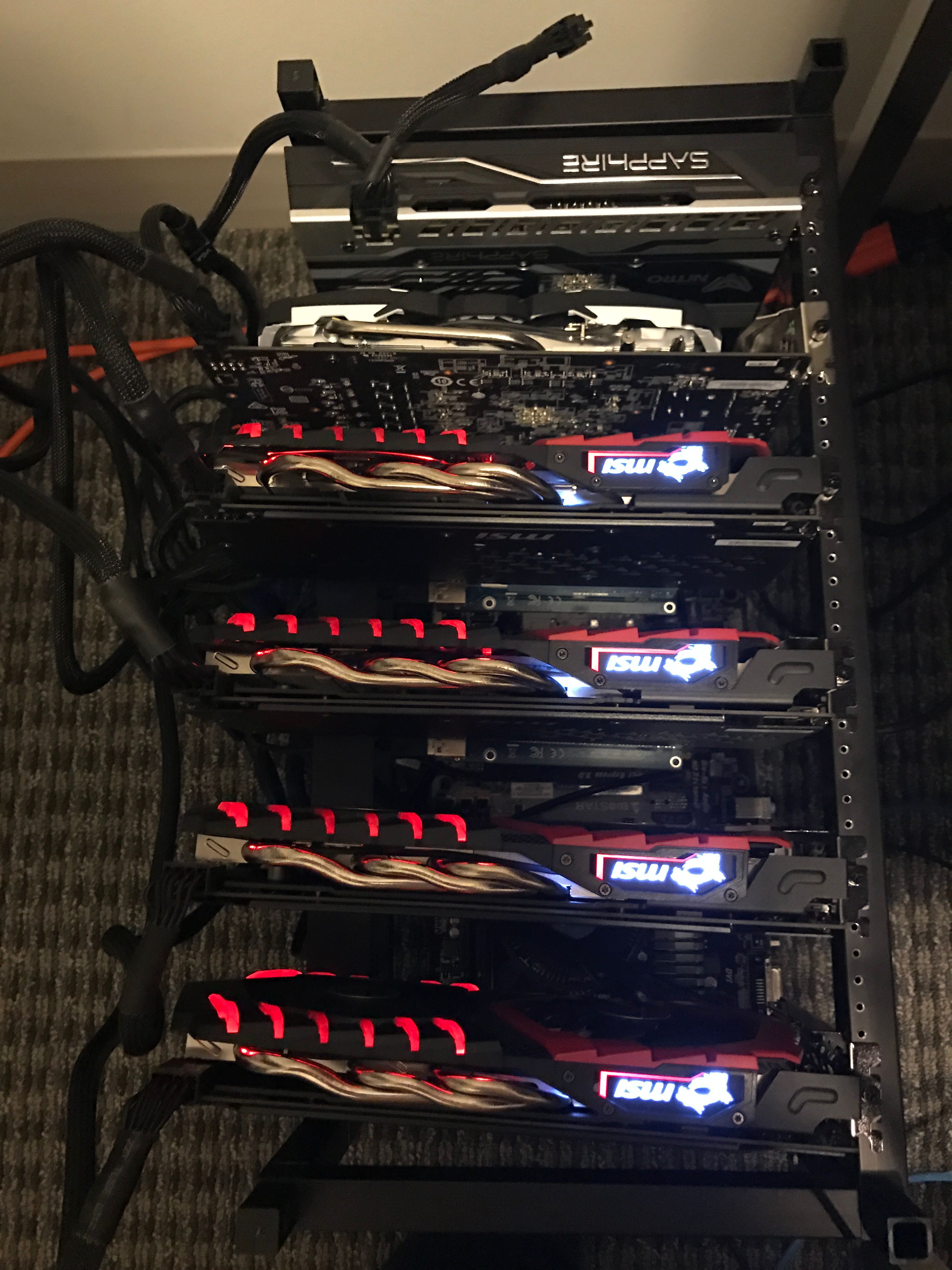 Simply put, Rogue One was a bitch to put together. She kept wanting to do her own thing, and wouldn't do what the council (tutorials) said she should do. She was the Rebellion that I couldn't crush. (Sorry I couldn't resist lol)
It took me awhile to assemble Rogue One, but I finally got her to boot and installed windows. God I never imagined a day would come where I would enjoy hearing that stupid windows boot audio, but that day was the day. I then proceeded to attach the gpus and just as things were looking good, everything went black.
Me: Rogue One, are you there?
Rogue One: No Response
Me: Hello… Rogue One do you copy?
Rogue One: No Response
I didn't know what the issue was so I looked up how to troubleshoot the motherboard. Apparently, you need a special speaker and being the impatient asshole that I am, I drove furiously to the nearest Microcenter and picked one up. I also grabbed an extra set of RAM because some website said that might be the problem. Before I could escape, an employee came over and asked me about my build specs. I looked at him blankly, not even knowing what specs I had. We stood there awkwardly for a second, until he finally said something about a new processor. I acted like I knew what he was talking about, but I had no f*cking clue.
When I returned to my apartment I replaced the RAM and hooked up the speaker. Beep…Beep…Beep. All systems were primed and ready. Next I configured all the mining software and setup my wallet. Now I was ready to mine, or so I thought. I read about boosting your hashrate by modding the bios, and at first took a little while to figure out what that even meant. After hours of scouring mining forms, I finally figured out exactly what I needed to do to mod the bios on my 480s. All I did was basically copy over the timings. Flashing the bios went pretty smoothly, with the exception of the Sapphire so I just left it at stock. Then I used afterburner to tweak the rest. I was getting a little over 175 MH/s but decided to dual mine ETH + PASC which left me at 162 MH/s and 2400 H/s respectively. I didn't mind the extra wattage pull because I'm not paying for power right now, but the temps were running a little high. I decided to buy a few fans and a portable AC unit to keep things nice and cool.
Stay tuned for my adventure with Rig 2 in my next post. Let's just say it was lit, literally.
Thanks for reading my first post!
You can follow my progress here: https://ethermine.org/miners/8c51843E66859c8060942498E0E9274Af3F29cA7