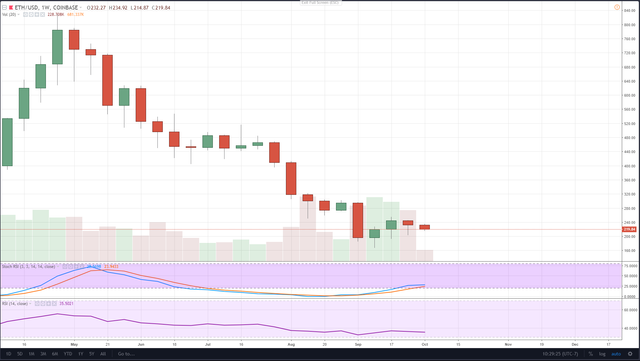 As with Bitcoin, Ethereum is seeing inside bars on the weekly time frame. This pattern is coming off of a big dump which took prices from the $300's, down to the low of $167. From there, we only saw a rally up to $250 which was support from the last movement and thus, now resistance.
We are expecting a bear break from this pattern. Bitcoin is looking to break bearish and since there's major correlation, likely bear for ETH as well. On the last pullback, we were almost at oversold weekly RSI. It's very possible, a bear break here will put us at oversold levels on weekly RSI.
Weekly inside bar support is at $203 though, so there's still some wiggle room to the south. For resistance, we're looking at $245.
Hope everyone's staying safe and having those stops set if you're still in a position! Personally, I'm in all cash for a while until we see some better chart setups.