Click here to access the full White Paper  

Pioneers in the fintech industry, we want to develop something important and to break the process-heavy and unfair lending market we all know. We want to make lending available on global scale. Instead of relying on local banks and lenders, we believe that borrower should have the possibility to obtain a loan from anywhere in the world. We believe that Canadian borrower could obtain a loan from Sweden, China, Brazil, Japan or Germany and vice versa.  
ETHLend is a peer-to-peer lending platform for Ether tokens on the Ethereum network, where anyone has the ability to participate in a fair and pure lending market. Interest rates and conditions are solely decided by the participants. ETHLend eliminates the need for intermediaries that maintain control over the agreement. Smart Contracts enable security and the automatized exchange of Ether tokens for ECR20 tokens or Ethereum Name Service domans as collaterals. Credit Tokens (short: CRE) will be mined for any successful transaction and represent a Credit Reputation System to the users. CRE can also be used as collaterals for borrowing Ether.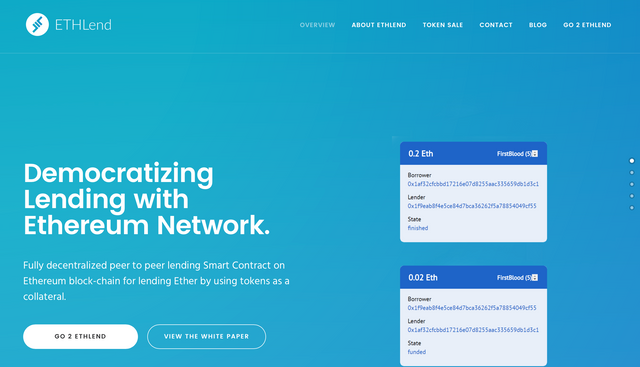 Why is ETHLend disruptive?
Less control for the banks. Banks lend money that is deposited by account holders. This liquidity is lend to the market. Practically it means that banks charge 5-12% interest on loans and compensate you 0-1% for holding your assets at the bank. Since the rise of crypto-currency, you can become your own banking institution. With ETHLend, you become your own lending institution. You decide whom you lend to, on which interest rate securely or insecurely. All of this is available thanks to blockchain technology, on which ETHLend relies on. 
Who can benefit from ETHLend? 
Anyone can benefit from the great advantages of a fully decentralized lending platform! Specifically, those who have limited access to finance due to country specific regulation or unfavorable financial circumstances, such as enormous interest rates differences or limited access to banking.  ETHLend brings democracy to lending and the possibility to receive funds without being restricted by governments, banks or bureaucracy. A true lending market should not judge personal circumstances and should not be effected by central banks monetary policy, creating financial distress throughout the global economy. 
Providing value and finance. To provide a workable Reputation system on ETHLend that holds value, ETHLend is creating its own native Credit Token (CRE) crowdsale. Thanks to the token sale, there will be more participants on ETHLend providing additional value for CRE. Theoretically, CRE will hold the value of the lending market since small amount of additional CRE is minted on successful loans. Therefore, the value of CRE is affected by the current value of lending market, the default rate to be precise.
Here is our roadmap:   
ETHLend DAPP v. 1.0 on May 2017
White Paper on ETHLend on June 2017
Implementing ENS Domain Collateral on June 2017
Implementing CRE for Repayments on June 2017
Token Sale Smart Contract Testing on July 2017
Token Sale on August-September 2017
User Experience Upgrade September 2017
Swiss Foundation or Swiss LLC on October 2017
On-Demand Lending on October 2017
uPort Integration during October 2017
CRE Trading on Exchanges on November 2017
Relocation to Zug, Switzerland on January 2018
Second User Experience Upgrade on January 2018
New Recruits on the ETHLend Team on February 2018
Lending Bitcoin and Litecoin on March 2018
Opening Proposition Forum for Token Holders on May 2018
KYC on-board implementation during May 2018
Lending Other Altcoins during August 2018
Creating and Testing Democracy DAO on November 2018
Voting on Proposition Deployed on May 2019
Vesting for CRE Ends on August-September 2019
Endorsing early purchase. The price on CRE is determined in different tiers based on timing and quantity of the purchase. We want to endorse token buyers that are amongst the first by reducing the token sale price. However, to retain democracy on token sale, the reduced price is restricted to certain amount of tokens. This would avoid the situation where few persons would buy within a certain time limit all the available tokens, and on discount. Next, we will introduce our preliminary structure on Token Sale. The structure is subject to change and final terms and conditions are released early before the Token Sale launch. 
For more information, read the full White Paper here.  
Author: @ethlend , @sergej.stein
Follow us also on our other social media channels:
Facebook: https://www.facebook.com/EthLend-1848586068794685/
Twitter: https://twitter.com/ethlend1
Medium: https://medium.com/@ethlend1
Youtube: https://www.youtube.com/channel/UCzN8uOewpihfamhdFqi3m7w/featured
Slack: https://join.slack.com/ETHLend/shared_invite/MjAzMTM0MzEyNzA3LTE0OTg0MDk0NDItOGY0MTlkMTlmZA
Reddit: https://www.reddit.com/r/ETHLend/
Homepage: http://about.ethlend.io
--------------------------------------------------------------------------------------------
Disclaimer
Our content is intended to be used and must be used for informational purposes only. It is very important to do your own analysis before making any investment based on your own personal circumstances. You should take independent financial advice from a professional in connection with, or independently research and verify, any information that you find on our Website and wish to rely upon, whether for the purpose of making an investment decision or otherwise.   Accordingly, we will not be liable, whether in contract, tort (including negligence) or otherwise, in respect of any damage, expense or other loss you may suffer arising out of such information or any reliance you may place upon such information. Any arrangements between you and any third party contacted via the EthLend are at your sole risk.