HitBTC — First Exchange to List LEND token!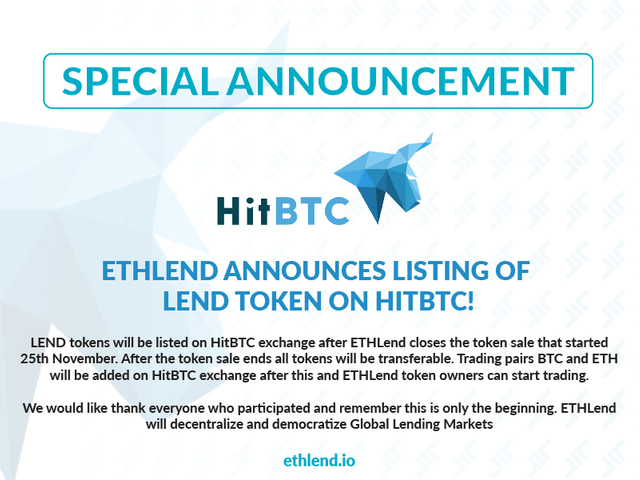 ETHLend, the first and only functioning decentralized lending platform, has successfully raised $13 million USD in the first 2 days of its public token sale for early adopters of the decentralized lending application build on top of the Ethereum network.
ETHLend is a decentralized lending platform with an extensive roadmap that is going to see the ETHLend team to implement various crypto financial products such as token lending, crowdlending, collateral management and a protocol for AI lending bots. ETHLend's road map can be found at https://ethlend.io/en/roadmap/.
ETHLend's pre-sale closed out in September from an impressive zero marketing budget to a 2000 ETH cap being met within 77 hours. The Token sale started on November 25 at 12 PM GMT and skyrocketed to an impressive 10 million dollars in the first 30 mins. There is now less than 20% of LEND token available before the cap is reached and its closing out at a steady pace with the minimum purchase of 0.01 ETH.
Leading the way in decentralized lending, Stani Kulechov the founder of ETHLend has now gathered a community of over 7 000 members. Personally involved in the group, he's available day in and day out to answer queries which has given a feeling of security amongst the ETHLend community.
This is all backed up by an impressive advisory board with names including but not limited to Jon Matonis the founding Director of The Bitcoin Foundation and Robert Viglione co-founder of Zencash or Tomoaki Sato, founder of Starbase.
ETHLend (LEND) token will be listed on HitBTC exchange after ETHLend closes the token sale. After token sale ends all tokens will be transferable and HitBTC will offer a marketplace for LEND token holders. Listing date will be announced after token sale closes or when it ends 27th of December.
Github
WhitePaper
https://github.com/ETHLend/Documentation/blob/master/ETHLendWhitePaper.md
Follow ETHLend on Telegram https://t.me/ETHLend
Join their Whitelist and partake in the token sale https://ethlend.io/en/whitelist/