ETHLend Token Sale event successfully Closes With $16.2 million usd raised
Global News — 30 November 2017 — ETHLend, the peer-to-peer Lending platform, has raised USD$16.2 million through its Token sale, which closed on Thursday 30th November at 12am GMT.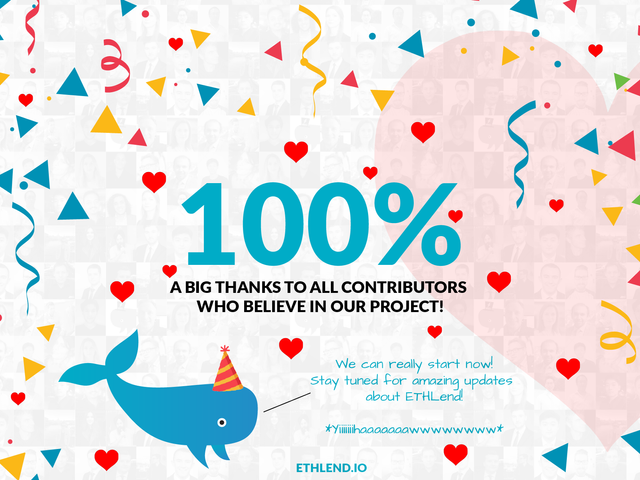 ETHLend teamed up with Eidoo for the tokensale along with over 5000 plus applicants who registered for the whitelist and undertook the strict KYC policy set up by ETHLend, where an access code was given to each individual 1 hour before the commencement of the token sale, and issued via secure log in to ETHLends website. This code was then entered into the link within the Eidoo wallet ensuring a zero incident event took place with regards to phishing. The Main Sale followed a successful Pre-Sale at the start of September that saw the company raise US$600,000 in just 77 hours.
The final amount raised in the Sale was that of the total hardcap of 37600 Eth with the 1 billion LEND tokens that were generated before the ICO. The total number of transactions totalled 6750 which means that the funds raised were spread over many hardcore ETHLend supporters. ETHLend has prided itself on creating a large community and the followers are keen on implementing a decentralized financial platform.
The company will announce a distribution date for the tokens as soon as possible having already teamed up with HitBTC exchange as their first exchange for trading. Further exchanges are still in discussion and due to the quick close out speed of the Tokensale these were not finalized at time of closure.
ETHLend will notify the list of exchanges as they unfold. While the Main Sale was taking place, ETHLend announced a partnership with Brickblock, the asset tokenisation platform, that will enable tokenized assets to be used as collateral on the ETHLend platform.
ETHLend founder Stani Kulechov said: "We have been blown away by the size of the communal response and interest. When we set out to launch ETHLend, we wanted to make sure any potential contributors knew exactly how we would use the funds to develop our blockchain-based lending platform. The response has shown that, even though they don't know us, they really like what we are doing."