ETHLend LEND Token Sale Skyrocketed Over 10 Million USD Within 30 Minutes
November 26, 2017 — ETHLend, the first and only functioning decentralized lending platform, has successfully raised $10 million USD in the first 30 mins of its public token sale for early adopters of the decentralized lending application build on top of Ethereum network.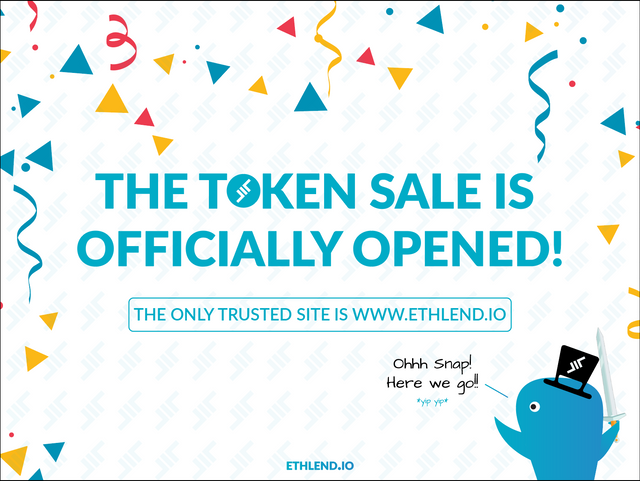 ETHLend is a decentralized lending platform with an extensive roadmap that is going to see the ETHLend team to implement various crypto financial products such as token lending, crowdlending, collateral management and a protocol for AI lending bots. ETHLend's road map can be found at https://ethlend.io/en/roadmap/.
ETHLend already offers secured loans on the Ethereum blockchain where users can borrow Ethereum using any ERC-20 digital tokens as collateral. The digital tokens ensure repayment of the loan, and lenders can lend Ether without the loss of capital.
ETHLend's pre-sale closed out in September from an impressive zero marketing budget to a 2000 ETH cap being met within 77 hours. The Token sale started on November 25 at 12 PM GMT and skyrocketed to an impressive 10 million dollars in the first 30 mins. There is now less than 20% of LEND token available before the cap is reached and its closing out at a steady pace with the minimum purchase of 0.01 ETH.
Leading the way in decentralized lending, Stani Kulechov the founder of ETHLend has now gathered a community of over 6 700 members. Personally involved in the group, he's available day in and day out to answer queries which has given a feeling of security amongst the ETHLend community.
This is all backed up by an impressive advisory board with names including but not limited to Jon Matonis the founding Director of The Bitcoin Foundation and Robert Viglione co-founder of Zencash or Tomoaki Sato, founder of Starbase
Follow ETHLend on Telegram https://t.me/ETHLend
Join their Whitelist and partake in the token sale https://ethlend.io/en/whitelist/
White Paper: https://github.com/ETHLend/Documentation/blob/master/ETHLendWhitePaper.md
Follow us & participate …
Discord (Latest news and voice chats): https://discord.gg/nKjsStv
DAPP Thread: https://bitcointalk.org/index.php?topic=2013399
Telegram General: https://t.me/ETHLend
Telegram Sprechen Sie Deutsch https://t.me/ETHLend_DE
Telegram ¿Hablas español https://t.me/ETHLend_ES
Telegram Parli italiano https://t.me/ETHLend_ITA
Telegram Говорите по-русски https://t.me/ETHLend_RU
Telegram Portugal https://t.me/ETHLend_PT
Reddit: https://www.reddit.com/r/ETHLend/
Facebook: https://www.facebook.com/ETHLend/
YouTube: https://www.youtube.com/channel/UCZUFYgrvO7xpxzMjijgqWyQ
Twitter: https://twitter.com/ethlend1
Medium https://medium.com/@ethlend1
DTube: http://dtube.video/#!/c/ethlend
Steemit: https://steemit.com/@ethlend
BTCTalk ICO Thread: http://bitcointalk.org/index.php?topic=2090735.0;all
WeChat: @ethlend
KakaoTalk: http://open.kakao.com/o/gBzFr5y
Vkontakte: http://vk.com/ethlend