ETHLend Announces Listing of LEND Token on KuCoin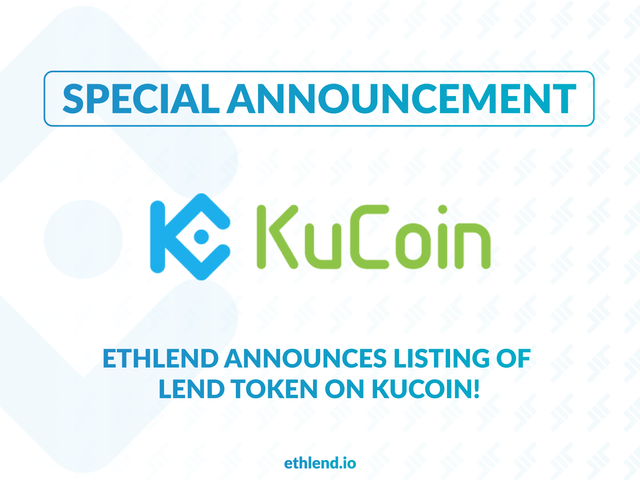 KuCoin is proud to announce the listing of ETHLend(LEND) on December 1st 2017.
KuCoin traders have now access to LEND/BTC and LEND/ETH trading pairs upon listing.
Users started depositing and trading ETHLend (LEND) on KuCoin Decemeber 1st, 2017 at 17.30 (UTC+8).
ETHLend, the first and only functioning decentralized lending platform, has successfully raised $16 million USD in 5 days of its public token.
ETHLend is a decentralized lending platform with an extensive roadmap that is going to see the ETHLend team to implement various crypto financial products such as token lending, crowdlending, collateral management and a protocol for AI lending bots. ETHLend's road map can be found at https://ethlend.io/en/roadmap/.
ETHLend provides decentralized solutions to create one true global lending market available.
Learn more about the project here:
https://ethlend.io
https://coinmarketcap.com/currencies/ethlend/
About KuCoin
The long-term goal of KuCoin is to become one of the top 10 exchanges in the world, they have quickly gained traction by collaborating with many established communities and listing new tokens based on user's opinions and requests.
Users can earn rewards in exchange for using the platform and holding the exchange's token KucoinShares (KCS). Dividends are dependent on the number of coins each user holds and they are paid daily.
These are all of KuCoin's markets at the time of writing: KuCoin Shares, Monetha, Walton, Ether, Hshare, Kyber Network, OmiseGo, Everex, Eos, GAS, NEO, Red Pulse, LiteCoin, QTUM, Bytom, Civic, TenX, Status, Black Hole Coin, Modum, Change, Raiden Network, Unikoin Gold, Genesis Vision, Bitcoin Gold, Bitcoin Diamond, Substratum.