Community Matters - ETHLend learns from Steemians
ETHLend learns from Steemians
ETHLend's Head of Management Jordan Gustave Lazaro and Head of Token Sale Martin Wichmann will travel this week to Lisbon, Portugal to participate at
SteemFest
.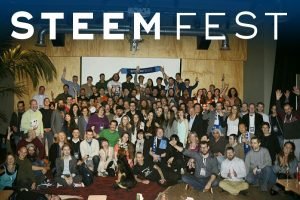 SteemFest is a 5 day event where Steemians (users of the Steemit community) are gathering. The event will consists of a hackathon, social events and lots of interesting people.
ETHLend focus has been from day one on interacting with the growing (almost reaching 2 000 members) community on Telegram. We want to learn from Steemians on how they maintained their awesomeness while becoming a big community.
As usual we will share all the insights (and those "unofficial and not our shining moments" pics on our Telegram.
To keep track of news and updates, make sure to follow us on our social channels:
Subscribe to ETHLend Token Sale: https://about.ethlend.io/token-sale/
Telegram: https://t.me/ETHLend
White Paper: https://github.com/ETHLend/Documentation/blob/master/ETHLendWhitePaper.md
Follow us & participate …
Discord (Latest news and voice chats): https://discord.gg/nKjsStv
DAPP Thread: https://bitcointalk.org/index.php?topic=2013399
Telegram General: https://t.me/ETHLend
Telegram Sprechen Sie Deutsch https://t.me/ETHLend_DE
Telegram ¿Hablas español https://t.me/ETHLend_ES
Telegram Parli italiano https://t.me/ETHLend_ITA
Telegram Говорите по-русски https://t.me/ETHLend_RU
Reddit: https://www.reddit.com/r/ETHLend/
Facebook: https://www.facebook.com/ETHLend/
YouTube: https://www.youtube.com/channel/UCZUFYgrvO7xpxzMjijgqWyQ
Twitter: https://twitter.com/ethlend1
Medium https://medium.com/@ethlend1
DTube: http://dtube.video/#!/c/ethlend
Steemit: https://steemit.com/@ethlend
BTCTalk ICO Thread: http://bitcointalk.org/index.php?topic=2090735.0;all
WeChat: @ethlend
KakaoTalk: http://open.kakao.com/o/gBzFr5y
Vkontakte: http://vk.com/ethlend