Change Accepts ETHLend as the First Financial Application on Their Cryptocurrency Mobile Wallet and Marketplace
ETHLend and Change are proud to open a new page in the history of the financial services for crypto users.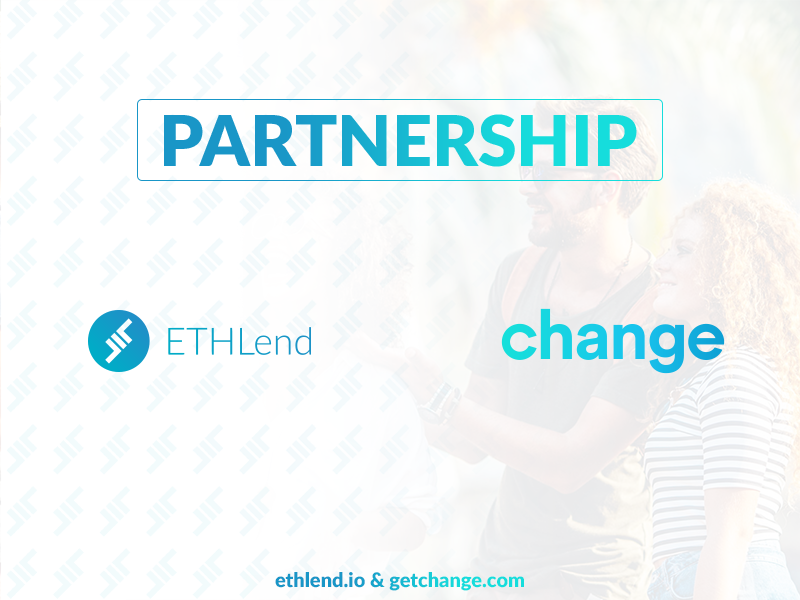 Change Wallet and soon to be launched debit Card provide a comprehensive infrastructure to mobile finance. Change facilitates the management of cryptocurrency portfolios, providing fast and secure ways to acquire, store, and transfer major digital currencies including ERC-20 tokens. Change Card will provide options to convert cryptocurrencies easy and with zero fees across the globe.
ETHLend is a borderless and decentralized blockchain marketplace that erases interest rate differences between countries by providing competition on a global scale. ETHLend solves key issues regarding collateral control, decentralized credit rating and controls volatility risks with fiat pegging option.
This fundamental partnership consists of long term goals that are consistent with the values that both companies share — true decentralization, financial inclusion, transparency and mainstream acceptance of cryptocurrencies.
First of all, Change will list LEND token in their wallet and services that ETHLend provides will be included into the financial marketplace. It provides more exposure for users that are interested to use financial services provided by Change and ETHLend.
Additionally, ETHLend borrowers will be able to spend their funds with the use of Change debit cards. The payment will be automatically processed in the local currency without any additional fees. This means that LEND token or Borrowed Ethereum becomes efficient method of payment.
ETHLend ensures that Change users can become lenders on the ETHLend platform and use their assets listed on Change as a collateral and identity management. This allows cross-platform user integration as well as seamless use of the interconnected services.
ETHLend and Change seek to establish long term business relations when ETHLend DApp will acquire wider user base and Change platform gets lists a high quality product in their portfolio.
This partnerships strengthens position of two companies as global providers of the decentralized financial services.
About Change
Change is a concept that was born out of financial technology (FinTech) changing the traditional banking industry. Change offers its customers a card and access to a marketplace of Fintechs. It provides an access to a multitude of investing opportunities, all in one app. Moreover, Change sophisticated mobile wallet and a debit card provide safe and easy way to manage your crypto funds.
About ETHLend
ETHLend is a fully decentralized p2p lending dApp to lend and borrow crypto by using any ERC20 token or ENS domain as a collateral. Team is also developing credit rating based lending as well as flexible and secure tools for trading. Everything goes through Ethereum Smart contracts and no assets are held by ETHLend. ETHLend gives you freedom to be your own bank on the Ethereum network and send or receive loans within seconds or minutes.
More information at:
ETHLend
Change